I LEARN HTML5
Over the last couple of weeks I've offered some boilerplate code and construction details for 2 column and 3 column fixed width layouts .
2 And 3 Column Fluid CSS Layouts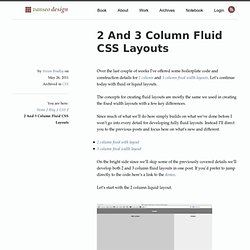 welcome to my databending and glitch art primer! in part 1, we're going to talk about one of my favorite glitch art effects—the wordpad effect. i'm starting off with this effect because it's so easy that any windows user should be able to do it (note: i haven't tried it in vista), but it's complex enough under-the-hood that it allows me to discuss several important principles of glitch art. but first, let's define a few terms. databending is, in essence, the artistic misuse of digital information. the term is inspired by the similar art of circuit bending ; you could say that databending is like circuit bending with no circuits. the term is used most frequently in the context of electronic music (primarily glitch music ). the most common types of databending are:
stAllio!'s way: databending and glitch art primer, part 1: the wordpad effect
What's the most readable font for the screen?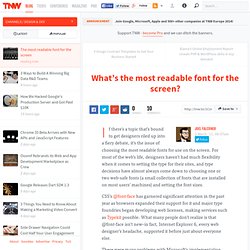 If there's a topic that's bound to get designers riled up into a fiery debate, it's the issue of choosing the most readable fonts for use on the screen. For most of the web's life, designers haven't had much flexibility when it comes to setting the type for their sites, and type decisions have almost always come down to choosing one or two web-safe fonts (a small collection of fonts that are installed on most users' machines) and setting the font sizes. CSS's @font-face has garnered significant attention in the past year as browsers expanded their support for it and major type foundries began developing web licenses, making services such as Typekit possible. What many people don't realize is that @font-face isn't new–in fact, Internet Explorer 6, every web designer's headache, supported it before just about everyone else. There were many problems with Microsoft's implementation.
Default CSS This version of Foundation includes smart defaults and doesn't require Sass or any other tools.
Foundation: Downloads and Customization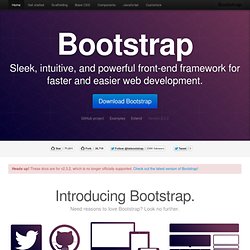 Base · Twitter Bootstrap
Headings All HTML headings, <h1>through <h6>are available. h2.
Sciences des données : de l... - Sciences des données : de l... - Serge Abiteboul - Collège de France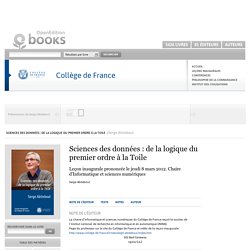 1 Monsieur l'Administrateur, Mes chers collègues, Chers amis,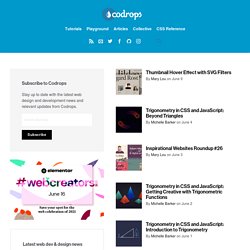 A really well designed user interface is one that goes unnoticed by the user, whereas a poorly designed user interface forces the user to pay attention to it instead of the content. Users come to ... read more If you have searched images on Google recently, you might have noticed the interesting expanding preview for a larger image when you click on a thumbnail.
#359c68 on 0to255
SwipeView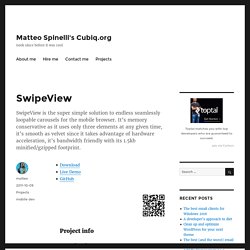 Project info Last code update: 2012.08.25 – v1.0 Device compatibility: Safari, Firefox, Opera, iPhone/Ipod touch >=4.x, iPad >=3.2, Android >=2.3 QR Code opens demo page. Support development
Getting Started - Building iPhone Apps with HTML, CSS, and JavaScript
CSS Paged Media - @page Rule
Advertisements Paged media differ from continuous media in that the content of the document is split into one or more discrete pages. Paged media includes paper, transparencies, pages that are displayed on computer screens, etc. The CSS2 standard introduces some basic pagination control features that let authors help the browser figure out how to best print their documents.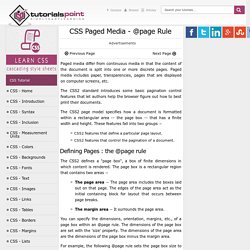 Use your finger to drag it left and right to all of the items in the view. Since this is JavaScript it works on every mobile device with touch support Each cell of the slider is HTML so you can put anything you want in it The slider works just like the native application sliders It snaps each cell into place and supports momentum
Creating a Mobile Touch Slide Panel with JQuery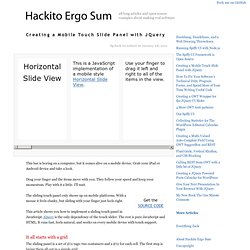 Dans le chapitre précédent nous avons vu entre autres comment structurer son texte avec les balises de paragraphes et les titres, dans celui-ci nous allons approfondir le sujet. Les listes
HTML 5 : Donner du sens au texte | Web-Petit
Reader: Paging the Web
To get to the next page, use your finger or mouse to slide the content towards left. FYI, you are not using Opera Reader. It can be downloaded from the menu on the left! Around 2000 years ago, the Romans developed the codex . Different from scrolls – the previously accepted literary format – the codex had pages that were bound together into what we today call books.
Bootstrap, from Twitter
Building a parallax scrolling storytelling framework
Reading MS Paint Adventures I had an epiphany: in this day and age, there is little justification in keeping comics within the constraints of early 20th century offset printing. No need for inked line art, or hand-lettered speech bubbles that compete with art for page real estate, no need to pack the drawings into grids of fixed dimensions and print them in multiples of four: those are all solutions to problems we no longer have. So, I took Scott McCloud's infinite canvas and upped the ante by throwing some JavaScript into the pot. The result is Hobo Lobo of Hamelin , a webtime story about a city, its scruples, some rats, a lobo, his woodwind and the stuff that goes down. I would like to teach you to make a Parallaxer of your own, show you one way of drawing assets for it, and ultimately inspire you to trailblaze the internet storytelling frontier in your own direction.
Ce tutoriel présente l'unité em et la démarche à suivre pour l'utiliser à bon escient, ainsi que quelques conseils pour vous aider à assurer autant que possible la lisibilité du texte sur votre site… et donc à en améliorer la qualité générale. Pour concevoir un site web dont le texte sera lisible par tous, quelle que soit la configuration matérielle ou les besoins spécifiques de l'utilisateur, il faut permettre le redimensionnement du texte. Cela implique l'abandon des tailles de texte en pixels , et l'utilisation d'unités relatives, qui ont deux caractéristiques principales :
Tutoriels vidéos, page 2
Tutoriel Vidéo HTML-CSS : Effet de parallaxe en CSS
Paul Hayes