Twitter Stuff
some of the best moments are low-tech
Ten Myths About Technology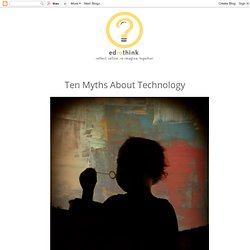 Computing. / Did you ever wonder how to do some of those special characters like ♥ and ♫ ? Well, here you are! All in one printable list
chrishildrew: Why teachers are turning to
The Raspberry Pi is a tiny little computer that costs about £30. It can do most things that a computer can do, but its size and the fact that it is very cheap makes it ideal for electronics projects.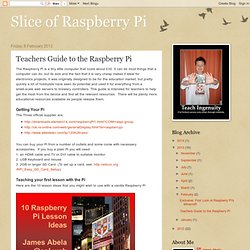 Slice of Raspberry Pi: Teachers Guide to the Raspberry Pi
Describing your facial features, what you like to do and wear, it's all here.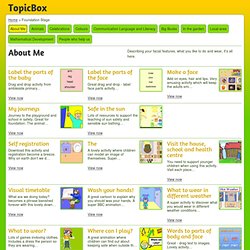 About Me Foundation Stage TopicBox
Twitter, howto - Patrick Larkin on Diigo
teaching / 30 Dr. Seuss Quotes to Live By
Lingro – add to any website for interactive dictionary and word games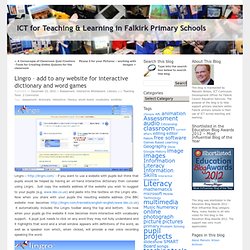 Lingro – http://lingro.com/ - if you want to use a website with pupils but think that pupils would be helped by having an on-hand interactive dictionary then consider using Lingro.
The Learning Spy - SOLO taxonomy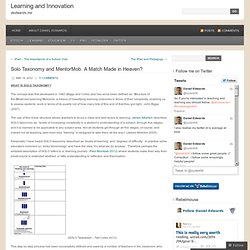 The concept was first developed in 1982 (Biggs and Collis) and has since been defined as: 'Structure of the Observed Learning Outcome, a means of classifying learning outcomes in terms of their complexity, enabling us to assess students' work in terms of its quality not of how many bits of this and of that they got right.'
Solo Taxonomy and MentorMob. A Match Made in Heaven?
www.innovationunit.org/sites/default/files/Spaced_Learning-downloadable_1.pdf
We are all asked questions.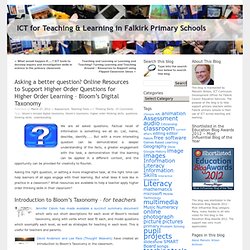 Asking a better question? Online Resources to Support Higher Order Questions for Higher Order Learning – Bloom's Digital Taxonomy
Great Teaching Ideas - weblinks - Home
Teaching Strategies Chris Davis, Powerful Learning Practice LLC By Shelley Wright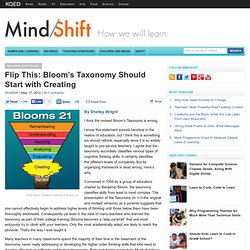 lessonstudy
https://dl.dropbox.com/0/view/toi3g5tzrpdp9o2/Documents/synechism-weekly-planner-v3.pdf
As mobile learning becomes more and more prevalent, we must find effective ways to leverage mobile tools in the classroom. As always, the tool must fit the need.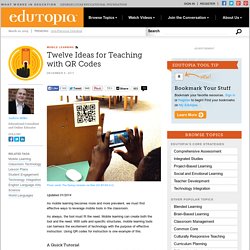 7 Writing Links Worth Reading
BLOODHOUND / Intel Atom animation
Update: Reflection has been renamed Reflector. It is available for Macintosh and for Windows PCs.
I've Been Waiting for This! AirPlay Mirroring to a Mac (no Apple TV required)
Event Time Announcer
Avators: Build your Wild Self - create a self portrait and learn about the animal parts incorporated into your avatar. Mikons - where people communicate through visual symbols, logos, icons, or avatars to tell a story
Three Primary Colors: OK Go and Sesame Street Explain Basic Color Theory in Stop-Motion
by Maria Popova In my nearly six years of writing and editing Brain Pickings, I've used the word "awesome" as an adjective exactly once.
Want to integrate cell phones into learning?
Creating a plan with students to use cell phones for learning
Welcome to TeacherCast.net: A Place for Teachers to help other Teachers
Blog design prompts.docx
'The Framework for the National Curriculum' in England – 'Report on a page'
Teaching and Learning Research Programme
iPad EdResources
Sankore - free open source IWB software
E-Safety
The Fallacy of Digital Natives
Why Social Media Can and Is Changing Education
Codecademy: Learn to Code Online, Naturally
QR Hacker: Customize a colourful, unique QR code
UNESCO Launchs ICT Competency Framework for Teachers
Tweeting for teachers: how can social media support teacher professional development?  | Pearson Centre for Policy and Learning
Communication Through The Ages
Evaluating Web-based material for your academic work by Karl Drinkwater on Prezi
Digeratii: Mario just found the most
Schools issued with 743-point behaviour checklist
Triptico | Inspiration for Imaginative Teachers
Impact -Mr. Mitchell's Blog – asksir.co.uk