Twitter Stuff
Ten Myths About Technology. Some of the best moments are low-tech Sometimes my view on technology seems paradoxical and messy.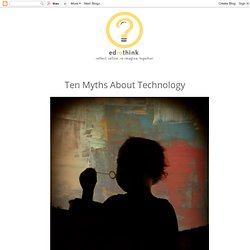 Sometimes it feels like cognitive dissonance. I hang with Luddites and Technophiles. Computing. / Did you ever wonder how to do some of those special characters like ♥ and ♫ ? Well, here you are! All in one printable list. Wikijunior. YOU HAD ONE JOB!
Chrishildrew: Why teachers are turning to... Slice of Raspberry Pi: Teachers Guide to the Raspberry Pi. The Raspberry Pi is a tiny little computer that costs about £30.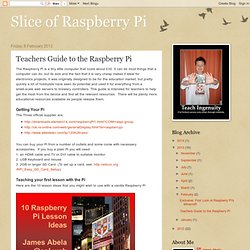 It can do most things that a computer can do, but its size and the fact that it is very cheap makes it ideal for electronics projects. It was originally designed to be for the education market, but pretty quickly a lot of hobbyists have seen its potential and used it for everything from a small-scale web servers to brewery controllers. This guide is intended for teachers to help get the most from the device and find all the relevant resources. There will be plenty more educational resources available as people release them. Getting Your Pi. About Me Foundation Stage TopicBox. Describing your facial features, what you like to do and wear, it's all here.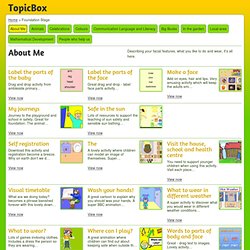 Label the parts of the baby Drag and drop activity from ambleside primary… View now Label the parts of the face. Twitter, howto - Patrick Larkin on Diigo. Teaching / 30 Dr. Seuss Quotes to Live By. Over 20 Free Digital Classroom Tools… Customize… Plus No Log In. This is a site that you are bound to find useful in your classroom.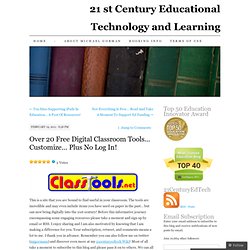 The tools are incredible and may even include items you have used on paper in the past… but can now bring digitally into the 21st century! Before this informative journey encompassing some engaging resources please take a moment and sign up by email or RSS. I enjoy sharing and I am also motivated by knowing that I am making a difference for you. Your subscription, retweet, and comments means a lot to me.
Free Screen Sharing and Online Meeting Software | Screenleap.
CPD
The Literacy Shed - The Literacy Shed Home. Lingro – add to any website for interactive dictionary and word games. Lingro – - if you want to use a website with pupils but think that pupils would be helped by having an on-hand interactive dictionary then consider using Lingro.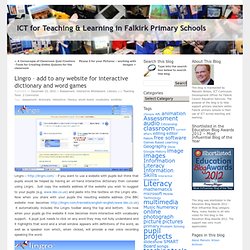 Just copy the website address of the website you wish to suggest to your pupils (e.g. www.bbc.co.uk) and paste into the textbox on the Lingro site. Now when you share with your pupils the resulting website address (the BBC website now becomes it automatically includes the Lingro toolbar along the top and bottom. So now when your pupils go the website it now becomes more interactive with vocabulary support. A pupil just needs to click on any word they may not fully understand and it highlights that word and a small window appears with definitions of the word, as well as a speaker icon which, when clicked, will provide a real voice recording speaking the word. The Learning Spy - SOLO taxonomy. Solo Taxonomy and MentorMob. A Match Made in Heaven?
The concept was first developed in 1982 (Biggs and Collis) and has since been defined as: 'Structure of the Observed Learning Outcome, a means of classifying learning outcomes in terms of their complexity, enabling us to assess students' work in terms of its quality not of how many bits of this and of that they got right.'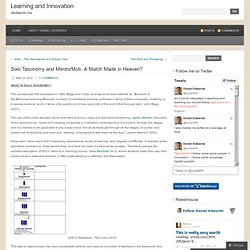 John Biggs (2007) The use of this linear structure allows teachers to focus a class and add layers to learning. James Atherton describes SOLO taxonomy as: 'levels of increasing complexity in a student's understanding of a subject, through five stages, and it is claimed to be applicable to any subject area. Www.innovationunit.org/sites/default/files/Spaced_Learning-downloadable_1.pdf. Asking a better question? Online Resources to Support Higher Order Questions for Higher Order Learning – Bloom's Digital Taxonomy. We are all asked questions.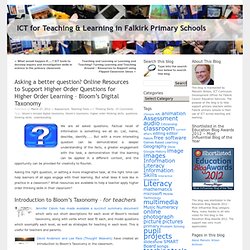 Factual recall of information is something we all do. List, name, describe, identify……. But with a more interesting question can be demonstrated a deeper understanding of the facts, a greater engagement with the task, a demonstration that the learning can be applied in a different context, and the opportunity can be provided for creativity to flourish. Asking the right question, or setting a more imaginative task, at the right time can help learners of all ages engage with their learning. Great Teaching Ideas - weblinks - Home.
Flip This: Bloom's Taxonomy Should Start with Creating. Teaching Strategies Chris Davis, Powerful Learning Practice LLC By Shelley Wright.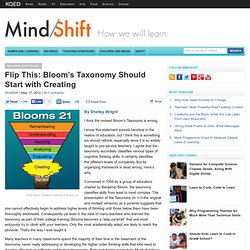 The Third Teacher. Lessonstudy. Twelve Ideas for Teaching with QR Codes. Updated 01/2014 As mobile learning becomes more and more prevalent, we must find effective ways to leverage mobile tools in the classroom.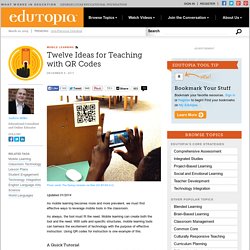 As always, the tool must fit the need. Mobile learning can create both the tool and the need. With safe and specific structures, mobile learning tools can harness the excitement of technology with the purpose of effective instruction. Using QR codes for instruction is one example of this. 7 Writing Links Worth Reading. BLOODHOUND / Intel Atom animation. I've Been Waiting for This! AirPlay Mirroring to a Mac (no Apple TV required)
Update: Reflection has been renamed Reflector.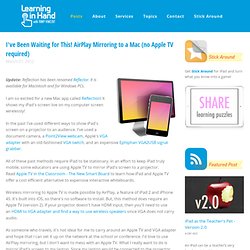 It is available for Macintosh and for Windows PCs. I am so excited for a new Mac app called Reflection! It shows my iPad's screen live on my computer screen wirelessly! In the past I've used different ways to show iPad's screen on a projector to an audience. I've used a document camera, a Point2View webcam, Apple's VGA adapter with an old-fashioned VGA switch, and an expensive Ephiphan VGA2USB signal grabber. Revolver Maps - Free 3D Visitor Maps. Event Time Announcer. Web 2 Tools by Task.
Avators: Build your Wild Self - create a self portrait and learn about the animal parts incorporated into your avatar. Mikons - where people communicate through visual symbols, logos, icons, or avatars to tell a story. Open source e-portfolio and social networking software. Three Primary Colors: OK Go and Sesame Street Explain Basic Color Theory in Stop-Motion. By Maria Popova In my nearly six years of writing and editing Brain Pickings, I've used the word "awesome" as an adjective exactly once. Today, this is about to change — because Three Primary Colors, a new collaboration between OK Go and Sesame Street explaining the basics of color theory in stop-motion, is nothing short of awesome.
In fact, it might just be the finest treat for budding designers since Geometry of Circles, the fantastic 1979 Sesame Street animation with original music by Philip Glass. UPDATE: Reader Jesse Jarnow points out the video was conceived and directed by his father, the legendary PBS stop-motion animator Al Jarnow of Celestial Navigations fame, and is his first PBS animation in a quarter century.
There's also a companion OK Go color game for your edutainment. Creating a plan with students to use cell phones for learning. Want to integrate cell phones into learning? You can involve your students with this planning lesson where students will focus on cell phones as learning tools. With an overview of the educational uses of cell phones (the Gr8 8, below), students will determine how they will choose to use their cell phones for educational purposes.
Contracts for tools will be developed by students and the result will be a plan for educational uses of cell phones. Lesson Title: Plans for Phones or Plnz 4 fonzTools Used: Poll EverywhereLesson Description:Start with a class discussion about tools, and their purpose, for learning.Multiple choice poll: Ask students to text into a poll everywhere free text poll examples of tools and their uses: pencil-communicating/taking notes, calculator-do math, dictionary-learn meanings of words, notes, books, websites, teacher instruction.Free text poll: Ask students to share the tools available on their phone. Welcome to TeacherCast.net: A Place for Teachers to help other Teachers. Blog design prompts.docx. Teaching and Learning Research Programme. 'The Framework for the National Curriculum' in England – 'Report on a page' Download 'Report on a page' as PDF Among mince pies and wrapping paper, discussion on the aims, structure and form of the National Curriculum is invited by the Secretary of State, building on the 2011 Expert Panel report at: www.education.gov.uk.
EP proposals could, if implemented, transform English school education. iPad EdResources. Sankore - free open source IWB software. Open-Sankore is free interactive whiteboard software that is compatible with all types of IWB. It's based on what was previously called Uniboard software. It's been in beta for a while, and from what I can see this is a recent release, although it still needs some work. The basic tools that you would expect are here. E-Safety. The Fallacy of Digital Natives. Why Social Media Can and Is Changing Education. Codecademy: Learn to Code Online, Naturally. QR Hacker: Customize a colourful, unique QR code. UNESCO Launchs ICT Competency Framework for Teachers. Tweeting for teachers: how can social media support teacher professional development?  | Pearson Centre for Policy and Learning.
Easy Private Video Sharing & Hosting - Share Videos Privately! Communication Through The Ages. Evaluating Web-based material for your academic work by Karl Drinkwater on Prezi. Digeratii: Mario just found the most... Schools issued with 743-point behaviour checklist. Triptico | Inspiration for Imaginative Teachers. Impact -Mr. Mitchell's Blog – asksir.co.uk.
---