Junk
HOW TO: Make Your QR Codes More Beautiful. Hamilton Chan is CEO and founder of Paperlinks.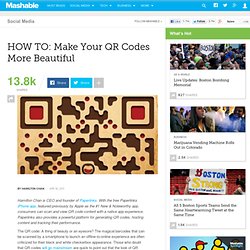 With the free Paperlinks iPhone app, featured previously by Apple as the #1 New & Noteworthy app, consumers can scan and view QR code content with a native app experience. Paperlinks also provides a powerful platform for generating QR codes, hosting content and tracking their performance. The QR code: A thing of beauty or an eyesore? TV Ratings, TV Nielsen Ratings, Television Show Ratings | TVbytheNumbers.com. GLG_Goodbye_Wallets_FINAL-L_1841.png (1000×2401) Sshot4dc981fac5a5a.png (801×5527) Faronheit. Thedissolve: Every year in my capacity as Film Editor of The A.V.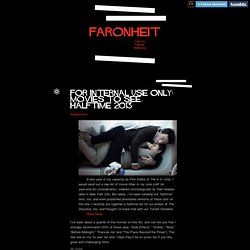 Club, I would send out a raw list of movie titles to my core staff for year-end list consideration, ordered chronologically by their release date in New York City. But lately, I've been sending out "halftime" lists, too, and even published annotated versions of those lists on the site. I recently put together a halftime list for our writers at The Dissolve, too, and thought I'd share that with our Tumblr followers.Read More I've seen about a quarter of the movies on this list, and can tell you that I strongly recommend 100% of those (esp. The Wilderness Downtown. What The Fuck Should I Make For Dinner? Celebrity News, Photos & Gossip on MSN Entertainment | Wonderwall.
The Wilderness Downtown. Cheetos - Battle of the Cheetos.
---