Adventures
What do my fees pay for? Registration Fee (refundable if you choose not to go*) – 24/7 support from IVHQ staff, program marketing costs, information pack, administration costs, IVHQ Fund, travel costs to inspect programs and communication costs with volunteers. Program Fee – airport pick-up, orientation, program supervision, accommodation and meals during volunteer program period, in-country 24/7 volunteer support and in-country administration costs. What additional costs will I have? Visa, flights, travel insurance (mandatory), criminal background check, transport from Delhi to Dharamsala (flights are approximately US$200), transfer back to the airport at conclusion of program, vaccinations, orientation week (optional add-on - US$220), souvenirs, orientation week, spending money (volunteers in India generally find US$30 to be sufficient for basic weekly expenses). * - Terms and conditions do apply.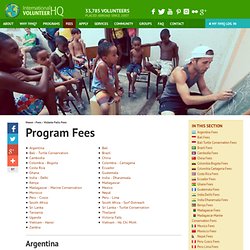 Program Cost
Preachers Rock, Preikestolen, Norway Blue Caves - Zakynthos Island, Greece Skaftafeli - Iceland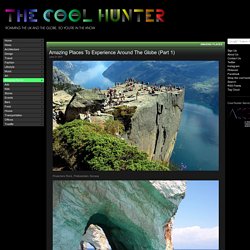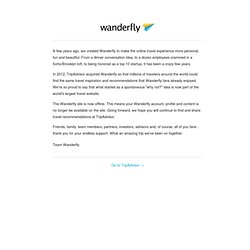 A few years ago, we created Wanderfly to make the online travel experience more personal, fun and beautiful. From a dinner conversation idea, to a dozen employees crammed in a Soho/Brooklyn loft, to being honored as a top 10 startup, it has been a crazy few years. In 2012, TripAdvisor acquired Wanderfly so that millions of travelers around the world could find the same travel inspiration and recommendations that Wanderfly fans already enjoyed. We're so proud to say that what started as a spontaneous "why not?"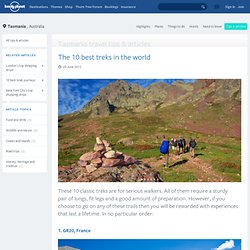 These 10 classic treks are for serious walkers. All of them require a sturdy pair of lungs, fit legs and a good amount of preparation. However, if you choose to go on any of these trails then you will be rewarded with experiences that last a lifetime.
So, obviously, 2012 is here! In February, I had the chance to go to Las Vegas for the international Las Vegas Rugby 7's Tournament. I've pretty much only been on the East Coast except once before (San Francisco in 2009 to play in a Nationals 7's Tournament) so I was excited to go West again! Las Vegas ended up being pretty awesome and affordable... granted, the only gambling I did was at the airport on my way back home when I realized that after a long weekend in Vegas, I hadn't actually gambled.
Justina in Spain & Australia