IMDb
Opening This Week - April 18 The Buzz: The results can be mixed at best when a celebrated cinematographer takes to the director's chair, but when you've shot most of Christopher Nolan's films, his welcome and inescapable guiding hand is there as a mentor, friend, and fan, right? And the science her should be quite smart if writer Jack Paglen's Black Listed script is worth its salt (the rookie screenwriter was recently hired to develop/improve the Prometheus story as he will set work on a sequel).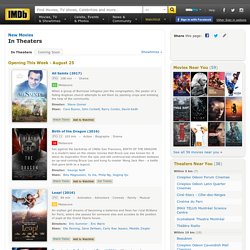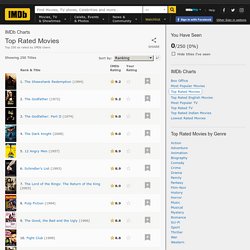 IMDb Charts As voted by regular IMDb users The formula for calculating the Top Rated 250 Titles gives a true Bayesian estimate: weighted rating (WR) = (v ÷ (v+m)) × R + (m ÷ (v+m)) × C Where:
Movie News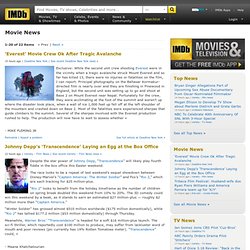 1-20 of 22 items « Prev | Next » 'Everest' Movie Crew Ok After Tragic Avalanche 15 hours ago | Deadline New York | See recent Deadline New York news » Exclusive: While the second unit crew shooting Everest were in the vicinity when a tragic avalanche struck Mount Everest and so far has killed 13, there were no injuries or fatalities on the film, I can report. Principal photography on the Baltasar Kormakur-directed film is nearly over and they are finishing in Pinewood in England, but the second unit was setting up to go and shoot at Base 2 on Mount Everest near Nepal.
Trailers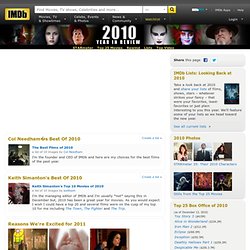 Year In Review | 2010
Reasons We're Excited for 2011 We take a closer look at some of the 2011 movies, shows, people and trends that have us intrigued and more than a little impatient for year to come. Ten Reasons We Loved Watching TV in 2010