Web design
Orbifold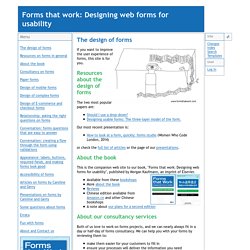 If you want to improve the user experience of forms, this site is for you. Resources about the design of forms The two most popular papers are: Our most recent presentation is:
Webdesign-Regeln - Forms that work: Designing web forms for usability - The design of forms
The first time I discovered the 960 Grid System, I was immediately excited about the possibilities of implementing complex layouts so easily. However, since I was fairly new to web design at the time, when I downloaded the files, I quickly became overwhelmed at how complicated the whole thing seemed. With all this code, how could this be the easy way to create a layout? This article is for web designers and front-end web developers who are interested in grid-based layout systems but are at a loss on how to decipher them. We'll focus specifically on the 960 Grid System, but after reading this guide, you'll find that most of the other grid systems out there are similar and will make much more sense after you understand a few basic principles. Grid-Based Design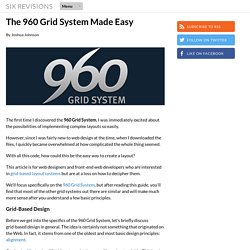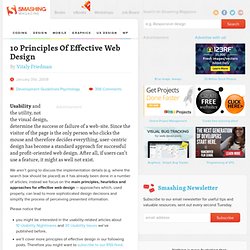 Advertisement Usability and the utility, not the visual design, determine the success or failure of a web-site. Since the visitor of the page is the only person who clicks the mouse and therefore decides everything, user-centric design has become a standard approach for successful and profit-oriented web design. After all, if users can't use a feature, it might as well not exist. We aren't going to discuss the implementation details (e.g. where the search box should be placed) as it has already been done in a number of articles; instead we focus on the main principles, heuristics and approaches for effective web design — approaches which, used properly, can lead to more sophisticated design decisions and simplify the process of perceiving presented information. Please notice that
10 Principles Of Effective Web Design - Smashing Magazine
Advertisement You don't have to agree upon everything. As a professional web developer you are the advocate of your visitors' interests and needs; you have to protect your understanding of good user experience and make sure the visitors will find their way through (possibly) complex site architecture. And this means that you need to be able to protect your position and communicate your ideas effectively — in discussions with your clients and colleagues.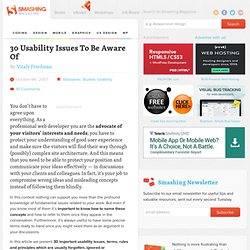 Advertisement Sometimes you just want to get the information you're after, save it and move along. And you can't.
10 Usability Nightmares You Should Be Aware Of - Smashing Magazine