Web ranks & stats
Technorati
Top Blogs on Twitter - Huffington Post, TechCrunch, Engadget, and more - Twittorati
50 Best Websites 2012| Full List
Red de bloggers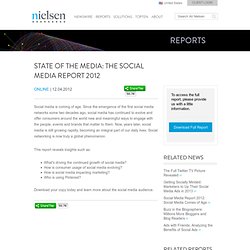 Social Media Report 2012
Social media is coming of age. Since the emergence of the first social media networks some two decades ago, social media has continued to evolve and offer consumers around the world new and meaningful ways to engage with the people, events and brands that matter to them. Now, years later, social media is still growing rapidly, becoming an integral part of our daily lives.
Huge number of Web sites barely visited, report finds
Editor's Note: The following article is reprinted from TechWorld. The Internet, famously, has a long tail, but a new analysis has revealed another characteristic of this vast slew of obscure Web sites. Huge numbers of them are never visited. Analyzing visits to several million Web sites during the last quarter of 2009 for its State of the Web report (registration required), cloud security startup Zscaler created a Hilbert curve-generated "heatmap" of active and inactive IPv4 sites from real customer data.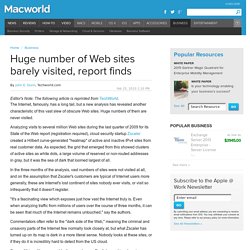 Internet et médias sociaux : les grands chiffres 2012 - 2013
Home | Quantcast
Top Ranking International Websites
Website rank tracking in real time - Rankinity
Measure Your Internet Visibility Stop riding blind! With Rankinity you can quickly get a visual representation of your website Internet visibility. Real-time check of hundreds of keywords in multiple search engines including local search by countries and cities allows you to estimate your standings, reveal weaknesses in your promotion strategy and make necessary adjustments.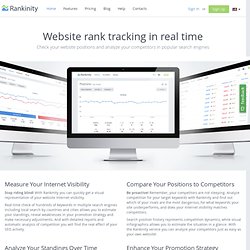 Rank Directory - Websites Directory and Rank Aggregator
Compare Alexa, Compete.com, Quantcast and CrunchBase Data - AttentionMeter
Majestic Million - BETA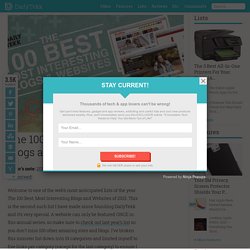 The 100 Best, Most Interesting Blogs and Websites of 2013
This list, while awesome, is no longer the newest. We've got a fresh list for 2014 which you can click here to view. Welcome to one of the web's most anticipated lists of the year: The 100 Best, Most Interesting Blogs and Websites of 2013. This is the second such list I have made since founding DailyTekk and it's very special. A website can only be featured ONCE in this annual series, so make sure to check out last year's list so you don't miss 100 other amazing sites and blogs. I've broken this monster list down into 19 categories and limited myself to five links per category (except for the last category) to ensure I whittled away all but what I thought were the most deserving candidates of right here and right now in 2013.
Alexa the Web Information Company
Tangled Web: The Most Linked to Pages on the Internet
Amazon.com: Online Shopping for Electronics, Apparel, Computers, Books, DVDs & more http://www.amazon.com/ref=gno_logo Online shopping from the earth's biggest selection of books, magazines, music, DVDs, videos, electronics, computers, software, apparel & accessories, shoes, jewelry, tools & hardware, housewares, furniture, sporting goods, beauty & personal care, broadband & dsl, gourmet food & just about anything else. | Your Shopping Cart is empty. | Give it purpose-fill it with books, DVDs, clothes, electronics, and more. | If you already have an account, sign in. | There's a problem previewing your cart right now. www.amazon.com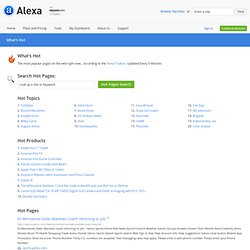 Internet - What's Hot
What is the Web Index? Designed and produced by the World Wide Web Foundation, the Web Index is the world's first multi-dimensional measure of the Web's growth, utility and impact on people and nations. The Web Index launched in 2012, and the 2013 index has been enlarged to include 20 new countries.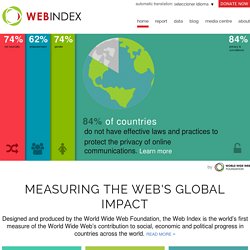 The Web Index | by World Wide Web Foundation
Compete | Compete
Explore this interactive graphic to find out which are the biggest sites on the internet, as measured by the Nielsen company. This feature is part of SuperPower, a season of programmes exploring the power of the internet. About this data The data used to generate the interactive treemap visualisation were collected by the Nielsen company and covers the UK, France, Germany, Italy, Spain, Switzerland, Brazil, US and Australia. The figures represent unique users for the month of January 2010.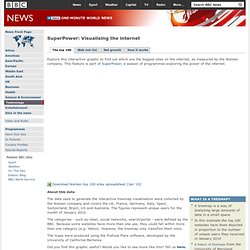 The top 100 sites on the internet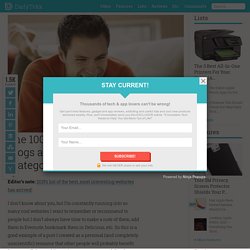 This list, while awesome, is no longer the newest list. Click here to visit the most recent list! This post is #1 in DailyTekk's famous Top 100 series which explores the best startups, gadgets, apps, websites and services in a given category. Total items listed: 100. Time to compile: 8+ hours. Follow @DailyTekk on Twitter to make sure you don't miss a week!
The 100 Best, Most Interesting Blogs and Websites of 2012 (Categorized)
Most popular websites | WOT (Web of Trust)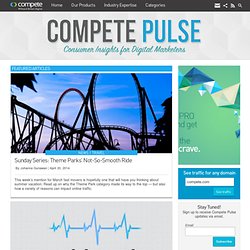 Looking back on December 2013, the Ecards category saw massive growth as Americans wished their friends and families happy holidays. With a 55.22% month-over-month (MoM) growth in unique visitors and a 75.19% MoM increase in total time spent on websites in the category, it was no doubt a very successful month for ecards sites; however, looking at longer-term trends, the category as a whole suffered a 31.81% year-over-year (YoY) drop in unique visitors.
Compete Pulse — Online Marketing Insights
Real-time Web Monitor
observatoire du web et monitoring gratuit - Homepage
Internet Usage World Stats - Internet and Population Statistics
Internet World Stats is an International website that features up to date world Internet Usage, Population Statistics, Travel Stats and Internet Market Research Data, for over 233 individual countries and world regions. See the Internet Big Picture here. Internet World Stats is a useful source for travel and hotel stats, international online market research, the latest Internet statistics, world Internet penetration data, world population statistics, telecommunications information reports, and Facebook Stats by country.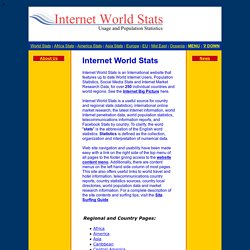 Top 1000 sites - DoubleClick Ad Planner
eBizMBA - The eBusiness Knowledgebase
Top Websites - Most Visited Websites - Website Ranking - Ranking.com
Top Sites: The 500 Most Important Websites on the Internet
Rankopedia - Rankings and discussions on sports, music, movies, TV, celebrities and more
Web 2.0 sites, rankings, traffics and logos - Web2List
popuri.us :: quickly check your site's Google PageRank, Alexa Rank and more!
The Cooperative Association for Internet Data Analysis
Majestic SEO : Backlink Checker & Site Explorer
Internet Research, Anti-Phishing and PCI Security Services | Netcraft
Web Statistics and Analysis | HypeStat
Trends
The Cooperative Association for Internet Data Analysis
Classement des meilleurs blogs (ex top blog wikio)
The Internet: Then and Now [Infographic] - Who Is Hosting This: The Blog
Dynamic of ranking in complex systems
Top Tens & Trends | Top 10 Media Trends
TNS Digital Life | Internet Statistics & Social Media Usage | Online Behavior & Trends
Hedonometer
Pew Research Center's Internet & American Life Project
soti_slides_q1_2012.pdf (Objet application/pdf)
State of the Internet - Official Akamai Internet Traffic Report
Infographic: The Incredible Growth of Web Usage [1984-2013] - Who Is Hosting This: The Blog
Web Traffic Analysis & Modeling | Center for Complex Networks and Systems Research
Statsaholic: Website Statistics and Website Traffic Graphs
WorldWideWebSize.com | The size of the World Wide Web (The Internet)
ascore-2009-jan-ipv4v6-poster-1600x1068.png (Image PNG, 1600x1068 pixels) - Redimensionnée (76%)
all-rankings.com - Universe of rankings, rank it all!
PageRank Research - PageRank Checker, Scanner and Display
vote, create and share rankings about music, film, television, restaurants, sports...