Web ranks & stats
Technorati. Top Blogs on Twitter - Huffington Post, TechCrunch, Engadget, and more - Twittorati. 50 Best Websites 2012| Full List. Red de bloggers. Social Media Report 2012. Social media is coming of age.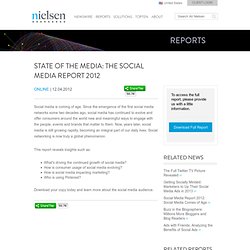 Since the emergence of the first social media networks some two decades ago, social media has continued to evolve and offer consumers around the world new and meaningful ways to engage with the people, events and brands that matter to them. Now, years later, social media is still growing rapidly, becoming an integral part of our daily lives. Huge number of Web sites barely visited, report finds. Editor's Note: The following article is reprinted from TechWorld.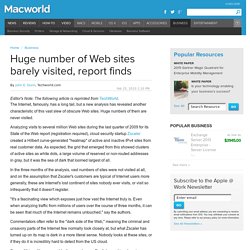 The Internet, famously, has a long tail, but a new analysis has revealed another characteristic of this vast slew of obscure Web sites. Huge numbers of them are never visited. Analyzing visits to several million Web sites during the last quarter of 2009 for its State of the Web report (registration required), cloud security startup Zscaler created a Hilbert curve-generated "heatmap" of active and inactive IPv4 sites from real customer data. Internet et médias sociaux : les grands chiffres 2012 - 2013. Home | Quantcast. Top Ranking International Websites. Website rank tracking in real time - Rankinity. Rank Directory - Websites Directory and Rank Aggregator. Compare Alexa, Compete.com, Quantcast and CrunchBase Data - AttentionMeter. Majestic Million - BETA. The 100 Best, Most Interesting Blogs and Websites of 2013. This list, while awesome, is no longer the newest.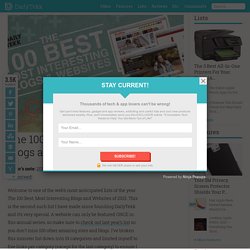 We've got a fresh list for 2014 which you can click here to view. Welcome to one of the web's most anticipated lists of the year: The 100 Best, Most Interesting Blogs and Websites of 2013. This is the second such list I have made since founding DailyTekk and it's very special. A website can only be featured ONCE in this annual series, so make sure to check out last year's list so you don't miss 100 other amazing sites and blogs. I've broken this monster list down into 19 categories and limited myself to five links per category (except for the last category) to ensure I whittled away all but what I thought were the most deserving candidates of right here and right now in 2013.
Alexa the Web Information Company. Tangled Web: The Most Linked to Pages on the Internet. Internet - What's Hot. Amazon.com: Online Shopping for Electronics, Apparel, Computers, Books, DVDs & more Online shopping from the earth's biggest selection of books, magazines, music, DVDs, videos, electronics, computers, software, apparel & accessories, shoes, jewelry, tools & hardware, housewares, furniture, sporting goods, beauty & personal care, broadband & dsl, gourmet food & just about anything else. | Your Shopping Cart is empty. | Give it purpose-fill it with books, DVDs, clothes, electronics, and more. | If you already have an account, sign in. | There's a problem previewing your cart right now. www.amazon.com.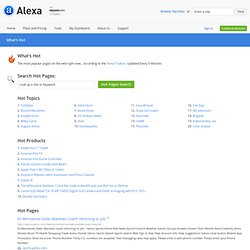 All the Devices on the Internet Pinged. The Web Index | by World Wide Web Foundation. Compete | Compete. The top 100 sites on the internet. Explore this interactive graphic to find out which are the biggest sites on the internet, as measured by the Nielsen company.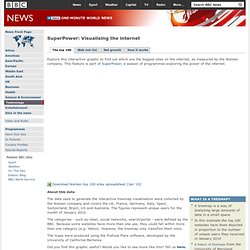 This feature is part of SuperPower, a season of programmes exploring the power of the internet. About this data The data used to generate the interactive treemap visualisation were collected by the Nielsen company and covers the UK, France, Germany, Italy, Spain, Switzerland, Brazil, US and Australia. The figures represent unique users for the month of January 2010. The 100 Best, Most Interesting Blogs and Websites of 2012 (Categorized) This list, while awesome, is no longer the newest list.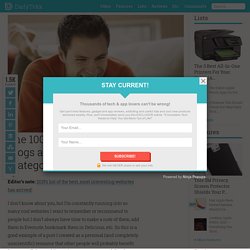 Click here to visit the most recent list! This post is #1 in DailyTekk's famous Top 100 series which explores the best startups, gadgets, apps, websites and services in a given category. Total items listed: 100. Time to compile: 8+ hours. Follow @DailyTekk on Twitter to make sure you don't miss a week! Most popular websites. Compete Pulse — Online Marketing Insights. Real-time Web Monitor. Observatoire du web et monitoring gratuit - Homepage. Internet Usage World Stats - Internet and Population Statistics. Top 1000 sites - DoubleClick Ad Planner. eBizMBA - The eBusiness Knowledgebase. Top Websites - Most Visited Websites - Website Ranking - Ranking.com.
Top Sites: The 500 Most Important Websites on the Internet. Rankopedia - Rankings and discussions on sports, music, movies, TV, celebrities and more. Web 2.0 sites, rankings, traffics and logos - Web2List. Popuri.us :: quickly check your site's Google PageRank, Alexa Rank and more! The Cooperative Association for Internet Data Analysis. Majestic SEO : Backlink Checker & Site Explorer. Internet Research, Anti-Phishing and PCI Security Services | Netcraft.
Web Statistics and Analysis | HypeStat. Trends. The Cooperative Association for Internet Data Analysis. Classement des meilleurs blogs (ex top blog wikio) The Internet: Then and Now [Infographic] - Who Is Hosting This: The Blog. Surfing the Internet, creating and finding hosting for a Web site, and sharing with social media are all things we take for granted today—but none of them would be possible without the efforts of the innovators who established what we now know as the modern Web.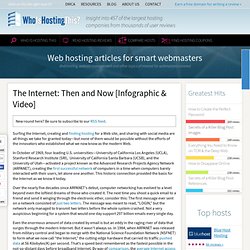 In October of 1969, four leading U.S. universities—University of California Los Angeles (UCLA), Stanford Research Institute (SRI), University of California Santa Barbara (UCSB), and the University of Utah—activated a project known as the Advanced Research Projects Agency Network (ARPANET), creating the first successful network of computers in a time when computers barely interacted with their users, let alone one another. This historic connection provided the basis for the Internet as we know it today. Over the nearly five decades since ARPANET's debut, computer networking has evolved to a level beyond even the loftiest dreams of those who created it. Dynamic of ranking in complex systems.
Trends Watch. Top Tens & Trends | Top 10 Media Trends. TNS Digital Life | Internet Statistics & Social Media Usage | Online Behavior & Trends. Data-Never-Sleeps-60-seconds-on-social-media-infographic.jpg (Image JPEG, 1288 × 2048 pixels) - Redimensionnée (39%) Top blogs ranking (previously Wikio top blogs) Ebuzzing Our top rankings Ranking Top Blogs - All - May 2014.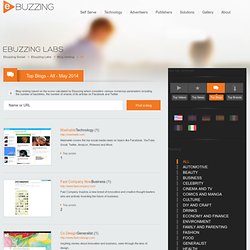 Site analitycs. Hedonometer. Market share for mobile, browsers, operating systems and search engines | NetMarketShare. BuiltWith Technology Lookup. Pew Research Center's Internet & American Life Project. Soti_slides_q1_2012.pdf (Objet application/pdf) State of the Internet - Official Akamai Internet Traffic Report. Tom Leighton, Chief Executive Officer,Akamai Dr.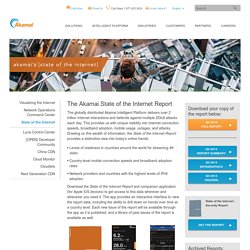 Tom Leighton co-founded Akamai Technologies in 1998, and served as Akamai's Chief Scientist for 14 years before becoming Chief Executive. Prior to his role as CEO, Dr. Leighton served as a Professor of Applied Mathematics at MIT and a member of the Computer Science and Artificial Intelligence Laboratory (CSAIL). As one of the world's preeminent authorities on algorithms for network applications, Dr.
Infographic: The Incredible Growth of Web Usage [1984-2013] - Who Is Hosting This: The Blog. In the three decades since the Internet evolved from an experimental band of academic and government computers into a globe-spanning network of interconnected systems, the amount of time spent online has grown to rival (or even exceed) the time spent living offline.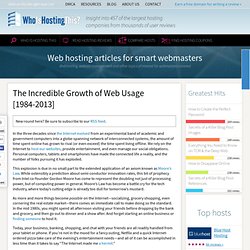 We rely on the Internet to host our websites, provide entertainment, and even manage our social obligations. Personal computers, tablets and smartphones have made the connected life a reality, and the number of folks pursuing it has exploded. This explosion is due in no small part to the extended application of an axiom known as Moore's Law. While ostensibly a prediction about semi-conductor innovation rates, this bit of prophecy from Intel co-founder Gordon Moore has come to represent the doubling not just of processing power, but of computing power in general. Moore's Law has become a battle cry for the tech industry, where today's cutting edge is already too dull for tomorrow's mustard. Web Traffic Analysis & Modeling | Center for Complex Networks and Systems Research. We study the structure and dynamics of Web traffic networks based on data from HTTP requests made by users at Indiana University.
Gathering anonymized requests directly from the network rather than relying on server logs and browser instrumentation allows us to examine large volumes of traffic data while minimizing biases associated with other data sources. It also gives us valuable referrer information that we can use to reconstruct the subset of the Web graph actually traversed by users.
Our Web traffic (click) dataset is available! Statsaholic: Website Statistics and Website Traffic Graphs. WorldWideWebSize.com | The size of the World Wide Web (The Internet) Ascore-2009-jan-ipv4v6-poster-1600x1068.png (Image PNG, 1600x1068 pixels) - Redimensionnée (76%) All-rankings.com - Universe of rankings, rank it all! PageRank Research - PageRank Checker, Scanner and Display. Vote, create and share rankings about music, film, television, restaurants, sports...
---