Twitter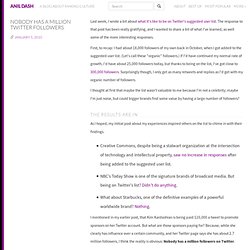 Nobody Has A Million Twitter Followers
Last week, I wrote a bit about what it's like to be on Twitter's suggested user list. The response to that post has been really gratifying, and I wanted to share a bit of what I've learned, as well some of the more interesting responses. First, to recap: I had about 18,000 followers of my own back in October, when I got added to the suggested user list. (Let's call these "organic" followers.) If I'd have continued my normal rate of growth, i'd have about 25,000 followers today, but thanks to being on the list, I've got close to 300,000 followers. Surprisingly though, I only get as many retweets and replies as I'd get with my organic number of followers.
Forget Klout: you can't measure influence on Twitter
Directories, Lists, Groups...