Twitter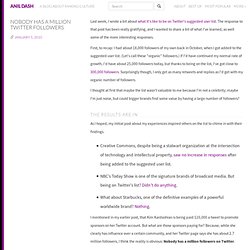 Nobody Has A Million Twitter Followers
Last week, I wrote a bit about what it's like to be on Twitter's suggested user list. The response to that post has been really gratifying, and I wanted to share a bit of what I've learned, as well some of the more interesting responses. First, to recap: I had about 18,000 followers of my own back in October, when I got added to the suggested user list. (Let's call these "organic" followers.) If I'd have continued my normal rate of growth, i'd have about 25,000 followers today, but thanks to being on the list, I've got close to 300,000 followers. Surprisingly though, I only get as many retweets and replies as I'd get with my organic number of followers.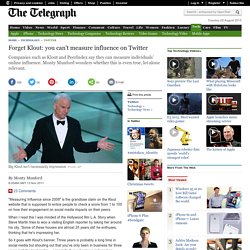 Forget Klout: you can't measure influence on Twitter
It quickly became clear that such measurements were a work in progress and not to be taken too seriously. I searched in vain for an out-of-office option when I went on holiday and wasn't surprised that my score dived in the time I was away from social networks. Since then I've ignored Klout and PeerIndex, let alone the others that are springing up in their wake. I relented a little when the latter company sent me a 'Perks' card telling me I had been 'selected as one of 100 PeerIndex Opinion Leaders out of the 38.6 million most active Twitter users we index', but once the ego had died down I realised it was just inspired marketing, something that Klout and PeerIndex are very good at. Both companies have subsequently tweaked their algorithms on a regular basis without telling their customers, sparking outrage on Twitter from insecure people and causing me to instantly unfollow them.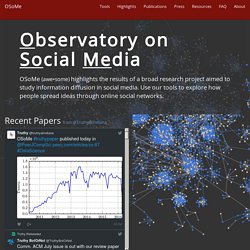 Analytics Browse Analyze interesting features of the social network with interactive interfaces. Movies
We don't require you to sign long term contracts or commit to anything. We're a pay-as-you-go service. If you decide you don't need our service any longer, you can cancel at any time. All packages include a 15 day FREE trial. Twitter Searches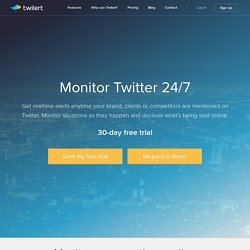 Directories, Lists, Groups...