Tools Lists
iTools - use the best tools. Best of. Free Online Network Tools. Top 100 Tools for Learning 2011. Centre for Learning & Performance Technologies The Toolbox Share your Top 10 Tools to help build the 2011 list This is the 5th annual Top 100 Tools for Learning list I have built based on the contributions of learning professionals worldwide.
I am now compiling the Top 100 Tools for Learning 2011 193 contributions so far Latest contribution: 26 June, 2011 List will be finalised 13 November, 2011 KEY Links to previous years' lists: 2010, 2009, 2008 and 2007 F = Free, C= Commercial, D=Download, S=Server, O=Online Cells shaded blue are new tools on the list this year, green are returners. Welcome // Apps, Extensions and Themes. All-time most popular. Reviews of 3456 Free Web Apps - AppAppeal. Useful Tools. Showcasing the greatest apps for iPhone, iPod touch & iPad + Android. Free Web Resources – Web Resources Depot.
WGTools.com • Home. Find Online Project Management Software & Other 100% Web Applications. Web App Marketplace – Find 100% Cloud Software Applications Project-Management.com offers a business-oriented Software-as-a-Service (SaaS) Marketplace.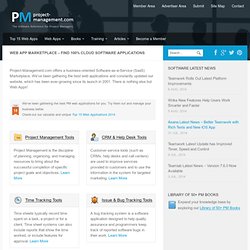 We've been gathering the best web applications and constantly updated our website, which has been ever-growing since its launch in 2001. List of concept- and mind-mapping software. Concept-mapping and mind-mapping software are used to create diagrams of relationships between concepts, ideas or other pieces of information.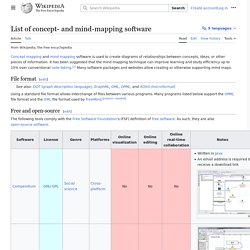 It has been suggested that the mind mapping technique can improve learning/study efficiency up to 15% over conventional note taking.[1] File format[edit] Toolbox.com Home. 21st Century Tools Through the Lens of Bloom's Taxonomy. Over this past weekend, I attended the 1st Annual Wyoming TEC Conference.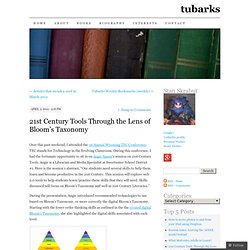 TEC stands for Technology in the Evolving Classroom. During this conference, I had the fortunate opportunity to sit in on Angie Spann's session on 21st Century Tools. Angie is a Librarian and Media Specialist at Sweetwater School District #1. Here is the session's abstract, "Our students need several skills to help them learn and become productive in the 21st Century. Knowledge Worker : ma boîte à outils numérique. Depuis plusieurs années, je reçois souvent des demandes concernant mon organisation personnelle et ma manière de faire pour alimenter le blog, produire des contenus à destination de la communauté professionnelle de la veille… Il s'agit de manière plus synthétique, si je reprends l'expression chère à Christophe : mon Personal Knowledge Management.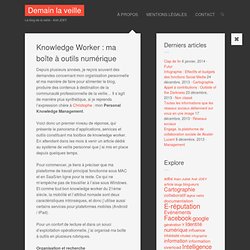 Voici donc un premier niveau de réponse, qui présente le panorama d'applications, services et outils constituant ma toolbox de knowledge worker. En attendant dans les mois à venir un article dédié au système de veille personnel que j'ai mis en place depuis quelques temps. » Top 100 Tools for Learning 2010 C4LPT. EmailShare 6509EmailShare Voting for the Top 100 Tools for Learning 2014 (8th Annual Survey) is open The annual list of top learning tools (compiled by Jane Hart) has become very popular as it has been compiled from the contributions of learning professionals worldwide.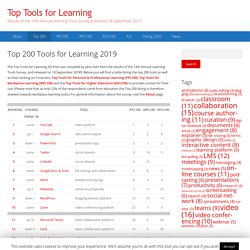 The Most Useful Free Web Tools - Organize Yourself Online! If you're looking for a list of the most useful Web tools, you've come to the right place.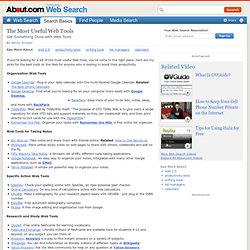 Here are my picks for the best tools on the Web for anyone who is looking to boost their productivity. Organization Web Tools Google Calendar: Plug in your daily calendar with the multi-faceted Google Calendar. Outils Froids. 5000+ Resources to Do Just About Anything Online. Since May 2007, we've been bringing you resources and tools to be more productive on the web.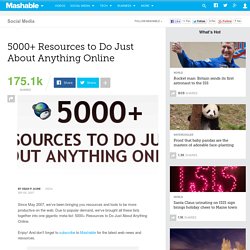 Due to popular demand, we've brought all these lists together into one gigantic meta-list: 5000+ Resources to Do Just About Anything Online. Enjoy! And don't forget to subscribe to Mashable for the latest web news and resources. 6 Key Ways to Measure Your Blog's Success - Six essential tools for measuring how your blog is performing. 30+ AJAX-Powered WordPress Plugins - AJAX provides a way to have pages auto-update to reflect new data without page reloads. Outils.
---