Toolbars
Create Toolbar - Create Your Own Toolbar
Create Toolbar in three easy steps. Make your own Toolbar online and get paid. A home based online business idea where you can get paid from home on Internet. Learn how to make your own Toolbar for Google Chrome, Firefox or Internet Explorer. Build Toolbar with Online Radio, Games, Online Music, Email Notifier, Pop-up Blocker, Weather and many more components and distribute it . You will get paid for every Toolbar downloaded.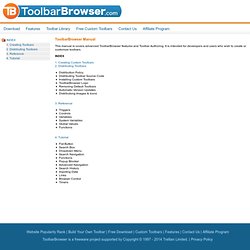 Manual
ToolbarBrowser Manual This manual is covers advanced ToolbarBrowser features and Toolbar Authoring. It is intended for developers and users who wish to create or customize toolbars. 1. Creating Custom Toolbars2. Distributing Toolbars Distribution Policy Distributing Toolbar Source Code Installing Custom Toolbars ToolbarBrowser Logo Removing Default Toolbars Automatic Version Updates Distributong Images & Icons3.
ToolbarBrowser - Toolbar Manager, free Custom Toolbar Builder
Features and Benefits Includes Popup Blocking Auto Form Filler Highlight search text Zoom in and Zoom Out Clipboard Manager Search major search engines, including Google, Yahoo, MSN, Ask etc... Popularity Index (PI Rank), Google PR™ and Alexa Rank™ Wayback Machine - See how a website looked in the past Standard IE buttons and links replacement to save browser space Tabbed control to save toolbar space Fully programmable with XML support RSS feeds Create your own toolbars Add Toolbars to your web site Search Bar - Meta search most major search engines Links toolbar replacement to save browser toolbar space Favorites toolbar for easy access to your favorite links Search Engine Optimization toolbar loaded with SEO tools & features Easy to uninstall Lots of other handy free custom toolbars... plus many more features... One Toolbar to rule them all. The FREE ToolbarBrowser is a complete Toolbar Authoring and Management tool.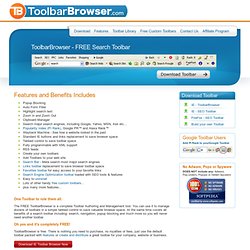 Toolbar Creator
MyStart Toolbar
Toolbar - Free Toolbars from Ourtoolbar Directory