Thumb & snap shots
What is Greenshot? Greenshot is a light-weight screenshot software tool for Windows with the following key features: Quickly create screenshots of a selected region, window or fullscreen; you can even capture complete (scrolling) web pages from Internet Explorer. Easily annotate, highlight or obfuscate parts of the screenshot. Export the screenshot in various ways: save to file, send to printer, copy to clipboard, attach to e-mail, send Office programs or upload to photo sites like Flickr or Picasa, and others.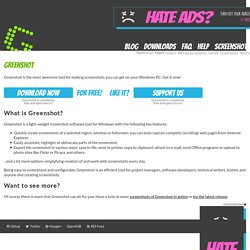 Try it now! Enter URL and size then click "Capture!". Usually you will receive your snapshot in a couple of seconds. If not, try again in a few minutes.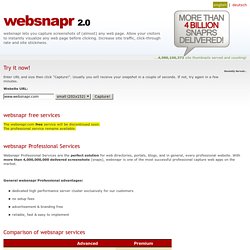 thumbalizr! Welcome to thumbalizr. Online and API interfaces have been improved with some new features and better data handling. To make use of the new features, you'll have to sign up at least for the free standard API. After Sign up, the online version is enhanced by capture delay, image quality and encoding (jpg, png)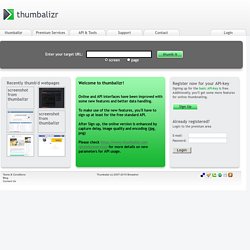 Free preview thumbnails on your site. Web page screenshot image
Télécharger capture page web
Utilisateur - Nombre de votes insuffisant Softonic
IE Snapshot - Télécharger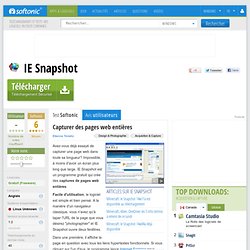 Capture d'écran / Copie d'écran
Comment faire une capture d'écran ? Il est parfois utile de pouvoir capturer ce que l'on voit sur l'écran, mais il n'est pas forcément nécessaire pour cela d'installer un logiciel de capture d'écran. Il est possible de capturer tout l'écran ou, selon le désir, seulement une partie et de sauvegarder le résultat dans un fichier image.