The Rolling Stones
Can't you hear me knocking- rolling stones. The Rolling Stones Gimme Shelter 1970. Moonlight Mile with lyrics- The Rolling Stones. The Rolling Stones - Moonlight Mile ('71 HQ Audio) The Rolling Stones Monkey Man. The Rolling Stones - Live At The Max (1991) The Rolling Stones : Sympathy For The Devil (live) HQ.
The Rolling Stones - "Gimme Shelter" - live ! Wild Horses - The Rolling Stones 1995. Marianne Faithfull - As Tears Go By (1965) Can't You Hear Me Knocking. "Can't You Hear Me Knocking" is a song by English rock and roll band The Rolling Stones from their 1971 album Sticky Fingers.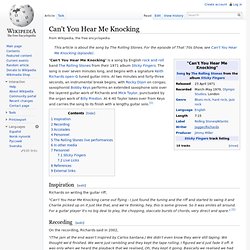 The song is over seven minutes long, and begins with a signature Keith Richards open-G tuned guitar intro. At two minutes and forty-three seconds, an instrumental break begins, with Rocky Dijon on congas; saxophonist Bobby Keys performs an extended saxophone solo over the layered guitar work of Richards and Mick Taylor, punctuated by the organ work of Billy Preston. At 4:40 Taylor takes over from Keys and carries the song to its finish with a lengthy guitar solo.[1] Inspiration[edit] Category:The Rolling Stones songs. Rolling Stones - Gimme Shelter. Rolling Stones "Can't You Hear Me Knockin'" Live Budokan. The Rolling Stones - Paint it black. Satisfaction-Rolling Stones.
The Rolling Stones / Some Girls/ - Live in Texas 1978..avi. The Rolling Stones - Voodoo Lounge Live In New Jersey 1994 Full. Brown Sugar-Rolling Stones. Rolling Stones - Rocks Off (1972) Rolling Stones - Ventilator Blues. The Rolling Stones Fan Club - It's Only Rock'n Roll. The Rolling Stones. The Rolling Stones are a British rock band who rose to prominence during the mid-1960s.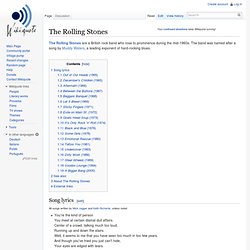 The band was named after a song by Muddy Waters, a leading exponent of hard-rocking blues. Song lyrics[edit] All songs written by Mick Jagger and Keith Richards, unless noted Out of Our Heads (1965)[edit] And if you take more of those You will get an overdose. The Rolling Stones Let It Loose. Exile on Main St. Exile on Main St. is a double album by English rock band The Rolling Stones.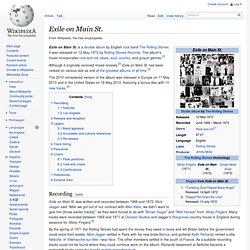 It was released on 12 May 1972 by Rolling Stones Records. The album's music incorporates rock and roll, blues, soul, country, and gospel genres.[2] Although it originally received mixed reviews,[2] Exile on Main St. has been ranked on various lists as one of the greatest albums of all time.[3] Rolling Stones Stray Cat Blues. The Rolling Stones. The band continued to make successful records through the 1970s and selling many albums with Some Girls (1978) and Tattoo You (1981) being their two most sold albums worldwide.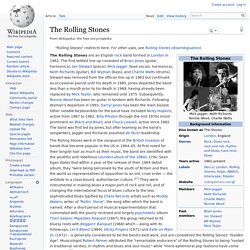 In the 1980s a feud between Jagger and Richards about band's musical direction almost caused the band to split but they managed to patch their relationship and had a big comeback with Steel Wheels (1989) which was followed by a big stadium and arena tour. The band's tradition of supporting albums with big stadium tours continued through the 1990s and 2000s. The band made four at the time highest-grossing concert tours (Voodoo Lounge Tour (1994-1995), Bridges to Babylon Tour (1997-1999), Licks Tour (2002-2003) and A Bigger Bang Tour (2005-2007)).
The Rolling Stones were inducted into the Rock and Roll Hall of Fame in 1989, and the UK Music Hall of Fame in 2004. Rolling Stone magazine ranked them fourth on the "100 Greatest Artists of All Time" list, and their estimated album sales are above 250 million. Life (book) It has been reported that publisher Little, Brown and Company paid an advance of $7.3 million, after seeing a ten-page extract.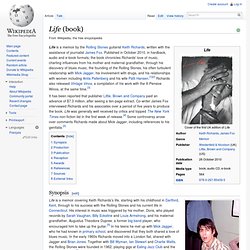 Co-writer James Fox interviewed Richards and his associates over a period of five years to produce the book. Life was generally well received by critics and topped The New York Times non-fiction list in the first week of release.[4] Some controversy arose over comments Richards made about Mick Jagger, including references to his genitalia.[2] Richards's memoir includes the founding of The Rolling Stones in 1962; he is pictured here in 1965 before a Stones show The book chronicles Richards's career with the Stones since 1962, following their rise from playing small club gigs to stadium concerts, Richards's drug habits, his arrests and convictions.
His relationships with a number of women, including Anita Pallenberg, Marianne Faithfull, Ronnie Spector and Patti Hansen, whom he married in 1983, are covered in detail. List of best-selling music artists. The requirements of certified sales are designed to avoid inflated sales figures, which are frequently practiced by record companies for promotional purposes.[1][2] The claimed figures are sourced to articles that use the term records (singles, albums, videos) and not albums.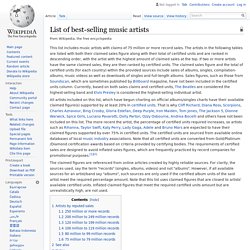 However, if all available sources for an artist/band say albums, such sources can only be used if the certified album units of the said artist meet the required percentage amount. Note that this list uses claimed figures that are closer to artists' available certified sales. The Rolling Stones. The Rolling Stones discography. The Complete Works of the Rolling Stones - Database. Rolling Stones concerts. Since forming in 1962, the English rock band The Rolling Stones have performed more than two thousand concerts around the world, becoming one of the world's most popular live music attractions in the process.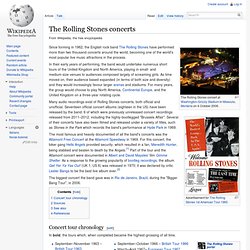 In their early years of performing, the band would undertake numerous short tours of the United Kingdom and North America, playing in small- and medium-size venues to audiences composed largely of screaming girls. As time moved on, their audience based expanded (in terms of both size and diversity) and they would increasingly favour larger arenas and stadiums. For many years, the group would choose to play North America, Continental Europe, and the United Kingdom on a three-year rotating cycle. Many audio recordings exist of Rolling Stones concerts, both official and unofficial. Rolling Stones - Full Concert. "The Rolling Stones" The Official site of the Rolling Stones | Rollingstones.com. The Rolling Stones Official. Ladies and Gentlemen they are back!
THE ROLLING STONES have announced today that they will kick off their 14 ON FIRE tour with a very special one-off show in Abu Dhabi on 21 February 2014, before heading out on the road across the Far East and Asia to play three shows in Tokyo and a one-off show in Macau. The rock icons will then travel to Australia and New Zealand for one-off shows in Perth, Adelaide, Sydney, Melbourne, Hanging Rock, Brisbane and Auckland. A further two big concerts in Asia will be announced soon. The 14 ON FIRE tour will see Mick Jagger, Keith Richards, Charlie Watts and Ronnie Wood head back out on the road after a mammoth run of concerts in the U.S and the U.K in 2013, an exhilarating and critically acclaimed celebration of five decades of the Rolling Stones bringing their iconic music and groundbreaking stage shows to audiences around the globe. (1) The Rolling Stones. Background Image.
---
joinedciclub Jun 1 2012

THANK YOU !!!THE MEMBER JOINED!!

elodiedestarzik May 7 2012

Bonjour à tous, toute la discographie des Stones est disponible sur :
---