Science join sf
Have scientists accidentally created a lightsaber? New form of matter discovered that has only ever been seen in science-fiction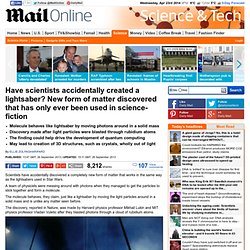 Molecule behaves like lightsaber by moving photons around in a solid mass Discovery made after light particles were blasted through rubidium atomsThe finding could help drive the development of quantum computing May lead to creation of 3D structures, such as crystals, wholly out of light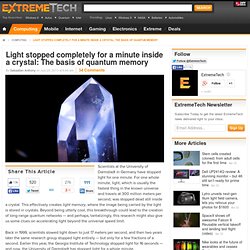 Scientists at the University of Darmstadt in Germany have stopped light for one minute.
Light stopped completely for a minute inside a crystal: The basis of quantum memory
One weird theory could make anti-gravity and faster-than-light travel possible
it seems like a long time since humanity has broached a major new paradigm-shifting scientific breakthrough. in the century since Einstein gave us relativity, we've created microwave ovens and cel phones, which seem in line with the path of technological improvement. the overall arc of history feels somewhat like a Dark Ages in terms of progress scientifically though. perhaps it was the perky optimism of the 1950s, Atomic Age, Jetsons cartoons sense of how much science would improve the world. perhaps it is our focus on the 1%'s need to be wealthier than us. and some days, i even wish to point the finger at our ongoing acceptance of fairy-tale gods and religions who need people to not think. but i still crave the answers which seem to be reachable.
First-ever human head transplant is now possible, says neuroscientist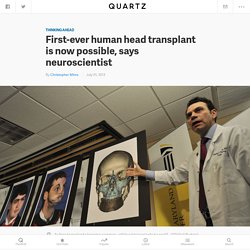 Technical barriers to grafting one person's head onto another person's body can now be overcome, says Dr.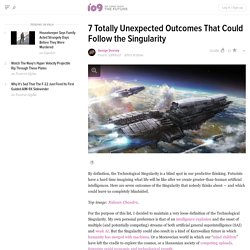 By definition, the Technological Singularity is a blind spot in our predictive thinking. Futurists have a hard time imagining what life will be like after we create greater-than-human artificial intelligences. Here are seven outcomes of the Singularity that nobody thinks about — and which could leave us completely blindsided.
It is a concept that forms a cornerstone of our understanding of the universe and the concept of time – nothing can travel faster than the speed of light. But now it seems that researchers working in one of the world's largest physics laboratories, under a mountain in central Italy, have recorded particles travelling at a speed that is supposedly forbidden by Einstein's theory of special relativity. Scientists at the Gran Sasso facility will unveil evidence on Friday that raises the troubling possibility of a way to send information back in time, blurring the line between past and present and wreaking havoc with the fundamental principle of cause and effect. They will announce the result at a special seminar at Cern – the European particle physics laboratory – timed to coincide with the publication of a research paper ( pdf ) describing the experiment.
Faster than light particles found, claim scientists | Science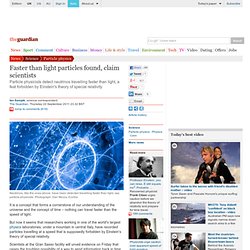 How accurate is the decoder? A good decoder should produce a reconstruction that a neutral observer judges to be visually similar to the viewed movie. However, it is difficult to quantify human judgments of visual similarity. In this paper we use similarity in the motion-energy domain. That is, we quantify how much of the spatially localized motion information in the viewed movie was reconstructed.
ICAACT
What if our existence is a holographic projection of another, flat version of you living on a two-dimensional "surface" at the edge of this universe? In other words, are we real, or are we quantum interactions on the edges of the universe - and is that just as real anyway? Whether we actually live in a hologram is being hotly debated, but it is now becoming clear that looking at phenomena through a holographic lens could be key to solving some of the most perplexing problems in physics, including the physics that reigned before the big bang,what gives particles mass, a theory of quantum gravity. In 1982 a litttle known but epic event occured at the University of Paris, where a research team led by physicist Alain Aspect performed what may turn out to be one of the most important experiments of the 20th century.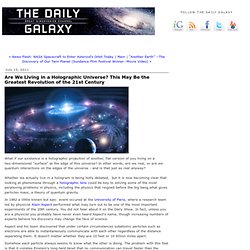 Are We Living in a Holographic Universe? This May Be the Greatest Revolution of the 21st Century
The Universe as a Hologram
The Universe as a Hologram by Michael Talbot Does Objective Reality Exist, or is the Universe a Phantasm? In 1982 a remarkable event took place. At the University of Paris a research team led by physicist Alain Aspect performed what may turn out to be one of the most important experiments of the 20th century. You did not hear about it on the evening news.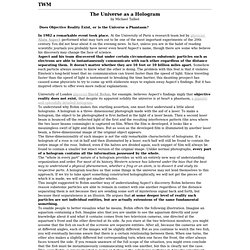 The Holographic Universe
"It isn't that the world of appearances is wrong; it isn't that there aren't objects out there, at one level of reality.
The Holographic Universe: 12 Keys for Higher Awareness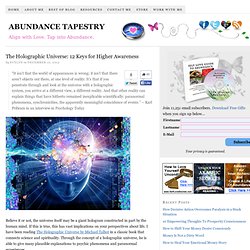 Researchers at Tokyo University have come up with a technology that is a first and significant step away from the mouse and keyboard – touchable holograms. [Hiroyuki Shinoda, Professor, Tokyo University]: "Up until now, holography has been for the eyes only, and if you'd try to touch it, your hand would go right through. But now we have a technology that also adds the sensation of touch to holograms." The technology consists of software that uses ultrasonic waves to create pressure on the hand of a user "touching" the projected hologram. Researchers are using two Wiimotes from Nintendo's Wii gaming system to track a user's hand.
The story that you're about to read has created quite a stir among our editorial staff. The subject touches upon everything, literally everything that we humans do in our lives. And this is confrontational, disturbing and hopeful all at once. But that wasn't the only reason for the commotion. There was also a continual discussion about the way this topic should be introduced. After all, writing about an energy field that connects man and matter and continually affects everything and everyone is not as quite as simple as the average article.
Ode Magazine : The amazing promises of the Zero Point Field
BioprintingInfographic.jpg
L'etude de l'antimatiere peut-elle prouver le mythe des univers parallèles? - Introduction
Cern scientists suspect glimpse of Higgs boson | Science
A technician at work in the Atlas control room. 'Bumps' in the data hint at presence of Higgs boson. Photograph: Fabrice Coffrini/AFP/Getty Images Scientists may have caught their first glimpse of the elusive Higgs boson , which is thought to give mass to the basic building blocks of nature. Researchers at the Large Hadron Collider at Cern , the European particle physics lab near Geneva, announced the findings at a conference on Friday .
It's been a long road Getting from there to here It's been a long time
NASA Warp Drive Project - "Speeds" that Could Take a Spacecraft to Alpha Centauri in Two Weeks
The human mind has been long concerned about the existence of other parallel worlds . While many people still consider it nothing more than a weird scientific fantasy, a certain number of scientists nowadays not only are ready to take this hypothesis seriously but also find evidence in favour of it. Researchers from the University College London have found signs of the gravitation impact of other worlds on our universe. The discovery was made in the course of studying maps of the cosmic microwave background , which preserved in space from the initial stages of existence. The analysis has identified several round anomalous zones , which are characterized by high temperature. According to experts, this anomaly can be explained by the gravitational impact of other worlds on ours .
Parallel worlds exist: scientific evidence
Dark Plasma Theory
fiction-to-reality-timeline-infographic.jpg (Image JPEG, 1400x873 pixels) - Redimensionnée (91%)
Isaac Asimov's 1964 Predictions About 2014 Are Frighteningly Accurate
"Any sufficiently advanced technology is indistinguishable from magic"
About 4,130,000 results (0.72 seconds) by noosquest Sep 14
About 4,140,000 results (0.52 seconds) by noosquest Sep 11
The Coming of The Nåno Åge...
Nanotubes help cells pass messages : Nature News
The Measurement That Would Reveal The Universe As A Computer Simulation
Finally! A Low Cost Solar Panel that Can See in the Dark | CleanTechnica
Do Sci Fi attitudes reflect our times?
Ecstasy Kills Cancer
Harvard Scientists Create Cyborg Tissue That Merges The Biologic And Electronic
A chimp-pig hybrid origin for humans?