Rescue
SlaveryMap
HumaneWatch
the power of humanity - pick a language
The International Red Cross and Red Crescent Movement is an international humanitarian movement with approximately 97 million volunteers, members and staff worldwide[3] which was founded to protect human life and health, to ensure respect for all human beings, and to prevent and alleviate human suffering. The movement consists of several distinct organizations that are legally independent from each other, but are united within the movement through common basic principles, objectives, symbols, statutes and governing organisations.
I.F.R.C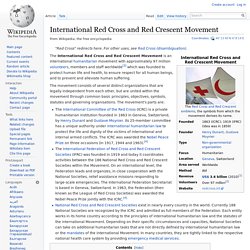 HEWS, Humanitarian Early Warning Service
InterAction | A United Voice for Global Change
Center for International Disaster Information
GCDM - Global Conference on Disaster Management
Welcome to the United Nations Central Emergency Response Fund
Road to the WCDR Through its resolution A/RES/58/214, the United Nations General Assembly convened a World Conference on Disaster Reduction, to be held in Kobe, Hyogo, Japan, from 18 to 22 January 2005.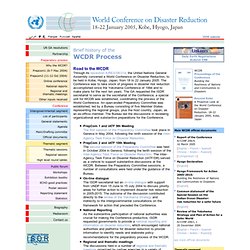 World Conference on Disaster Reduction - 18-22 January 2005, Kobe Hyogo, Japan
Sphere, Humanitarian Charter and Minimum Standards in Disaster Response
Category:Humanitarian aid
From Wikipedia, the free encyclopedia This category is for articles and categories about organizations involved in emergency management or disaster management. This include organizations directly involved in mitigation, preparedness, response or recovery; as well as those conducting business or, research and development in those areas.
Category:Emergency organisations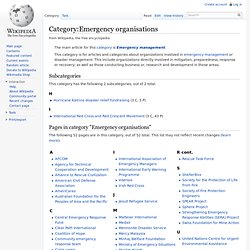 Plan d'urgence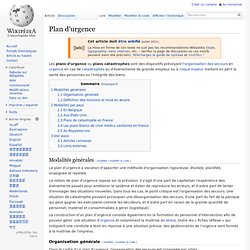 Un article de Wikipédia, l'encyclopédie libre. Les plans d'urgence ou plans catastrophes sont des dispositifs prévoyant l'organisation des secours en urgence en cas de catastrophes ou d'événements de grande ampleur ou à risque majeur mettant en péril la santé des personnes ou l'intégrité des biens. Modalités générales[modifier | modifier le code]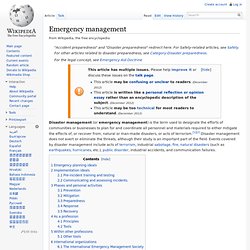 Emergency management
Disaster management (or emergency management) is the discipline of avoiding and dealing with both natural and man-made disasters.
OperationSAFE
The Global Water Foundation (GWF)is a non-profit organisation dedicated to delivering clean water and sanitation to the world's neediest communities. Professional tennis player Johan Kriek founded the organisation in 2005 after attending meetings of the World Economic Forum in Cape Town, South Africa.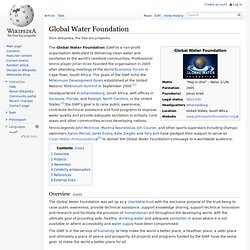 Global Water Foundation
Welcome to GlobalWaterFoundation.com -- Together We Can Make A Difference!
World Relief is an international relief and development agency. Founded in 1944 as the humanitarian arm of the National Association of Evangelicals, World Relief offers assistance to victims of poverty, disease, hunger, war, disasters and persecution. Headquartered in Baltimore, Maryland, the organization has offices worldwide.
World Relief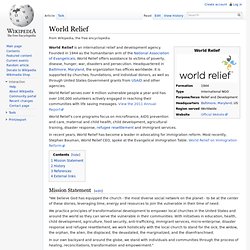 World Relief - Welcome
Nonviolent Peaceforce
From Hunger to Hope
0730160403002.png (Image PNG, 2213x1183 pixels) - Redimensionnée (57%)
Disaster Prevention and Management | Resilience of traditional societies in facing natural hazards
Purpose – This article sets out to address the response of traditional societies in facing natural hazards through the lens of the concept of resilience. Design/methodology/approach – This paper considers that resilient societies are those able to overcome the damage caused by the occurrence of natural hazards, either through maintaining their pre-disaster social fabric, or through accepting marginal or larger change in order to survive. The discussion is based on a review of the corpus of case studies available in the literature. Findings – The present article suggests that the capacity of resilience of traditional societies and the concurrent degree of cultural change rely on four factors, namely: the nature of the hazard, the pre-disaster socio-cultural context and capacity of resilience of the community, the geographical setting, and the rehabilitation policy set up by the authorities. These factors significantly vary in time and space, from one disaster to another.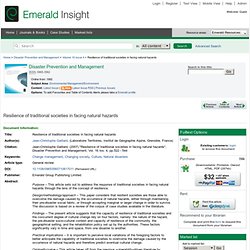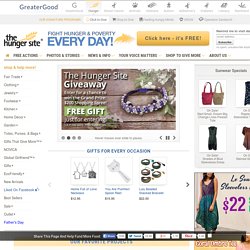 Feed U.S. Seniors in Need 3.5 million seniors in the United States alone must choose between using limited resources to pay for rent, utilities like electricity and water, or for food. Our seniors, who are parents and grandparents and whose knowledge and experience are a treasure to society, deserve better.
1billionhungry.org
Meaningful Gifts From The IRC Gift Store | The International Rescue Committee
Save1 | Save Money, Save Lives!
CARE
CAREUSA (care.org) Twitter