Religioskeptic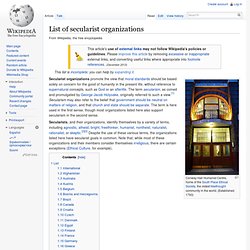 List of secularist organizations
Secularist organizations promote the view that moral standards should be based solely on concern for the good of humanity in the present life, without reference to supernatural concepts, such as God or an afterlife.
Atheist Nexus - The World's Largest Coalition of Nontheists and Nontheist Communities!
I Am An Atheist
Category:Secularism organizations
anti-religion Quotes. anti-religion Quotations Interactive Database.
Positive Atheism's Big List of Quotations
Bienvenue chez Anti-scientologie
The faithful must learn to respect those who question their beliefs | Lawrence Krauss | Science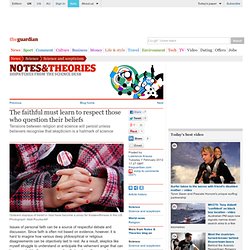 Outward displays of belief in God have become a proxy for trustworthiness in the US.
Atheist Revolution
Church of the Flying Spaghetti Monster
Parody religion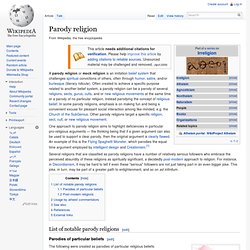 A parody religion or mock religion is an imitation belief system that challenges spiritual convictions of others, often through humor, satire, and/or burlesque (literary ridicule). Often created to achieve a specific purpose related to another belief system, a parody religion can be a parody of several religions, sects, gurus, cults, and or new religious movements at the same time or a parody of no particular religion, instead parodying the concept of religious belief.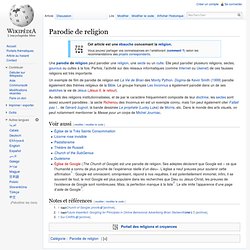 Un article de Wikipédia, l'encyclopédie libre. Une parodie de religion peut parodier une religion, une secte ou un culte. Elle peut parodier plusieurs religions, sectes, gourous ou cultes à la fois. Parfois, l'activité sur des réseaux informatiques (comme Internet ou Usenet) de ces fausses religions est très importante. Voir aussi[modifier | modifier le code] Notes et références[modifier | modifier le code]
Parodie de religion
A comment from Mike in the "Do Evangelicals 'Hate Jesus?'" post got me thinking. He winningly bemoans his use of doomsday statistics to build his case in sermons or lectures. His comment makes me wonder about the value of spending too much time thinking about allegedly "objective truth" at all. There's a certain treasonous quality to a pastor saying this.
How Important is "Objective Truth" to You? - Not The Religious Type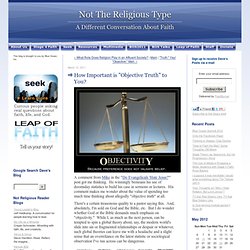 BILL MAHER
Irreligion by country
World nonreligious population by percentage, Dentsu Institute (2006) and Zuckerman (2005)[1]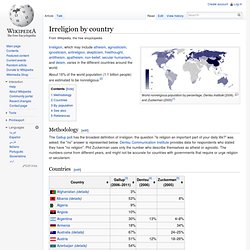 600+ Atheism vs. Theism Debates
Stephen Fry on Catholicism, from the Intelligence Squared debate.
Research Finds that Atheists are Most Hated and Distrusted Minority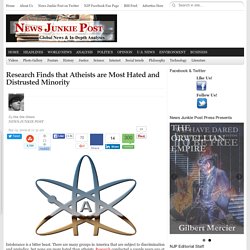 Intolerance is a bitter beast. There are many groups in America that are subject to discrimination and prejudice, but none are more hated than atheists. Research conducted a couple years ago at the University of Minnesota in Minneapolis found that atheists are more distrusted than muslims or homosexuals in the US. Austin Cline from about.com writes, "Every single study that has ever looked at the issue has revealed massive amounts of bigotry and prejudice against atheists in America. The most recent data shows that atheists are more distrusted and despised than any other minority and that an atheist is the least likely person that Americans would vote for in a presidential election. It's not just that atheists are hated, though, but also that atheists seem to represent everything about modernity which Americans dislike or fear.
May 28, 2012
Watch Daniel Dennett's 'How to Tell You're an Atheist' speech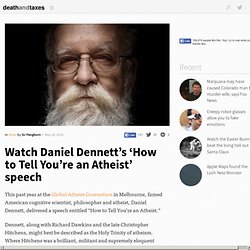 Part 1/5 - The Intelligence Squared Debate Christopher Hitchens
The protests come every day from the religious, and they go something like this: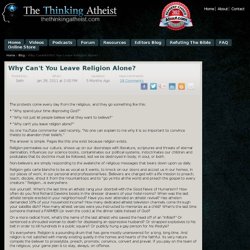 The Thinking Atheist - Blog | Why Can't You Leave Religion Alone?
Atheist Alliance International - Welcome!
Council for Secular Humanism
Atheist T-shirts | Atheist, Agnostic & Humanist T-shirts, Stickers and Gear
Atheist Resources, Blogs & Links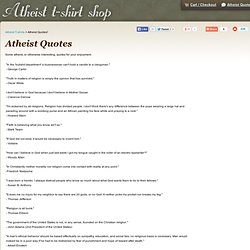 "In the 'bullshit department' a businessman can't hold a candle to a clergyman." - George Carlin
Atheist Quotes. Agnostic & Humanist Quotes | The Atheist T-shirt Shop
Book Discussion on [The God Problem: How A Godless Cosmos Creates]
Atheists of Silicon Valley
Atheists of Silicon Valley: Debate & Dialogue
Secular Web: Atheism, Agnosticism, Naturalism, Skepticism and Secularism
Atheism and agnosticism remain poorly understood, and confusion continues even among some who call themselves atheists or agnostics. This diagram (source unknown) puts all the pieces together perfectly and illustrates that the agnostic-gnostic dimension deals with certainty while the atheist-theist dimension focuses on belief and has nothing to do with certainty. I am an atheist in that I lack belief in god(s).
Atheist or Agnostic? I'm Both
GodBlock - Protect your children
Faith can open your mind but it can also cause your brain to shrink at a different rate, research suggests. Researchers at Duke University Medical Centre in the US claim to have discovered a correlation between religious practices and changes in the brains of older adults.
Religion May Cause Brain Atrophy -- Science of the Spirit
Sam Harris
Why Militant Atheism is Necessary Apr 4, 2011 Militant Atheism is necessary as a force to counteract the unbalanced political and social power that popular religious belief systems have wielded for too long through their powerful standardising of beliefs.
Why Militant Atheism is Necessary - Immortal
Introduction To Activistic Atheism
1.
Unreasonable Faith: A reasonable blog on atheism, religion, science, and skepticism
Did Jesus exist?
Welcome to Enlightenment! – Religion: the Tragedy of Mankind. Articles by Kenneth Humphreys
Covert Messiah - 19 October 2013
Skeptic's Annotated Bible / Quran / Book of Mormon
Born Again Pagan - A Smorgasbord of Skepticism: Movies, Comics, Photos, Stories For Atheists Everywhere!
The God Problem: How A Godless Cosmos Creates
Author: Howard Bloom
Athéisme - L'homme debout. Vivre sans dieu, religion et croyances
The Humanist | A Magazine of Critical Inquiry and Social Concern
American Humanist Association
Evil Bible Home Page
threestooges.jpg (Image JPEG, 750x562 pixels)
God is Imaginary - 50 simple proofs