Pzzl
A try to group pieces which could create a nice new picture...
- ease of use
- reliability
- interoperability
- extensibility
- compatibility
- portability
- adaptability
- scalability

Open Source
Non Profit
Distributed computing
Game Mechanics
Mass Intel...PSCI
reverse marketing
Sociocratic tool....


just ask... Sep 29
"You never change things by fighting the existing reality. To change something, build a new model that makes the existing model obsolete"
Games Thursday : Filler (Puzzle Game) | The Download Munkey
Filler is a fun little strategy game for those short two to three minute breaks. Developed by Alexander Vikulin back in 1995 for both Windows 3.1 and Windows 95, Filler places two players (human or AI) on different ends (configurable) of a playing area of 1377 hexagons coloured in up to nine different colours (default is 9 colours but the number of colours can be set from 5 to 9). Each player takes turns to select a colour from the colours on the top bar which will then add any adjacent hexagons of that colour to your territory as well as change all hexagons in your territory to the selected colour.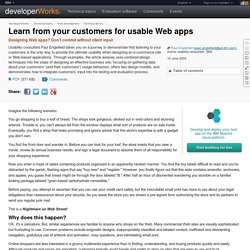 Learn from your customers for usable Web apps
Imagine the following scenario: You go shopping to buy a loaf of bread. The shops look gorgeous, decked out in vivid colors and stunning artwork. Trouble is, you can't always tell from the window displays what sort of products are on sale inside. Eventually, you find a shop that looks promising and ignore advice that this store's expertise is with a gadget you don't own. You find the front door and wander in.
Visual Understanding Environment
FORTUNE -- Paul Adams is one of Silicon Valley's most wanted. He's an intellectually minded product designer with square-framed glasses, a thick Irish accent, and a cult following of passionate techies. As one of Google's lead social researchers, he helped dream up the big idea behind the company's new social network, Google+: those flexible circles that let you group friends easily under monikers like "real friends" or "college buddies." He never got to help bring his concept to consumers, though. In a master talent grab last December, Facebook lured him 10 miles east to Palo Alto to help design social advertisements. On his blog, Adams explained, "Google values technology, not social science."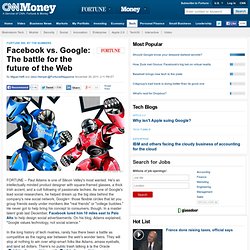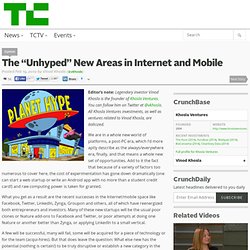 Editor's note: Legendary investor Vinod Khosla is the founder of Khosla Ventures. You can follow him on Twitter at @vkhosla. All Khosla Ventures investments, as well as ventures related to Vinod Khosla, are italicized.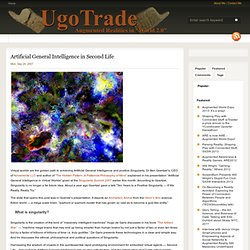 Artificial General Intelligence in Second Life 
Virtual worlds are the golden path to achieving Artificial General Intelligence and positive Singularity, Dr Ben Goertzel's, CEO of Novamente LLC and author of "The Hidden Pattern: A Patternist Philosophy of Mind" explained in his presentation "Artificial General Intelligence in Virtual Worlds" given at the Singularity Summit 2007 earlier this month. According to Goertzel, Singularity is no longer a far future idea. About a year ago Goertzel gave a talk "Ten Years to a Positive Singularity — If We Really, Really Try." The slide that opens this post was in Goerzel's presentation. It depicts an Archailect, Archai from the Orion's Arm science-fiction world — a mega scale brain, "sophont or sophont cluster that has grown so vast as to become a god-like entity." What is singularity?
This video is currently unavailable. Sorry, this video is not available on this device. Play Pause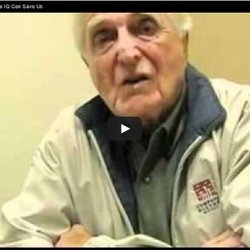 Douglas Engelbart: Only Collective IQ Can Save Us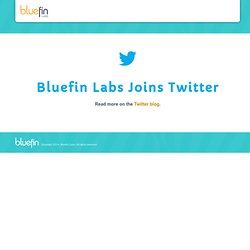 Find out what's being said What others say "If you can't measure it, you can't sell it.
Quantifying Collective Attention from Tweet Stream
FuturICT project wants science to catch up with the speed at which new problems and opportunities are arising in our changing world as consequences of globalization, technological, demographic and environmental change, and make a contribution to strengthening our societies' adaptiveness, resilience, and sustainability. The FuturICT project will do so by developing new scientific approaches and combining these with the best established methods in areas like multi-scale computer modeling, social supercomputing, large-scale data mining and participatory platforms. To learn more about the FuturICT, download overview documents below or see more here.Download: FuturICT Project Summary Download: FuturICT Outline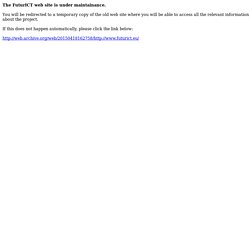 The Making-of Innovation » Towards Human-Centered Design
The consequence of taking customer orientation serious is to integrate them right at the heart of value creation – in new product design and development. The transitions in innovation management during the last years allow us exactly to that in a more resolute way. By democratizing knowledge and information the social media revolution strongly supported the dissemination of concepts such as open innovation and co-creation and at the same time transformed people from content consumers into content producers and even co-designers. The consequence is a change in the prevailing role models of creating new products. The ability of interdisciplinary collaboration inside and outside the firm is more essential than ever before. THE CHANGING ROLE OF PRODUCT DESIGN FOR INNOVATION Industrial design is an applied science whereby the aesthetics and usability of mass-produced products are improved for marketability and production.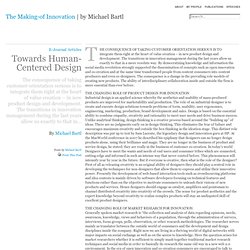 The Proposal | FuturICT FET Flagship
With our knowledge of the universe, we have sent men to the moon. We know microscopic details of objects around us and within us. And yet we know relatively little about how our society works and how it reacts to changes brought upon it.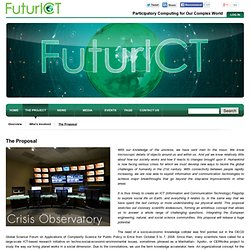 Empty of SLANT Reality is a state of Being. This state carries SLANT, "the baggage of history". SLANT is a "survival mode" that… Principles Principles are part of our imagination.
Y Worlds : Portal Y Worlds : Portal » Nurture. Equality. Truth. Systems.
Y Worlds Models by Y Worlds on Prezi
Motivation is a psychological feature that induces an organism to act towards a desired goal and elicits, controls, and sustains certain goal-directed behaviors. It can be considered a driving force; a psychological one that compels or reinforces an action toward a desired goal. For example, hunger is a motivation that elicits a desire to eat. Motivation is the purpose or psychological cause of an action.[1] Motivation has been shown to have roots in physiological, behavioral, cognitive, and social areas. Motivation may be rooted in a basic impulse to optimize well-being, minimize physical pain and maximize pleasure.
How to Improve It? Ask Those Who Use It
P2PBusinessVisualization1.jpg (Image JPEG, 2448x1584 pixels) - Redimensionnée (50%)
Noah Feldman says politics and religion are technologies
Intervenants – Résumé – Documents – Vidéo – Compte rendu – Le cycle de conférences Date: Mercredi 27 mai 2009, 19h-21h Lieu: La Cantine. 151 rue Montmartre, Passage des Panoramas, Paris 2e. Intervenants: René Doursat, Directeur de l'Institut des Systèmes Complexes Paris-Ile de FranceDavid Chavalarias, Informaticien et docteur en Sciences CognitivesJean-Marie Chauvet, directeur associé de la société de capital-risque LC Capital
Le Web comme système complexe: une auto-organisation contrôlable ? « Approches Interdisciplinaires du Web
Vision poétique de la sphère sémantique
web-evolution.pdf
Posted by venessa miemis on Tuesday, November 17, 2009 · 55 Comments I've seen a bunch of posts bubble up over the past few days that are really sparking my curiousity about what is really going on with Twitter, so I need to do a little brain dump. Bear with me. Insight #1
alok subbarao: The Internet Analyzed as a Complex Adaptive System
Ethnographic Approaches to Digital Media - Annual Review of Anthropology, 39(1):487
various things around....
Jonah Berger - The Wharton School of the University of Pennsylvania
Free exchange: Net benefits
What do Meta Networks Need? « 100 Trillion Connections
Tech_of_cooperation_map.jpg (Image JPEG, 1944x792 pixels)
SR-897 tech of cooperation 1_25.indd - SR-897_Techs_of_Coop.pdf
Collective Intelligence: The Need for Synthesis
Google Consciousness
In Natural Networks, Strength in Loops
Sentiment in New York City: A High Resolution Spatial and Temporal View
The interspecies internet
Five frameworks to build strategies for the future of media
Fuzzzy blog
WeKnowIt | weknowit.eu
tolérance | txiktxak.artblog.fr
Rethinking Social Networking | Humanizing Technology
50 ways 2 build Peace
Social and political movements related to the P2P (participatory), open (open access to knowledge), and 'commons' paradigms | P2P Foundation