"OS" & Files Tools...
SIW | System Information for Windows by Gabriel Topala. System Explorer - Keep Your System Under Control. Utilitaires système pour améliorer les performances et la stabilité de votre ordinateur. Liutilities - Free Resource Libraries and Tech Articles by Uniblue. ProcesChecker - A library for all windows process. Welcome to WhatsRunning.net! The home of What's Running, your system information utility! 2010-04-20: More information about Windows Management Instrumentation problems and what to do about them.. 2010-04-20: BETA 9 of What's Running 3.0 released!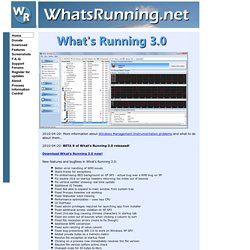 Download What's Running 3.0 now! New features and bugfixes in What's Running 3.0: Overview - Process Hacker. Image Writer in Launchpad. SlideDog - Free Multimedia Presentation Software. 50+ Amazing Rainmeter Desktop Skins - Take Your Desktop To The Next Level! Customizing the features on your personal computer to be unique has never been as hot as it is today.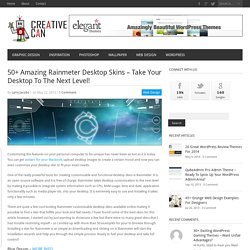 You can get stickers for your Macbook , upload desktop images to create a certain mood and now you can even customize your desktop skin to fit your exact needs. One of the really powerful tools for creating customizable and functional desktop skins is Rainmeter. It is an open source software and it is free of charge. Rainmeter takes desktop customization to the next level by making it possible to integrate system information such as CPU, RAM usage, time and date, application functionality such as media player etc. into your desktop. Customize.org - Download Themes, Skins, Wallpapers and Icons for Windows from the original skin site!
Logiciel Keylogger & Logiciel Espion. Téléchargez vite un enregistreur de frappe gratuit et invisible ! Protégez vos enfants, épinglez les conjoints infidèles et améliorez les performances de vos employés avec un seul et même logiciel ! CrossLoop - Affordable Computer Help & Support, Remote Access & Free Screen Sharing. Hijack Hunter. Product Overview NoVirusThanks Hijack Hunter is an application that thoroughly scans your computer and displays all the gathered data in a comprehensive way.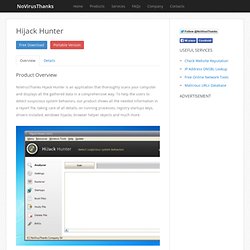 To help the users to detect suspicious system behaviors, our product shows all the needed information in a report file, taking care of all details, on running processes, registry startups keys, drivers installed, windows hijacks, browser helper objects and much more. NoVirusThanks Hijack Hunter is fully compatible with the following 32-bit and 64-bit Microsoft Windows Operating Systems: Windows 2000, Windows XP, Windows Server 2003, Windows Vista, Windows Server 2008, Windows Server 2012, Windows 7, Windows 8, Windows 8.1 Additional Details.
Join.me – Free Screen Sharing and Online Meetings. SARDU - Multiboot USB or DVD Builder. Downloadable Computer Repair CDs. One of our Technibble forum members, PcTek9, and a handful of other Technibble members have compiled a large list of CDs for various computer repair tasks.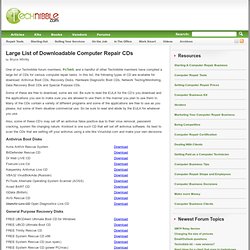 In this list, the following types of CD are available for download: Antivirus Boot CDs, Recovery Disks, Hardware Diagnostic Boot CDs, Network Testing/Monitoring, Data Recovery Boot CDs and Special Purpose CDs. Some of these are free to download, some are not. Be sure to read the EULA for the CD's you download and the applications you use to make sure you are allowed to use them in the manner you plan to use them in. Many of the CDs contain a variety of different programs and some of the applications are free to use as you please, but some of them disallow commercial use. So be sure to read and abide by the EULA for whatever you use. Wakoopa - Discover software & games.
Bandicam - Best Game Recording Software, Game Video Recorder, Game Screen Capture, Desktop Screen Recorder. Free Keylogger Software by IwantSoft. Speedtest.net - Le test de bande passante de référence mondiale. Synergy. ErrorKey - Search engine for Error codes and messages. 3 sites pour écrire sur votre pc avec votre propre écriture. Il y a quelques temps j'avais parlé de Fontcapture qui permettait d'intégrer dans un traitement de texte votre propre écriture.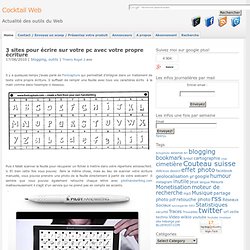 Il suffisait de remplir une feuille avec tous vos caractères écrits à la main comme dans l'exemple ci dessous. Puis il fallait scanner la feuille pour récuperer un fichier à mettre dans votre répertoire window/font. V. Input Director - Software KVM to Control Multiple Computers. SoftKey Revealer - The Official Site of Game Key Revealer & SoftKey Revealer. SoftKey Revealer 2.6.4 Released!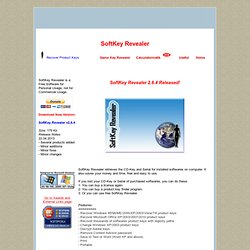 SoftKey Revealer retrieves the CD-Key and Serial for installed softwares on computer. It also saves your money and time, free and easy to use. If you lost your CD-Key or Serial of purchased softwares, you can do these:1: You can buy a license again.2: You can buy a product key finder program.3: Or you can use free SoftKey Revealer. Features:=========- Recover Windows 95/98/ME/2000/XP/2003/Vista/7/8 product keys- Recover Microsoft Office XP/2003/2007/2010 product keys- Recover thousands of softwares product keys with registry paths- Change Windows XP/2003 product keys- Decrypt Adobe keys- Remove Content Advisor password- Save to Text or Word (Word XP and above)- Print- Portable Supported Operating Systems:============================- Windows 95/98/ME/2000/XP/2003/Vista/7/8 x86- Windows 7/8 x64. Download your missing .dll files - DLL-files.com.
CCleaner - Optimization and Cleaning - Free Download. CCleaner Optimization and Cleaning CCleaner is the number-one tool for cleaning your Windows PC.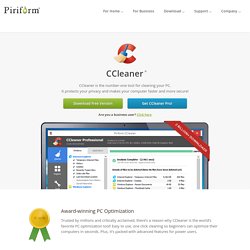 It protects your privacy online and makes your computer faster and more secure. Easy to use and a small, fast download. Cleans all areas of your Computer. KeyXL Keyboard Shortcuts. SpeedFan - Access temperature sensor in your computer. SpeedFan is a program that monitors voltages, fan speeds and temperatures in computers with hardware monitor chips.
SpeedFan can even access S.M.A.R.T. info and show hard disk temperatures. SpeedFan supports SCSI disks too. SpeedFan can even change the FSB on some hardware (but this should be considered a bonus feature). SpeedFan can access digital temperature sensors and can change fan speeds accordingly, thus reducing noise. Computer Repair Tools. The Elder Geek Home. Defraggler - File and Disk Defragmentation - Free Download. Glary Utilities | Glarysoft. CCEnhancer. CNET TechTracker will now automatically install software without requiring further action by you.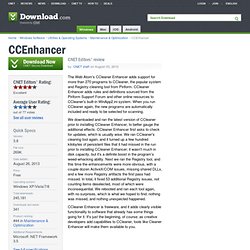 (Note: This feature automatically accepts associated EULAs and third party applications on your behalf.) You have selected the following software to Smart Install: CNET TechTracker will attempt to install this software without interrupting you again. If an application requires manual installation, CNET TechTracker will download the installer and prompt you to take further action. Proceed with Smart Install? Smart Defrag 2–A fast and efficient free disk defragmenter - | Digital Quest.
70 Things Every Computer Geek Should Know. | Arrow Webzine. The term 'geek', once used to label a circus freak, has morphed in meaning over the years.
What was once an unusual profession transferred into a word indicating social awkwardness. As time has gone on, the word has yet again morphed to indicate a new type of individual: someone who is obsessive over one (or more) particular subjects, whether it be science, photography, electronics, computers, media, or any other field. A geek is one who isn't satisfied knowing only the surface facts, but instead has a visceral desire to learn everything possible about a particular subject. The 50 Best Registry Hacks that Make Windows Better.
We're big fans of hacking the Windows Registry around here, and we've got one of the biggest collections of registry hacks you'll find. Don't believe us? Here's a list of the top 50 registry hacks that we've covered. Eraser | Internet Security and Privacy. Clonezilla - About. Top 10 External Hard Drive Tricks. @jsim: do you really need your stuff from 1972? Start a plan of data shredding. I have ZERO financial documents past 7 years old.
It's a liability to have them longer than that. As for my flatfile Database of my Albums and cassettes I had in 1981... I dont care if it goes away.
Power Your PC With 45 Free Applications. Les bidules informatiques d'Airelle : utilitaires et futilités. How to Speed Up Your Computer-Best Software to Increase PC Speed. DriveImage XML Backup Software - Data Recovery Product. DriveImage XML English (1.78MB) Image and Backup logical Drives and Partitions File Size:1.78 MB Price: Private Edition Free - Commercial Edition - Buy Now System Requirements: Pentium Processor - 256 MB RAM Windows XP, 2003, Vista, Windows 7, or Windows 8. Explorer son PC en toute simplicité - Ma-Config.com.
Windows 7/XP file forum. TaskList.org - List of Windows Proccesses and Descriptions. Should I Block It?
---