Organize
Un article de Wikipédia, l'encyclopédie libre. Le sigle QQOQCCP (pour « Qui fait quoi ? Où ? Quand ? Comment ?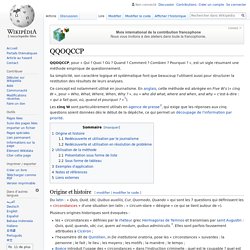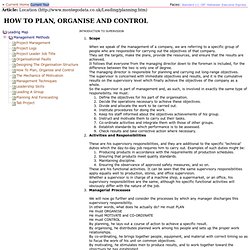 How To Plan, Organise and Control
INTRODUCTION TO SUPERVISION Scope When we speak of the management of a company, we are referring to a specific group of people who are responsible for carrying out the objectives of that company. They set the targets, make the plans, provide the resources, and ensure that the results are achieved. It follows that everyone from the managing director down to the foreman is included, for the difference between the two is only one of degree.
6-Collective Intelligence
Home - Innovations in Self-governance
G.T.D - Next Action Analysis - Process...
Find out more about this project The tools in this resource uphold four accountability principles. Implemented at various key institutional and research processes, they aim to improve accountability relations between organisations and their stakeholders. Find out more
One World Trust - APRO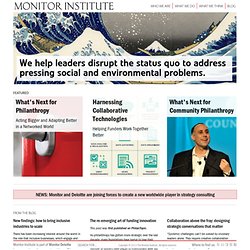 Monitor Institute
Earlier today, Monitor Institute and the Foundation Center released a new report called Harnessing Collaborative Technologies: Helping Funders Work Together Better. As part of the research, we looked at more than 170 different technological tools now available to funders, dove deeply into the literature on philanthropic collaboration, analyzed the results of recent Foundation Center surveys, and spoke with a wide range of experts from the worlds of both technology and philanthropy. The report's main headlines won't come as a huge surprise to MORE ››
Knowledge Pyramid of the intelli org...Image GIF, 513x648 pixels)
monica.jpg (Image JPEG, 766x971 pixels) - Redimensionnée (81%)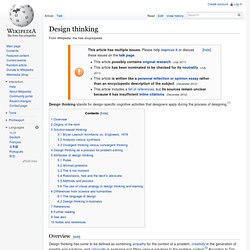 Design thinking stands for design-specific cognitive activities that designers apply during the process of designing.[1] Overview[edit] As a style of thinking, design thinking is generally considered the ability to combine empathy for the context of a problem, creativity in the generation of insights and solutions, and rationality to analyze and fit solutions to the context.
Launch process graphic.pdf