Open society...
George Soros. Multi-billionaire funder of leftwing causes and groups Founder of the Open Society Institute The prime mover behind the Democratic "Shadow Party" network See also: Guide to the George Soros Network Organizations Funded by George Soros and his Open Society InstituteThe Shared Agendas of George Soros and Barack Obama Open Society Institute Democracy Alliance Shadow Party New York hedge fund manager George Soros is one of the most politically powerful individuals on earth.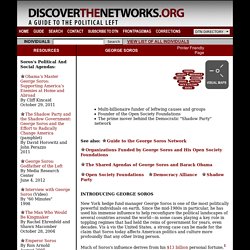 Organizations Funded Directly. George Soros. George Soros Born: 12-Aug-1930Birthplace: Budapest, Hungary Gender: MaleReligion: AtheistRace or Ethnicity: WhiteSexual orientation: StraightOccupation: Business, PhilanthropistParty Affiliation: Democratic.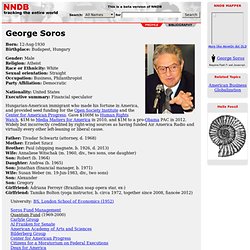 OpenDemocracy. Occupy Wall Street: lessons and opportunities. The Occupy movement in the United States is both similar to and different from its Tea Party predecessor.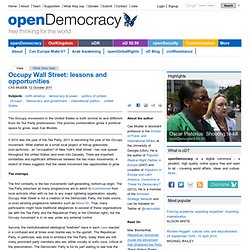 The precise combination gives it political space to grow, says Cas Mudde. If 2010 was the year of the Tea Party, 2011 is becoming the year of the Occupy movement. What started as a small local project of fed-up grassroots (non-)activists - an "occupation" of New York's Wall Street - has now spread throughout the United States (and even into Canada). Peace can be planned. Just like health. In 2002 the World Health Organisation made a bold statement in its ground breaking World Report on Violence and Health: "Violence can be prevented and its impact reduced, in the same way that public health efforts have prevented and reduced pregnancy-related complications, workplace injuries, infectious diseases, and illness resulting from contaminated food and water in many parts of the world.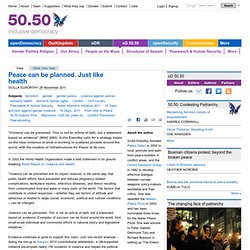 The factors that contribute to violent responses – whether they are factors of attitude and behaviour or related to larger social, economic, political and cultural conditions – can be changed. Violence can be prevented. Otpor. Un article de Wikipédia, l'encyclopédie libre.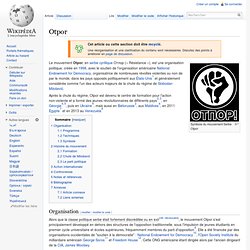 Symbole du mouvement Serbe Otpor Le mouvement Otpor, en serbe cyrillique Отпор (« Résistance »), est une organisation politique, créée en 1998, avec le soutien de l'organisation américaine National Endowment for Democracy, organisatrice de nombreuses révoltes violentes ou non de par le monde, dans les pays opposés politiquement aux États-Unis[1] et généralement considérée comme l'un des acteurs majeurs de la chute du régime de Slobodan Milošević. Organisation[modifier | modifier le code] Untitled. Welcome - Ethical Politics. From Ethical Politics Dictionary of Ethical Politics The Dictionary of Ethical Politics sets out to be a lexicon of new political thought centered on the relationship between ethics and politics.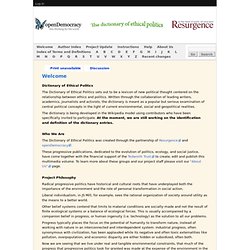 Written through the collaboration of leading writers, academics, journalists and activists, the dictionary is meant as a popular but serious examination of central political concepts in the light of current environmental, social and geopolitical realities. The dictionary is being developed in the Wikipedia model using contributors who have been specifically invited to participate. Soros Says He's Among 'Angels' Who Want Civilization to Survive. Related Europe Defenses for Greece Too Weak, Soros Says Billionaire investor George Soros said he's "now on the side of the angels" who believe that financial markets have a responsibility to preserve human civilization.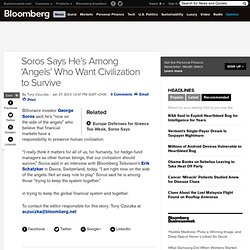 George Soros: Top 10 Reasons He Is Dangerous. Human Events' readers, in an online poll, recently voted billionaire financier George Soros "the single most destructive leftist demagogue in the country."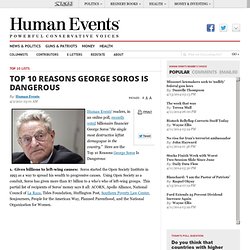 Here are the Top 10 Reasons George Soros Is Dangerous: 1. Gives billions to left-wing causes: Soros started the Open Society Institute in 1993 as a way to spread his wealth to progressive causes. Daniele Archibugi. The image of the past The idea that freedom and democracy can be exported all over the world is an ancient dream.
Athenian democrats, French revolutionaries, and Russian Bolsheviks, to mention only the better-known cases, were convinced that their own political system was good enough to be donated to all peoples. George Soros News. Mickey Rooney, Jim Flaherty, Peaches Geldof: Obits This Week This week's notable deaths included an Oscar-winning child star who kept working into his 90s; one of Canada's longest-serving finance ministers who stepped down last month to work in the private sector; and a model and U.K. television personality whose punk rocker father staged concerts to raise money for famine relief.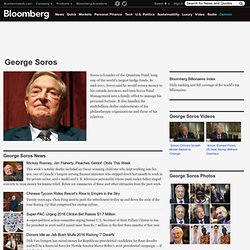 Below are summaries of these and other obituaries from the past week. Chinese Tycoon Rides Resort's Rise to Empire in the Sky Twenty years ago, Chen Feng used to push the refreshment trolley up and down the aisle of the lone Boeing 737 that comprised his startup airline. Super-PAC Urging 2016 Clinton Bid Raises $1.7 Million A super-political action committee urging former U.S. George Soros. Profile Legendary investor George Soros retired in 2011 and turned his hedge fund into a family office, returning just under $1 billion in assets to outside investors.
Soros also brought in a new investment officer to help oversee the remaining assets belonging to his family and his foundations. His fortune is down due to a reported drop in performance but also because our new estimate subtracts sums we believe he manages for his foundation. Born in Budapest, Soros survived the Nazi occupation of Hungary and went on to study at the London School of Economics before launching storied hedge fund firm Quantum Fund Management in 1969.
Outspoken on world economic policies and an unapologetic proponent of European integration, Soros has recently called the design of the euro "very flawed" and described the situation as an "existential crisis" for Europe. Open society. The open society is a concept originally suggested in 1932 by the French philosopher Henri Bergson,[1] and developed during the Second World War by Austrian-born British philosopher Karl Popper.[2] Popper saw the open society as standing on a historical continuum reaching from the organic, tribal or closed society, through the open society marked by a critical attitude to tradition, up to the abstract or depersonalised society lacking all face-to-face transactions.[3] History[edit] Popper saw the classical Greeks as initiating the long slow transition from tribalism towards the open society, and as facing for the first time the strain imposed by the less personal group relations entailed thereby.[4]
Open Society Institute. One of the aims of the OSF is the development of civil society organizations (e.g., charities and community groups) to encourage participation in democracy and society.[1] The name is inspired by Karl Popper's 1945 book The Open Society and Its Enemies.[2] History[edit] Initiatives[edit] Related initiatives include the Open Society Initiative for West Africa (OSIWA) and the Open Society Initiative for Southern Africa (OSISA). Recent efforts have included those that have met with controversy, including an effort in the African Great Lakes region aimed at spreading human rights awareness among prostitutes in Uganda and other nations in the area. List of projects supported by George Soros.
Colour revolution. Colour revolution is a term that was widely used by worldwide media[1] to describe various related movements that developed in several societies in the former Soviet Union and the Balkans during the early 2000s. The term has also been applied to a number of revolutions elsewhere, including in the Middle East. Some observers[who?] Have called the events a revolutionary wave, the origins of which can be traced back to the 1986 People Power Revolution (also known as the "Yellow Revolution") in the Philippines. Budapest Open Access Initiative. A logo celebrating the tenth anniversary of the Budapest Open Access Initiative in 2012, featuring the Széchenyi Chain Bridge in Budapest. The Budapest Open Access Initiative (BOAI) is a public statement of principles relating to open access to the research literature. It arose from a conference convened in Budapest by the Open Society Institute on December 1–2, 2001 to promote open access – at the time also known as Free Online Scholarship.
This small gathering of individuals is recognised as one of the major historical, and defining, events of the open access movement. On the occasion of the 10th anniversary of the initiative, it was reaffirmed in 2012 and supplemented with a set of concrete recommendations for achieving "the new goal that within the next ten years, OA will become the default method for distributing new peer-reviewed research in every field and country.
George Soros. Soros Foundation. George Soros. Société ouverte. La Société ouverte et ses ennemis.
---