Open society...
George Soros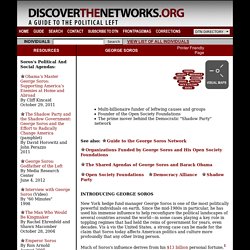 Multi-billionaire funder of leftwing causes and groups Founder of the Open Society Institute The prime mover behind the Democratic "Shadow Party" network
Organizations Funded Directly
George Soros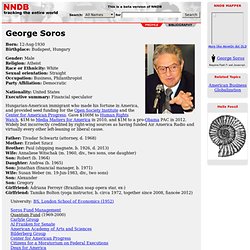 George Soros Born: 12-Aug-1930Birthplace: Budapest, Hungary Gender: MaleReligion: AtheistRace or Ethnicity: WhiteSexual orientation: StraightOccupation: Business, PhilanthropistParty Affiliation: Democratic
Occupy Wall Street: lessons and opportunities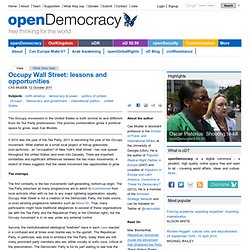 The Occupy movement in the United States is both similar to and different from its Tea Party predecessor.
Peace can be planned. Just like health
"Violence can be prevented.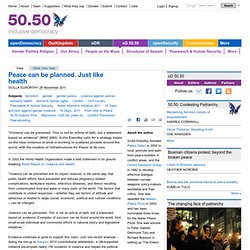 Otpor
Un article de Wikipédia, l'encyclopédie libre. Symbole du mouvement Serbe Otpor Le mouvement Otpor, en serbe cyrillique Отпор (« Résistance »), est une organisation politique, créée en 1998, avec le soutien de l'organisation américaine National Endowment for Democracy, organisatrice de nombreuses révoltes violentes ou non de par le monde, dans les pays opposés politiquement aux États-Unis[1] et généralement considérée comme l'un des acteurs majeurs de la chute du régime de Slobodan Milošević. Organisation[modifier | modifier le code]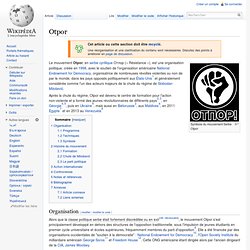 unnamed pearl
Welcome - Ethical Politics
From Ethical Politics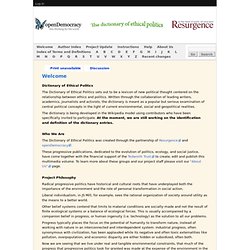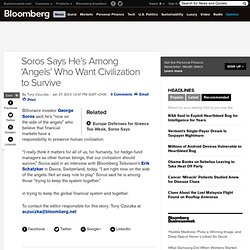 Soros Says He's Among 'Angels' Who Want Civilization to Survive
Related Europe Defenses for Greece Too Weak, Soros Says Billionaire investor George Soros said he's "now on the side of the angels" who believe that financial markets have a responsibility to preserve human civilization.
Human Events' readers, in an online poll, recently voted billionaire financier George Soros "the single most destructive leftist demagogue in the country."
George Soros: Top 10 Reasons He Is Dangerous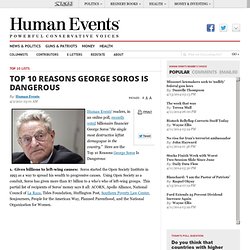 Daniele Archibugi
The image of the past The idea that freedom and democracy can be exported all over the world is an ancient dream. Athenian democrats, French revolutionaries, and Russian Bolsheviks, to mention only the better-known cases, were convinced that their own political system was good enough to be donated to all peoples.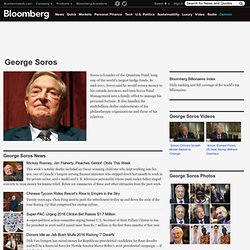 George Soros News
FedEx Sells $2 Billion of Bonds to Speed Stock Buybacks FedEx Corp. sold $2 billion of bonds today to speed up stock buybacks, following through on plans for a record repurchase program announced last year at the operator of the world's largest cargo airline.
George Soros
Profile Legendary investor George Soros retired in 2011 and turned his hedge fund into a family office, returning just under $1 billion in assets to outside investors.
The open society is a concept originally suggested in 1932 by the French philosopher Henri Bergson,[1] and developed during World War Two by Austrian and British philosopher Karl Popper.[2] Popper saw the open society as standing on a historical continuum reaching from the organic, tribal or closed society, through the open society marked by a critical attitude to tradition, up to the abstract or depersonalised society lacking all face-to-face transactions.[3] History[edit] Popper saw the classical Greeks as initiating the long slow transition from tribalism towards the open society, and as facing for the first time the strain imposed by the less personal group relations entailed thereby.[4]
Open society
Open Society Institute
One of the aims of the OSF is the development of civil society organizations (e.g., charities and community groups) to encourage participation in democracy and society.[1] The name is inspired by Karl Popper's 1945 book The Open Society and Its Enemies.[2]
List of projects supported by George Soros
Colour revolution is a term that was widely used by worldwide media[1] to describe various related movements that developed in several societies in the former Soviet Union and the Balkans during the early 2000s.
Colour revolution
A logo celebrating the tenth anniversary of the Budapest Open Access Initiative in 2012, featuring the Széchenyi Chain Bridge in Budapest. The Budapest Open Access Initiative (BOAI) is a public statement of principles relating to open access to the research literature.
Budapest Open Access Initiative
George Soros
Soros Foundation
George Soros
Société ouverte
La Société ouverte et ses ennemis