O.N.G/N.G.O/Orgs
UN Commission on Population Concludes Adopting Consensus Resolution In the early hours of 12 April, the 47th session of the Commission on Population and Development (CPD47) concluded with a consensus resolution. The resolution reaffirms the Programme of Action (PoA) of the 1994 International Conference on Population and Development (ICPD) and calls on governments to address remaining gaps and shortfalls that prevent its full (...) [More...] UNEP Releases Briefing Notes on Post-2015
United Nations Non-governmental Liaison Service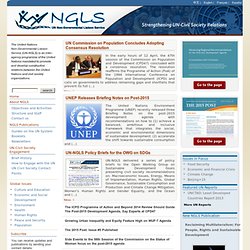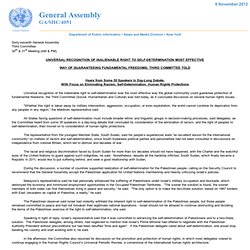 iversal Recognition of Inalienable Right to Self-Determination Most Effective Way of Guaranteeing Fundamental Freedoms, Third Committee Told
Sixty-seventh General Assembly Third Committee 30th & 31st Meeting (AM & PM)
Over the past four years, I've had a lot of success in building global movements, which is a fancy way of saying that I'm good at getting people to believe in an idea that's important enough to get them up off their couches to go do something to help. I have a skill set that people in the nonprofit world desperately need, but no matter how many times they've asked me to come work for them, I've turned them down. Here's why: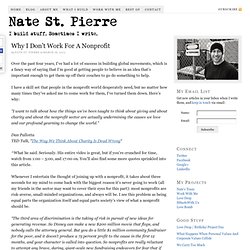 Why I Don't Work For A Nonprofit
Category:Organizations by subject
Category:Organizations by type
NonProfit National Resource Directory
4Good—the community for social impact. A Certified B Corporation Sign In Sign Up Learn from our community of 84,599 users, 5,806 resources, and weekly webinars and events Share (and sell) your own resources to help others, raise awareness, and build your own community
Category:Lists of organizations
NEW 2011 EDITION! : Create your own personal directory of development organizations. All files are enabled for adding pointers and comments to the directory. Learn more, by clicking "My Directory". Welcome to the directory of development organizations 2011 The directory of development organizations, listing 70,000 development organizations, has been prepared to facilitate international cooperation and knowledge sharing in development work, both among civil society organizations, academic and research institutions, governments and the private sector.
Directory of development organizations
From Wikipedia, the free encyclopedia A supraorganization is an organization whose members or stakeholders are organizations rather than individuals. Some organizations may have membership of both organizations and individuals; these should not be included here. These are often described as "federations"; "coalition", "network", "confederation", and "union" are also terms that are sometimes used, although these are just as frequently used to refer to organizations composed of individuals.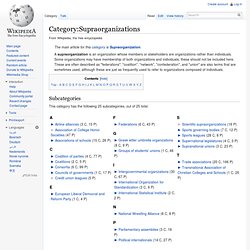 Category:Supraorganizations
Connecting Change Agents...