Next Web : apps & trends
Twitter Mood Predicts The Stock Market. There's no shortage of people who say they know how to predict whether the stock market will go up or down on a particular day.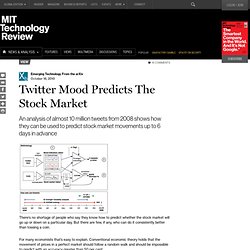 But there are few, if any, who can do it consistently better than tossing a coin. For many economists that's easy to explain. Conventional economic theory holds that the movement of prices in a perfect market should follow a random walk and should be impossible to predict with an accuracy greater than 50 per cent. There's a fly in this economic ointment, however.
Numerous studies show that stock market prices are not random and this implies that they ought to be predictable. Commotion, le projet d'un Internet hors de tout contrôle. LE MONDE | • Mis à jour le | Par Yves Eudes Un immeuble confortable et anonyme, au cœur de Washington, à quelques rues de la Maison Blanche.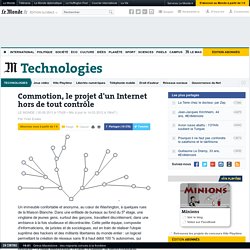 Dans une enfilade de bureaux au fond du 5e étage, une vingtaine de jeunes gens, surtout des garçons, travaillent discrètement, dans une ambiance à la fois studieuse et décontractée. GENI. Outernet | Information for the World from Outer Space. The future of the open Internet is decentralized.
The Internet is having a quarter-life crisis.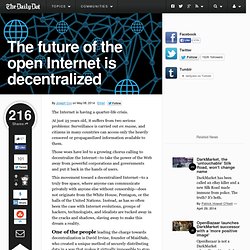 At just 25 years old, it suffers from two serious problems: Surveillance is carried out en masse, and citizens in many countries can access only the heavily censored or propagandized information available to them. Those woes have led to a growing chorus calling to decentralize the Internet—to take the power of the Web away from powerful corporations and governments and put it back in the hands of users. This movement toward a decentralized Internet—to a truly free space, where anyone can communicate privately with anyone else without censorship—does not originate from the White House, Pentagon, or the halls of the United Nations. Zeiss Cinemizer OLED with head-tracking hands-on (video)
The Carl Zeiss Cinemizer OLED has been a long time in the making -- we first heard about the video glasses at Macworld in 2008 -- but the company has yet to push the head-mounted display past the prototype phase.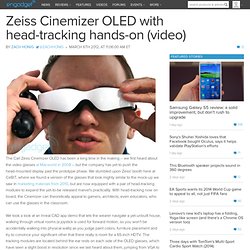 We stumbled upon Zeiss' booth here at CeBIT, where we found a version of the glasses that look mighty similar to the mock-up we saw in marketing materials from 2010, but are now equipped with a pair of head-tracking modules to expand the yet-to-be released marvel's practicality. With head-tracking now on board, the Cinemizer can theoretically appeal to gamers, architects, even educators, who can use the glasses in the classroom. Augmented Reality Event - Home.
Pranav Mistry: The thrilling potential of SixthSense technology. Pranav Mistry. Un article de Wikipédia, l'encyclopédie libre.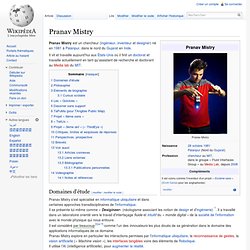 Pranav Mistry Compléments Pranav Mistry est un chercheur (ingénieur, inventeur et designer) né en 1981 à Palanpur, dans le nord du Gujarat en Inde. LED Lights Make Augmented Vision a Reality | Elemental LEDucation. LED Lights Make Augmented Vision a Reality Okay, this is just freaky.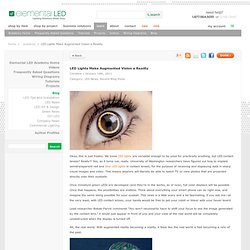 We know LED lights are versatile enough to be used for practically anything, but LED contact lenses? Really?! Tedtalkhaas.png (Image PNG, 1920x872 pixels) - Redimensionnée (66%) Harald Haas: Wireless data from every light bulb. LiFi Consortium. SixthSense - a wearable gestural interface (MIT Media Lab) 'SixthSense' is a wearable gestural interface that augments the physical world around us with digital information and lets us use natural hand gestures to interact with that information.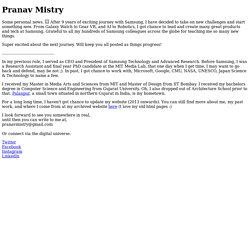 We've evolved over millions of years to sense the world around us. When we encounter something, someone or some place, we use our five natural senses to perceive information about it; that information helps us make decisions and chose the right actions to take. SixthSense. Un article de Wikipédia, l'encyclopédie libre.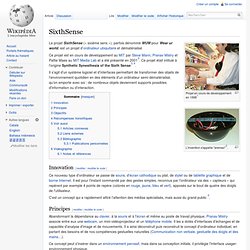 Projet en cours de développement en 1998[1] L'invention s'appelle "aremac"[2]. Emotiv - Brain Computer Interface Technology. Trends Watch. The Work of Jonathan Harris. ATAP Project Tango – Google. We believe we can get there faster if we build it together.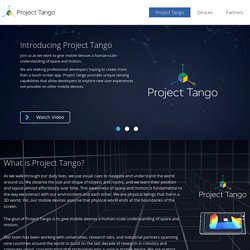 Project Tango is an attempt to create a mobile device unlike like any other, a mobile device that shares our sense of space and movement, that understands and perceives the world the same way we do. We have been collaborating with universities, research labs, and industrial partners who share this passion spanning 9 countries around the world to concentrate the past 10 years of research in robotics and computer vision into a unique mobile phone. We now have prototypes ready to put into the hands of eager development partners that can help us imagine the possibilities and to transform those ideas into reality.
Sight. Bluefin Labs. Imagining the Internet. The Evolution Will Be Socialized. From the actions of the Egyptian government to the policies of Facebook, the monopolies of central banks to the corporatization of the Internet, we are witnessing the potential of a peer-to-peer networking become overshadowed by the hierarchies of the status quo.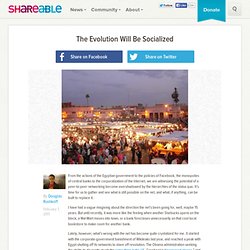 It's time for us to gather and see what is still possible on the net, and what, if anything, can be built to replace it. I have had a vague misgiving about the direction the net's been going for, well, maybe 15 years. But until recently, it was more like the feeling when another Starbucks opens on the block, a Wal-Mart moves into town, or a bank forecloses unnecessarily on that cool local bookstore to make room for another bank. Lately, however, what's wrong with the net has become quite crystalized for me. It started with the corporate-government banishment of Wikileaks last year, and reached a peak with Egypt shutting off its networks to stave off revolution. HTML5. Un article de Wikipédia, l'encyclopédie libre. HTML5 (HyperText Markup Language 5) est la dernière révision majeure d'HTML (format de données conçu pour représenter les pages web). Cette version est en développement en 2013.
HTML5 spécifie deux syntaxes d'un modèle abstrait défini en termes de DOM : HTML5 et XHTML5. Le langage comprend également une couche application avec de nombreuses API, ainsi qu'un algorithme afin de pouvoir traiter les documents à la syntaxe non conforme. Le travail a été repris par le W3C en mars 2007 après avoir été lancé par le WHATWG. Intelligence ambiante. Un article de Wikipédia, l'encyclopédie libre. L'évolution des ordinateurs : la course à la miniaturisation et à la diffusion dans le milieu ambiant L'intelligence ambiante est ce que pourrait devenir l'informatique dans la première moitié du XXIe siècle en repoussant les limites technologiques qu'elle avait à la fin du XXe siècle [réf. nécessaire].
Ce concept semble pouvoir tenir lieu de traduction non littérale aux concepts nés en Amérique du Nord sous le vocable initial d'informatique ubiquitaire, systèmes pervasifs ou encore ordinateur évanescent [réf. nécessaire]. Dans cette approche, le concept même de système d'information ou d'ordinateur change : d'une activité de traitement exclusivement centrée sur l'utilisateur, l'informatique devient interface entre objets communicants et personnes, et entre personnes [réf. nécessaire].
Facteurs en jeu[modifier | modifier le code] The Future Is All About Context: The Pragmatic Web. The semantic Web has long been heralded as the future of the Web. Proponents have said that Web experiences will some day become more meaningful and relevant based on the AI-esque computational power of natural-language processing (NLP) and structured data that is understandable by machines for interpretation.
However, with the rise of the social Web, we see that what truly makes our online experiences meaningful is not necessarily the Web's ability to approximate human language or to return search results with syntactical exactness. The value of the semantic Web will take time because the intelligent personal agents that are able to process this structured data still have a long way to go before becoming fully actualized. This guest post was written by Alisa Leonard-Hansen. Android-powered Google Glasses: The augmented reality HUD dream is coming.
It's about time: By the end of 2012, Google will launch a pair of Android-powered, augmented reality, head-up display (HUD) glasses. Anonymous Google employees, speaking to The New York Times, say that the glasses will resemble a pair of Oakley Thumps (pictured above), will have 3G or 4G connectivity, a forward-facing camera, GPS, and a full array of movement sensors. They will cost "around the price of current smartphones." Informatique ubiquitaire. Internet Traffic is now 51% Non-Human. L'internet des objets va-t-il changer la nature des objets. The Evolution of People-Powered Markets: 60 Resources. Augmented Reality Software : E-Commerce : Gaming : Video Conferencing. Comment l'internet transforme-t-il la façon dont on pense ? (4/5) : l'internet n'a-t-il rien changé.
Quand l'homme sert de machine à la machine. 5 Major Changes Facing the Internet in 2012 | PCWorld Business Center. Newspaper_Extinction_Timeline.pdf (Objet application/pdf) Future of Sex. The Internet Gets Physical. 10 projets technologiques fascinants financés par des internautes. MYO - The Gesture Control Armband. Shapeways - Make & Share Your Products with 3D Printing. Insights show how consumers use different devices together. Www.dontclick.it. The Future Will Be Personalized. The Future Of Work Is Play.
Predictions for 2010 and the new decade. Home. Envisioning-technology-2011-02-25.pdf (Objet application/pdf) Jane McGonigal: Gaming can make a better world. You found me. Urgent Evoke. Le jeu vidéo de politique financé par l'armée française - guerrelec | Google Groupes. Quel futur pour les "mindgames" An Idea Worth Spreading: The Future is Networks. What's a zettabyte? By 2015, the internet will know, says Cisco | Technology. Toutes les tailles | Elements of the Web's Next Generation. Future of Internet Search: Mobile version on the Behance Network.
Les smartphones du futur capteront les émotions, selon Intel. Feel, Act, Make sense • Sen.se. Mevoked | Parent. Supermechanical : objects that connect us. HumanAPI: An API platform for human health data. Augmented Reality on Mobile Internet Devices | Dr Dobb's Journal. Researchers claim quantum breakthrough › News in Science (ABC Science)
---