More links...
Free Trademark Search | Free Trademark Watch - Markify. Network. Allonesearch Yellow Pages Business Directory. Doona V6 : Premier moteur de recherche à but humanitaire, généreux et solidaire du net. Search engine KartOO. SortFix - Improve your Search. Moteurs,bots,agents,search engines. Uncover the Net - Web Directory & Search Engine.
MagPortal.com - Magazine Article Search Engine and Directory. Yandex. PubSub - Home. Emploi - votre recherche d'emploi avec Moovement, Le moteur de recherche d'offres d'emploi. Lycos.
Search the Wicked Web Wickedly | Be Wicked! Emploi avec Regions Job - Des offres d'emploi dans votre région. 5earch. GrabAll. Startpage Search Engine. Undernation - Download Torrents, Movies, Music, Games, Software! Ixquick. ::: Wotbox ::: VerticalSet. What do you suggest? What Do You Suggest takes a seed from you (or gives you something random) then guides you on a journey through language and the collective lives of Google users.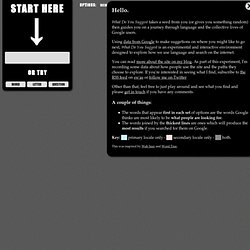 Using data from Google to make suggetions on where you might like to go next, What Do You Suggest is an experimental and interactive environment designed to explore how we use language and search on the internet. You can read more about the site on my blog. As part of this experiment, I'm recording some data about how people use the site and the paths they choose to explore. Fooky.com - Phrase Yourself(tm) Search.manufactures.com: Search Engine for Manufacturers & Suppliers. File search. Zefab.info - Centre de recherche d'informations sur internet.
Kosmix: The web organized for you. WEBITOU - Accueil. Personalized Search Engine and Custom Homepage | It's My Search. Trovando - the engine for searchers. GoodSearch - Web search, coupons, discounts & deals for charity!
Compare Hotel Prices - Best Hotel Deals Guaranteed. MesGouts, le moteur de recherche alimentaire. Internet Business Search by BizShark. Moresearch.biz | nachrichten- und suchmaschine. ErrorKey - Search engine for Error codes and messages.
---