Michael Moore
Get flash to fully experience Pearltrees
Moore: Trying to have it three ways One of the many problems with the American left, and indeed of the American left, has been its image and self-image as something rather too solemn, mirthless, herbivorous, dull, monochrome, righteous, and boring.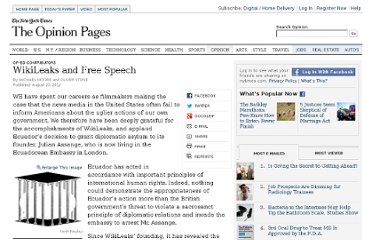 Ecuador has acted in accordance with important principles of international human rights. Indeed, nothing could demonstrate the appropriateness of Ecuador's action more than the British government's threat to violate a sacrosanct principle of diplomatic relations and invade the embassy to arrest Mr. Assange.
Un article de Wikipédia, l'encyclopédie libre.
Michael Francis Moore (born April 23, 1954) is an American filmmaker , author , social critic , and liberal activist . [ 4 ] He is the director and producer of Fahrenheit 9/11 , which is the highest-grossing documentary of all time and winner of the Palme d'Or . [ 5 ] His films Bowling for Columbine (2002) and Sicko (2007) also placed in the top ten highest-grossing documentaries , [ 5 ] and the former won the Academy Award for Documentary Feature . In September 2008, he released his first free movie on the Internet, Slacker Uprising , which documented his personal quest to encourage more Americans to vote in presidential elections. [ 6 ] He has also written and starred in the TV shows TV Nation and The Awful Truth .
Fahrenheit 9/11 is a 2004 documentary film by American filmmaker and director and political commentator Michael Moore . The film takes a critical look at the presidency of George W.
Capitalism: A Love Story is a 2009 American documentary film directed, written by and starring Michael Moore . The film centers on the late-2000s financial crisis and the recovery stimulus , while putting forward an indictment of the current economic order in the United States and capitalism in general. Topics covered include Wall Street 's "casino mentality", for-profit prisons , Goldman Sachs ' influence in Washington, D.C. , the poverty -level wages of many workers, the large wave of home foreclosures , corporate-owned life insurance , and the consequences of "runaway greed". [ 2 ] The film also features a religious component where Moore examines whether or not capitalism is a sin and if Jesus would be a capitalist, [ 3 ] in order to shine light on the ideological contradictions among evangelical conservatives who support free market ideals.
Sicko is a 2007 documentary film by American filmmaker Michael Moore . The film investigates health care in the United States , focusing on its health insurance and the pharmaceutical industry . The movie compares the for-profit, non-universal U.S. system with the non-profit universal health care systems of Canada , the United Kingdom , France and Cuba .
Roger & Me is a 1989 American documentary film directed by Michael Moore .