Major Networks
Get flash to fully experience Pearltrees
A yellow submarine in Second Life. Second Life is an online virtual world developed by Linden Lab .
Écrites en petits caractères et dans un jargon peu accessible : ce sont les magnifiques "conditions générales d'utilisation" (CGU). Que nous avons ici cartographiées. Un monde de combines et d'hypocrisie.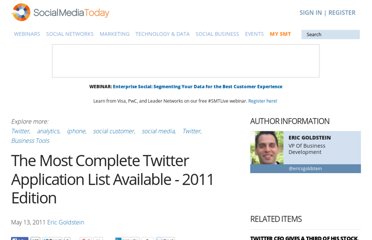 I believe this is the best, most complete and accurate list of valuable Twitter applications available on the internet right now. To be fair, I absolutely have merged and plagiarized other older and outdated lists that I found (the larger ones are credited below).
The U.S. Central Intelligence Agency has a crack group of analysts tracking the Internet, including tweets and Facebook messages, that takes the pulse of the world. Located in McLean, Virginia analysts at the CIA Open Source Center are known as the "vengeful librarians" according to a report from the Associated Press . These librarians are tracking up to five million tweets a day from places like China, Pakistan and Egypt. It is sometimes disconcerting to know what the U.S. intelligence complex is doing, right in your backyard.