Images search
TinEye Reverse Image Search. RevIMG - Reverse visual search. Free vectors, photos and PSD Downloads | Freepik. Idée Labs. Google Search by Image. Who stole my pictures? GazoPa similar image search. Google Similar Images. PicsLikeThat - visual image search on fotolia. Google Image Search By Drawing. Utiliser Google Images pour trouver l'original d'une photo sur le web. Alors que je parlais hier d'une application qui permettait de retrouver la source d'une image (c'est-à-dire où elle avait été diffusée auparavant sur le Web), j'ai lu dans l'après-midi que Google déployait progressivement la même chose depuis.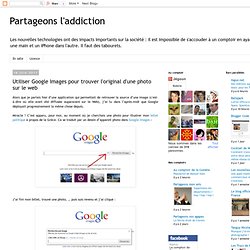 Miracle ! C'est apparu, pour moi, au moment où je cherchais une photo pour illustrer mon billet politique à propos de la Grèce. Ca se traduit par un dessin d'appareil photo dans Google Images : Images. Online Search Tools - Image Retrieval/Search. Pixolu - find what you imagine. FlickrStorm. Search on Flickr with some Magic. Explore. Pixolu - find what you imagine. Pixolution search demo. Giphy - Search Animated Gifs on the Web. Content Based Visual Image Search : Tiltomo.
List of CBIR engines. Content-based image retrieval. General scheme of content-based image retrieval Content-based image retrieval (CBIR), also known as query by image content (QBIC) and content-based visual information retrieval (CBVIR) is the application of computer vision techniques to the image retrieval problem, that is, the problem of searching for digital images in large databases (see this survey[1] for a recent scientific overview of the CBIR field).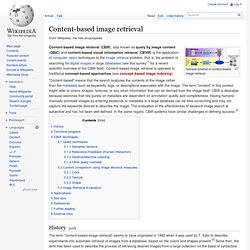 Content-based image retrieval is opposed to traditional concept-based approaches (see concept-based image indexing). History[edit] The term "content-based image retrieval" seems to have originated in 1992 when it was used by T. Picture & Image Search Engines. Www.imagesexplore.info | Images Explore. Image Search. Wallpapers by colors. Macroglossa Visual Search Engine.
LIFE photo archive hosted by Google. Imense® - Home. Twitcaps: Real-Time Twitter Image Search. Home | imprezzeo | find the right image - fast. History-google-image-search-infographic.jpg (Image JPEG, 1280 × 4191 pixels) - Redimensionnée (19%) PicFog - Quick Image Search. Color tools. Multicolr Search Lab - Idée Inc. Chromatik Search. Compfight / A Flickr Search Tool.
Elastic Vision - Content-based Image Search. ALIPR - Automatic Photo Tagging and Visual Image Search. Free Vectors - Free Vector Art, Vector Images & Vector Graphics. Everystockphoto - searching free photos. Pictures. Image Search Engines - The Best Image Search Engines on the Web. Images are one of the most popular searches on the Web, year after year.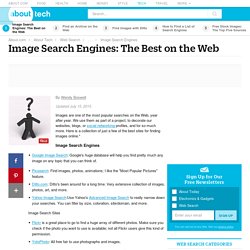 We use them as part of a project, to decorate our websites, blogs, or social networking profiles, and for so much more. Here is a collection of just a few of the best sites for finding images online. . * Photo Pin : Free Photos for Bloggers via Creative Commons. Sprixi image search engine.
---