Web Future dedicated sites & pages
What happens when video games meet Web 2.0? When virtual worlds meet geospatial maps of the planet meet pervasive web video? When simulations get real and life and business go virtual? When you use a virtual Earth to navigate the physical Earth, the internet swallows the television, and your avatar becomes your online agent?
Metaverse Roadmap: Pathways to the 3D Web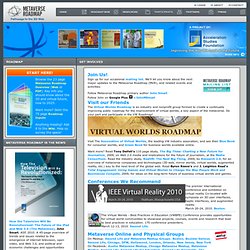 The Next Net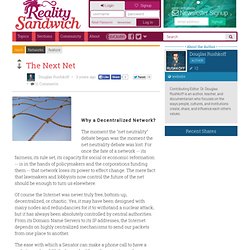 Why a Decentralized Network? The moment the "net neutrality" debate began was the moment the net neutrality debate was lost. For once the fate of a network -- its fairness, its rule set, its capacity for social or economic reformation -- is in the hands of policymakers and the corporations funding them -- that network loses its power to effect change. The mere fact that lawmakers and lobbyists now control the future of the net should be enough to turn us elsewhere.
Archived Audio Interviews GE is a leader in combining connected devices and advanced analytics in pursuit of practical goals like less downtime, lower operating costs, and higher throughput. At GIO Power & Water, CIO Jim Fowler is part of the team exploring how to apply these techniques to some of the world's essential infrastructure, from power plants to water treatment systems. Join us, and bring your questions, as we talk about what's ahead.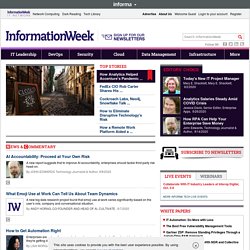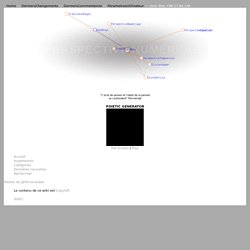 Qu'est-ce que la "perspective numérique"? Il s'agit d'une conjecture : nous serions les acteurs d'une invention majeure, analogue à la " perspective spatiale", qui marqua le passage du monde hiérarchisé du Moyen Age, à celui, géométrisé, de la Renaissance ; analogue aussi à la " perspective temporelle" née il y a deux siècles avec l'invention du télégraphe, et qui domine actuellement (ses " points de fuite" sont les émetteurs de télévision, les moteurs de recherche et les sites web que nous connaissons). La perspective numérique, elle, est fondée, non pas sur des points de fuite comme les deux précédentes perspectives, mais sur des codes de fuite, de nature numérique, biologique, génétique, voire quantique, capables d'organiser des formes de commutation acentrée, synchrone ou asynchrone, à l'intérieur de la communauté humaine.
Invite Share - Everyone is invited!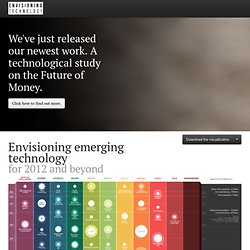 What is the visualization? Understanding where technology is heading is more than guesswork. Looking at emerging trends and research, one can predict and draw conclusions about how the technological sphere is developing, and which technologies should become mainstream in the coming years. Envisioning technology is meant to facilitate these observations by taking a step back and seeing the wider context. By speculating about what lies beyond the horizon we can make better decisions of what to create today. Who made this?
Envisioning Technology 2011
future of the web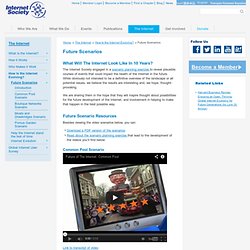 What Will The Internet Look Like In 10 Years? The Internet Society engaged in a scenario planning exercise to reveal plausible courses of events that could impact the health of the Internet in the future. While obviously not intended to be a definitive overview of the landscape or all potential issues, we believe the results are interesting and, we hope, thought-provoking. We are sharing them in the hope that they will inspire thought about possibilities for the future development of the Internet, and involvement in helping to make that happen in the best possible way. Future Scenario Resources Besides viewing the video scenarios below, you can:
For more than a decade, David has worked with technology startups throughout the software sector. In 2000, David joined August Capital to invest broadly in information technology companies, with a focus on enterprise application and infrastructure software, as well as consumer facing software and services. Prior to joining August Capital, David was an intellectual property and corporate attorney at Venture Law Group and Perkins Coie. In his legal practice, David represented high tech startups in all aspects of their formation, financing, and operations, including the likes of Yahoo!, Evite (Ticketmaster) and Ofoto (Kodak).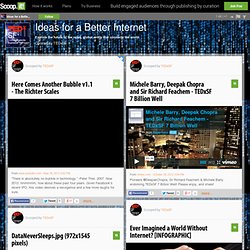 Ideas for a Better Internet
Will the Future of the Internet Be Decided By Hollywood?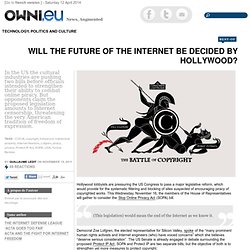 Hollywood lobbyists are pressuring the US Congress to pass a major legislative reform, which would provide for the systematic filtering and blocking of sites suspected of encouraging piracy of copyrighted works. This Wednesday, November 16, the members of the House of Representatives will gather to consider the Stop Online Privacy Act (SOPA) bill. (This legislation) would mean the end of the Internet as we know it. Democrat Zoe Lofgren, the elected representative for Silicon Valley, spoke of the "many prominent human rights activists and Internet engineers (who) have voiced concerns" which she believes "deserve serious consideration".
The Future of the Internet! | The Advanced Apes | PBS Digital Studios