Flickr Galaxy
FlickrStorm. Search on Flickr with some Magic. PiciShare - A Flickr Search Engine. MrSapo Visual Library. Compfight / A Flickr Search Tool. Behold | Search High Quality Flickr Images. Tag Galaxy. oSkope visual search :: Your intuitive search assistant. Flickr Related Tag Browser.
Welcome to Flickr - Photo Sharing. Photo Gallery. Creative Commons. Many Flickr users have chosen to offer their work under a Creative Commons license, and you can browse or search through content under each type of license.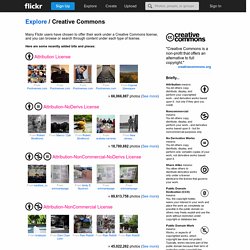 Here are some recently added bits and pieces: Attribution License » 58,276,835 photos (See more) Flickriver - A new way to view Flickr photos and more... PhotoRee.com : sorting-out the most interesting images on the internet. Beauty in Everything - Photography.
The Great Flickr Tools Collection. Looking for Flickr Tools, hacks and services for a powerful photo sharing experience?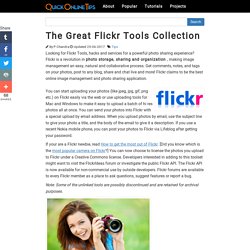 Flickr is a revolution in photo storage, sharing and organization , making image management an easy, natural and collaborative process. Get comments, notes, and tags on your photos, post to any blog, share and chat live and more! Flickr. Flickr (pronounced "flicker") is an image hosting and video hosting website, and web services suite that was created by Ludicorp in 2004 and acquired by Yahoo in 2005.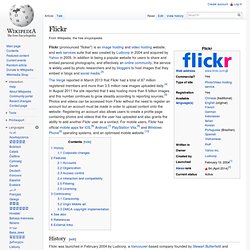 In addition to being a popular website for users to share and embed personal photographs, and effectively an online community, the service is widely used by photo researchers and by bloggers to host images that they embed in blogs and social media.[3] History[edit] Yahoo acquired Ludicorp and Flickr in March 2005. Photo Pin : Free Photos for Bloggers via Creative Commons. Cooliris | Media browser plug-in, mobile app, gallery builder. Earth album alpha - a slicker google maps + flickr mash-up. Welcome to splashr.com.
Krazydad / jbum's Photostream. Thomas Hawk's Photostream. A.G. Photographe's Photostream. All sizes | Redeemer. The Commons. Cornell University Library's Photostream. The Library of Congress' Photostream. Ben Heine's Photostream. Leon keer's Photostream. Synaptic Stimuli's Photostream. Galerie de el noos. Multicolr Search Lab - Idée Inc. A Daily Dose of Interesting Photographic Inspiration from Flickr. Retrievr - search by sketch / search by image.
---