File Hosting
Minus - Share simply. Uploaded.net. Deposit Files. Free large file hosting. Send big files the easy way! Free File Hosting, Online Storage & File Upload with FileServe. Gratuit stockage et livraison de fichiers.
Dropbox - Simplifiez-vous la vie. WeTransfer. Box.net | Online file sharing, content management, collaboration. Site d'hébergement de fichiers. Un article de Wikipédia, l'encyclopédie libre.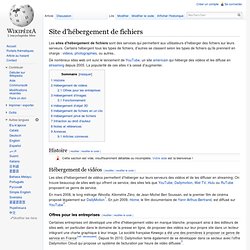 Les sites d'hébergement de fichiers sont des services qui permettent aux utilisateurs d'héberger des fichiers sur leurs serveurs. Certains hébergent tous les types de fichiers, d'autres se classent selon les types de fichiers qu'ils prennent en charge : vidéos, photographies, ou autres.. De nombreux sites web ont suivi le lancement de YouTube, un site américain qui héberge des vidéos et les diffuse en streaming depuis 2005. La popularité de ces sites n'a cessé d'augmenter. Zippyshare.com - Free File Hosting.
Uptobox - une manière simple de partager vos fichiers. Free File Hosting Made Simple - MediaFire. MediaFire remplace automatiquement les liens « Pirates » par des liens pour acheter légalement sur AMAZON et co. Depuis l'année dernière, plusieurs cyberlockers ont pris des mesures radicales après la fermeture de Megaupload.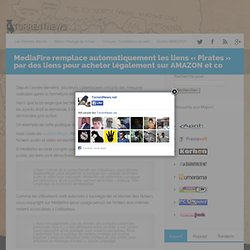 Alors que la loi exige que les hébergeurs suppriment des fichiers lorsque les ayants droit le demande, il n'est plus rare que certains agissent de manière pro-active. Un exemple de cette politique est la surveillance proactive de Mediafire. Avec l'aide de Audible Magic, MediaFire vérifie l'empreinte digitale des fichiers audio et vidéo en identifiant les droits d'auteur. Audible Magic - Digital Fingerprint Content & Media Recognition. 4shared.com - partage et stockage gratuits de fichiers. RapidShare – Secure Data Logistics. 2shared - file upload.
Zippyshare.com - Free File Hosting. Hotfile.com: One click file hosting. Megashares - Drag. Drop. Yup. The first site to provide FREE file hosting with drag n drop support. Cloudify.
!EmbedUpload.com - upload your files to multiple file hosting sites. Free File Hosting - Online Storage; Upload Mp3, Videos, Music. Backup Files. MixtureCloud. Mirrorcreator - Upload files to multiple file sharing sites. 5GB of free space to upload and share your files, photos, videos and music - eSnips.com. Picsarus: Simple online photo sharing. Solidfiles - Free File Hosting - Upload Your Files. zSHARE - Free File Hosting Service | Audio and Video Sharing | Image Uploading | Web storage.
---