Festivals Concerts
Festival Rock en Seine - Domaine national de Saint-Cloud - 26•27•28 Août 2011. France Festivals : le guide du festival de musique. Burning Man :: Welcome Home. 11 Alternatives to Burning Man | Fest300 - World's Best Festivals. Ever since Burning Man first sold out in 2011, there has been a scarcity mentality around tickets.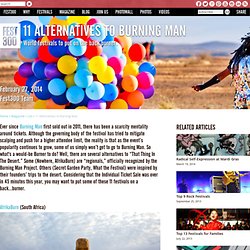 Although the governing body of the festival has tried to mitigate scalping and push for a higher attendee limit, the reality is that as the event's popularity continues to grow, some of us simply won't get to go to Burning Man. So what's a would-be Burner to do? Well, there are several alternatives to "That Thing In The Desert." The 10 Principles - Survival Guide. The 10 Principles Our community's ethos is built on the values reflected in the 10 Principles.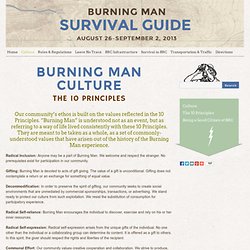 "Burning Man" is understood not as an event, but as referring to a way of life lived consistently with these 10 Principles. They are meant to be taken as a whole, as a set of commonly-understood values that have arisen out of the history of the Burning Man experience. Radical Inclusion: Anyone may be a part of Burning Man. We welcome and respect the stranger. Info Concert : la base d'informations et de reservations concerts et festivals en Europe : Espagne, Italie, France, Suisse, Belgique, Luxembourg, Allemagne. Fest300 | World's Best Festivals.
Le Guide des Festivals© Eté - Automne - Hiver - Printemps 2011 - 2012. Tactikollectif.org. Rock in Rio. 2camels Festivals & Events. Festival des Vieilles Charrues 2011. Francofolies.fr. Le Printemps de Bourges - Rendez-vous du 24 au 29 avril 2012 ! Paléo Festival Nyon. Accueil - Festival de Rock, les Eurockéennes de Belfort. Festival Rochefort en Accords. Home - Couleur Café || 24-25-26 June 2011 // TOUR & TAXIS.
Solidays. Emmaus Pau Lescar - Festival 2011. Des festivals sur une note écolo. Alors que le soleil pointe le bout de ses rayons, la saison des festivals, elle, bat déjà son plein.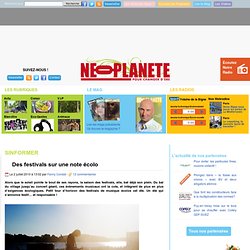 Du bal du village jusqu'au concert géant, ces évènements musicaux ont la cote, et intègrent de plus en plus d'exigences écologiques. Petit tour d'horizon des festivals de musique écolos cet été. Un été qui s'annonce festif… et responsable ! Les organisateurs des festivals font chaque année plus d'efforts pour que ces regroupements de masse ne riment pas avec pollution et dégradation de l'environnement.
---