Distraction recreation
Category:Entertainment
thinkgeek.com Stuff for Smart Masses
[62 images] UFUNK – La Sélection du Week End n°84 Comme les oeufs en chocolat cachés au fond du jardin, c'est maintenant l'heure de découvrir la Sélection du Week end n°84 ! Comme chaque... Couchers de Soleil et Miroirs brisés – 13 photographies étonnantes de Bing Wright "Broken Mirror/Evening Sky", une magnifique série du photographe Bing Wright, qui capture les lumières envoutantes des couchers de soleil... Marshmallow Cat – Des sucreries japonaises adorables… Voici les "CafeCat", des marshmallows adorables en formes de petits chatons et de pattes de chat, imaginés par le confiseur japonais Marshmallow... 24 nouveaux portraits vintages de Super Héros Une nouvelle sélection des créations des artistes italiens Marvellini Brothers, basés à Milan, qui réalisent des portraits de super héros et de...
Ufunk.net - Gadgets japonais et Arts insolites
Category:Entertainment websites
Portail:Humour
Recreation
Geocaching - The Official Global GPS Cache Hunt Site
Skip to Navigation Skip to Content Geocaching is the real-world treasure hunt that's happening right now, all around you. There are 2,368,962 active geocaches and over 6 million geocachers worldwide. Learn more about geocaching and how you can join the adventure.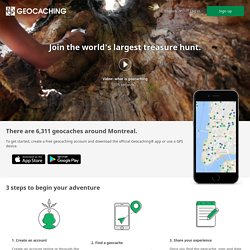 Cataphile.com - v2
S.F.Heart
CentralPark.com
Bob's activity database - BobsDB.com
Vie de merde : Vos histoires de la vie quotidienne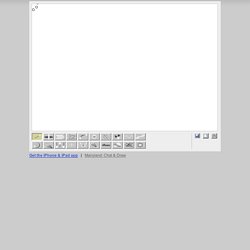 Elsewhere: Manyland: Run, Draw, Chat! x bomomo created by Philipp Lenssen 2008. Internet Explorer version by Nikolai Kordulla. Feel free to share any image you create in any way you like... it's yours!
bomomo
Do Nothing for 2 Minutes
calm.com
Dear Best friend, Please continue to take me on romantic hikes in the dead of night to look at the stars. But when you leave me and go back to college, can you maybe keep in contact? Sincerely, In love with you and hates feeling ignored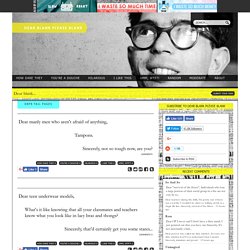 Dear blank, please blank.
Put your hand up if you ran from doorbells, hid behind pant legs, and avoided eye contact with grownups as a shy little kid. Brothers and sisters, if your hand is up right now, you are not alone. Yes, mute as a mouse, quiet as a cat, I was a short, snotty, bedhead-smeared ghost of a child until about eight years old. That was when I was head-yanked out of my turtle shell by a cotton-white, curly-haired, crinkly-smiled teacher who pushed me every single day. For some reason Mrs.
1000 Awesome Things | A time-ticking countdown of 1000 awesome things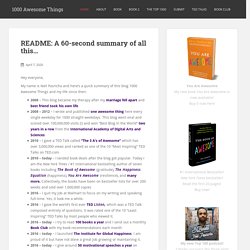 Waste Some Time Online | Home of Procrastinating - Procrastination Is Fun
Problem With Procrastination? Try Doing Nothing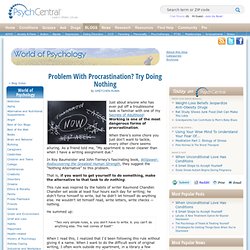 Just about anyone who has ever put off a troublesome task is familiar with one of my Secrets of Adulthood: Working is one of the most dangerous forms of procrastination. When there's some chore you just don't want to tackle, every other chore seems alluring. As a friend told me, "My apartment is never cleaner than when I have a writing assignment due." In Roy Baumeister and John Tierney's fascinating book, Willpower: Rediscovering the Greatest Human Strength, they suggest the "Nothing Alternative" to this problem.
How to Totally Troll someones Computer [pic]
Jeux - Viva la luchalibre ! - Sarko, super mariole - Le sprint des… - Yoyo sort le siège… - Parlez comme un… - Jose Bové s'amuse - Les échecs… - Des sondages… - Plein de pépettes à… - Désirs... de vent - Disco Sarko - Elisez le roi des… - Sarkozy et… - Le
Vous en avez rêvé, Petites-Phrases.com l'a fait : après le générateur d'attaques , un générateur de sondages pour connaître l'état de l'opinion publique en temps réel. Très drôle ! C'est potache, c'est drôle !
The End
Tic tac tic tac tic tac... drrrrrrriiiiiiiiiiiNNNNNNNNNNNG Lundi 1er avril. 4h32 du matin Oh putain 4h32, je suis à la bourre moi. Vite avant que les vieux ne se réveillent.
Désencyclopédie
Chuck Norris facts - fr
The 15 Funniest Cat GIFS
Funniest Videos, Music Videos, Netflix & UFC Results
Fun Theory
The Useless Web
The Fun Theory Sequence
Create What people think I do, What I really do | meme images builder
The magic button — Make Everything OK
I Bet We Could Explore The Galaxy at Kontraband
Sci-Fi News Generator - 24-Hour Mirror-Universe News from Around the Galaxy
Little Alchemy