Directories, Lists, Groups...
TLists - Search Twitter Lists. Twitter Search, Twitter Directory, Twitter Yellow Pages :: Twellow. Twitter Directory and Search, Find Twitter Followers. Journalists on Twitter - Breaking News, Politics, Opinion and more - Muck Rack. Listorious: Twitter people search and lists directory. Formulists. Qui twitte ? > Le meilleur de Twitter en francais / Annuaire d'utilisateurs, selection d'outils et actualite de Twitter en France. Top Blogs on Twitter - Huffington Post, TechCrunch, Engadget, and more - Twittorati.
Les 100 Comptes Francophones à Follower. Un site Espagnol alt140 a publié une liste qui nous a inspiré Benjamin de Vendeesign , Weetabix de i-actu et moi de Twitteradar .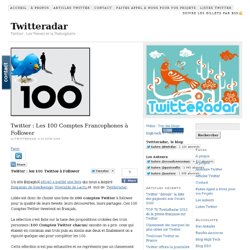 L'idée est donc de choisir une liste de à follower pour la qualité de leurs tweets, leurs découvertes, leurs partages .Ces 100 Comptes Twitter tweetent en français. La sélection s'est faite sur la base des propositions croisées des trois personnes ( ) ensuite on a pris ceux qui étaient en commun aux trois puis au moins aux deux et finalement on a rajouté quelque uns pour compléter les 100.
Cette sélection n'est pas exhaustive et ne représente pas un classement non plus, mais représente une bonne base pour une personne qui désire avoir un choix d'une centaine de personnes diverses francophones et variées à follower. Jacques Froissant – Fondateur d'Altaïde, @altaide_jf Antoine Dupin – Chargé de Communication Web, @antoinedupin.
Twibes. Listing 30,667 Twitter Businesses in 189 categories - Twibs - Twitter Business Directory.
---