Curation Tools
A Web & Mobile App for Reading Comfortably: Readability. Hey ! bienvenue sur kweeper. la collection instantanée d'informations et de contenus la plus variée au monde. Content Curation & Online Marketing Solution - Curata. Qrait. Readable / TastefulWords.com. Flockler. Rewire the web. Liste des tutoriels Yahoo Pipes. iFlow — Create, Curate, and Follow Flows On Any Topic. Quel outil de curation pour votre marque ? — Curiouser.
Quel outil de curation pour votre marque ?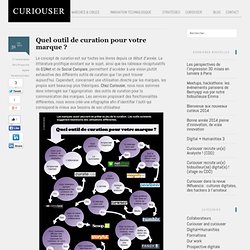 Méthodologie Pour réaliser cette infographie, nous avons privilégié les outils qui permettent à la marque de se présenter comme expert en proposant une ligne éditoriale propre, nous avons donc écarté les outils de curation automatique. En effet, ces derniers ne permettent pas à l'utilisateur de contrôler ce qui est publié. NewsPin.co. Curation Traffic - Wordpress Curation Theme | Your Platform, Your Traffic, Your Profit. Trailmeme. Be The Curator of Your Favorite Topic! StumbleUpon. Diigo Toolbar - Annotate, Screenshot, Bookmark.
Pearltrees. Create engaging online courses quickly with Curatr. Create stories using social media - storify.com. Organize your resources in an online binder - LiveBinders. We Are Digital Natives: Scoop.it, le partage digital d'information réinventé ? La "curation", on commence à le savoir, est LA tendance web de ces derniers mois.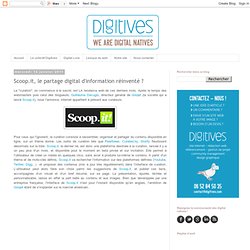 Après le temps des webmasters puis celui des blogueurs, Guillaume Decugis, directeur général de Goojet (la société qui a lancé Scoop.it), nous l'annonce, internet appartient à présent aux curateurs. Pour ceux qui l'ignorent, la curation consiste à rassembler, organiser et partager du contenu disponible en ligne, sur un thème donné. Les outils de curation tels que Pearltrees, Curated.by, Storify fleurissent désormais sur la toile.
Scoop.it, le dernier né, est donc une plateforme destinée à la curation, lancée il y a un peu plus d'un mois, et disponible pour le moment en beta privée et sur invitation. Crowdspoke. Curate.Me | Curated News Delivered On Your Schedule. Content Curation Tools from Mass Relevance. 74 Flares Twitter 37 Facebook 5 StumbleUpon 0 Google+ 8 LinkedIn 5 inShare5 Buffer 5 Reddit 0 Pin It Share 14 14 Email -- Email to a friend 74 Flares × Some of you may be asking what content curation is.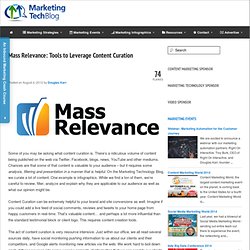 There's a ridiculous volume of content being published on the web via Twitter, Facebook, blogs, news, YouTube and other mediums. Chances are that some of that content is valuable to your audience – but it requires some analysis, filtering and presentation in a manner that is helpful. On the Marketing Technology Blog, we curate a lot of content. One example is infographics. Mass Relevance. Paper.li – read Twitter as a daily newspaper. The Tweeted Times - personal newspaper generated from your Twitter account. Summify. Keepstream - Organize your tweets with curation. eBook: Content Curation Look Book. Storyful.
Home. Curate.Us - Share Screen Clips Everywhere. ROCKZi | Read. Vote. Rock. Alerti: Votre eReputation compte. Silobreaker. Plates-formes de curation | SocialCompare - Site communautaire de comparatifs. Comparateur collaboratif S'inscrire Se connecter Se connecter Déconnexion Mon Espace - Plates-formes de curation Internet > Communications > Curation J'aime.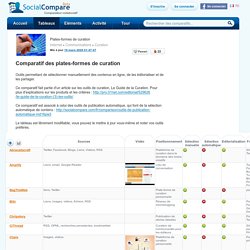 20 plateformes de curation à expérimenter. Curator, curation...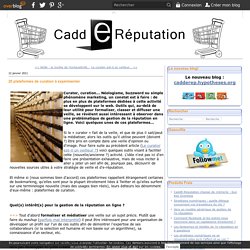 Néologisme, buzzword ou simple phénomène marketing, un constat est à faire : de plus en plus de plateformes dédiées à cette activité se développent sur le web. Outils qui, au-delà de leur utilité pour formaliser, classer et diffuser une veille, se révèlent aussi intéressant à observer dans une problématique de gestion de la réputation en ligne. Voici quelques unes de ces plateformes... Si le « curator » fait de la veille, et que de plus il sait/peut la médiatiser, alors les outils qu'il utilise peuvent (doivent ?)
Être pris en compte dans une veille d'opinion ou d'image. Tools. Best News Curation Tools for Independent Publishe... Hypothes.is | The Internet, peer reviewed. A Curator's Tools and To-Do List. Going to a museum is an enhanced content-viewing experience; some of the work it takes to understand and appreciate art has already been done for you.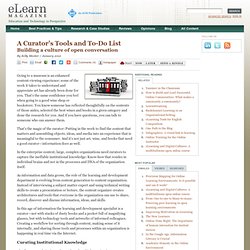 That's the same confidence you feel when going to a good wine shop or bookstore. You know someone has reflected thoughtfully on the contents of those aisles, selected the best wines and books in a given category and done the research for you. And if you have questions, you can talk to someone who can answer them. Comparatif de 12 solutions de curation. Lists. Content Curation Tools Supermap by Robin Good. Computer-assisted curation : let's figure out the best system to help scale up curation operations! | Faveeo.com. It seems that lately the two concepts of knowledge management and content curation are definitely getting closer and closer as providers of private social networks for companies try to find the holy grail of social collaboration.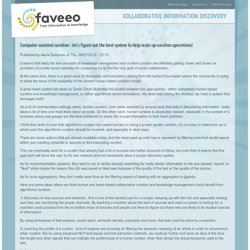 At the same time, there is a great wave of discussion and innovation coming from the world of journalism where the community is trying to solve the issue of the scalability of the current human-based curation model. A great tweet posted last week by David Clinch illustrates this duality between two approaches : either completety human-based curation and knowledge management, or either algorithmic recommendations. His tweet was stating the obvious, we need a system that leverages both! As a lot of commentators willingly admit, human curation, even when assisted by several tools that help in discovering information, really takes a lot of time and most likely does not scale. Curator's ǝpoɔ. ZEEF | Filtering the world's information. Robin Good. Content Curation Tools: 21 Criteria To Select And Evaluate Your Ideal One. Nonetheless we are just at the beginning of a new era, in which content curation will be as important as search, there is already an apparent abundance of content curation tools of all kinds.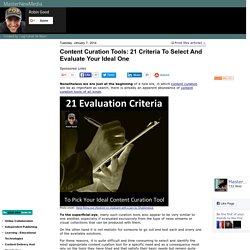 Photo credit: Hand filling out checklist on clipboard with a pen by Shutterstock To the superficial eye, many such curation tools also appear to be very similar to one another, especially if evaluated exclusively from the type of news streams or visual collections that can be produced with them. On the other hand it is not realistic for someone to go out and test each and every one of the available solutions. For these reasons, it is quite difficult and time consuming to select and identify the most appropriate content curation tool for a specific need and as a consequence most rely on the tools they have tried and that satisfy their basic needs but remain quite ignorant about what options they are leaving on the table only because they have not yet tried them. Content Curation by Robin Good | ZEEF. Le Guide de la curation (3) - Les outils.
01net le 16/03/11 à 18h45 Dans les précédents épisodes, nous avons défini les concepts et les pratiques de la curation.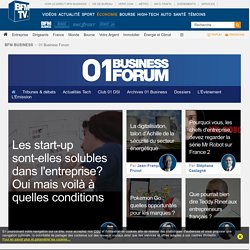 9 content curation tools that better organise the web. Content curation is a huge deal on the web today.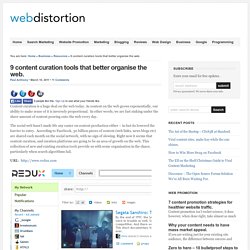 As content on the web grows exponentially, our ability to make sense of it is inversely proportional. In other words, we are fast sinking under the sheer amount of content pouring onto the web every day. The social web hasn't made life any easier on content production either – in fact its lowered the barrier to entry. According to Facebook, 30 billion pieces of content (web links, news blogs etc) are shared each month on the social network, with no sign of slowing.
Right now it seems that content curation, and curation platforms are going to be an area of growth on the web. Cinq outils de "curation" à la loupe. Les outils de « curation » vous permettent de partager une passion ou de synthétiser une expertise à l'aide de ce que vous dénichez sur les réseaux sociaux ou en errant sur la toile.
Attention : le « curator » -métier d'avenir- n'est pas un éditeur. Le terme est justement utilisé en anglais pour le différencier du « publishing« . Spundge est la meilleure plateforme de contenu collaborative et intelligente. Postano: Social Media Content Aggregation & Integration. Content Curation Tools - The Newsmaster Toolkit by Robin Good. Style Says Blogsieve RSS to HTML WebPublishing Tools Guide How To Embed and DisplayRSS on any Web Page RSS to JavaScript. Content Curation Essentials by Janet Aronica (@JanetAronica) - oneforty. Curated.by. Eqentia, Content Aggregation, Curation and Re-publishing Platform for Competitive Intelligence, Custom Content and Curated Sites Applications.
Create, Curate, Publish. Curation Station. CurationSoft Content Curation Software.
---