CoLab Tools
Сreate web office in the cloud. Your online social workspace | Your collaboration software | FMYI. Collective Intelligence Tool. CRM, the cloud, and the social enterprise - Salesforce. Start | XING. Freedcamp - Free Project Management. Creative community for the Collaborative Economy. Build a Network... Find Connections between People and Companies. The Enterprise Social Network. Sosius: Online sharing and collaboration. Service en ligne gratuit pour votre entreprise.
Open Atrium. Web conference software, online meeting services, online conferencing tools | Acrobat.com. NewsCloud - Engage your community. Social-IST | Social Collective Intelligence.
More Than 5 Million Users Work Online With Zoho. Colaab - web based collaboration and communication in real time or your own time. The page you are looking for might have been removed, had its name changed, or is temporarily unavailable.
Please try the following: Make sure that the Web site address displayed in the address bar of your browser is spelled and formatted correctly. Collaboration Software & Content Management for Enterprise. Wiggio - Makes it easy to work in groups. Chatter.com France.
OffBureau - The Online Workspace. Project management software, online collaboration: Basecamp. Software Development and Collaboration Tools. Project Management Software, CRM, Sales, Intranet - thousands of apps - Podio. Business Collaboration with Enterprise Social Networking | Socialtext. Enterprise Social Networking Software, Enterprise Microblogging Solutions | Socialcast.
Deux outils en ligne collaboratifs, libres et gratuits : Framapad (éditeur de texte coopératif) et Framadate (organisation de rendez-vous et sondages) L'univers Framasoft (réseau de sites Web collaboratifs consacrés au logiciel libre) se dote d'outils pratiques à disposition de tous afin de délivrer une alternative open source à des solutions logicielles commerciales en ligne.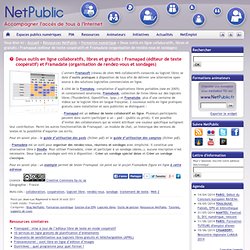 A côté de la Framakey, compilation d'applications libres portables (née en 2005) et constamment améliorée, Framabook, collection de livres libres sur des logiciels libres (Thunderbird, OpenOffice, Spip…) et Framatube, plus d'une centaine de vidéos sur le logiciel libre en langue française, 2 nouveaux outils en ligne pratiques gratuits (sans installation et sans publicité) se distinguent : - Framapad est un éditeur de texte collaboratif en ligne. Plusieurs participants peuvent donc ouvrir/participer à un « pad » (public ou privé).
Il est possible d'inviter des collaborateurs qui se voient attribuer une couleur spécifique surlignant leur contribution. Collaboration toolbox. 15 social media collaboration platforms. Social media is not just about conversations; it's also about collaboration.With this in mind we thought it would be interesting to take a look at some of the most well known collaboration tools on the market at the moment.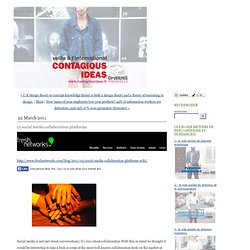 Much like our list of social media management tools wiki, this is an ongoing project, so if you know of any others please let us know so we can add them to the list. Wikis for Everyone - Wikispaces. Tibbr.
---
noosquest Nov 23 2012

never heard about this book of cube...I will have a look...thx

paulalofs Nov 23 2012
---