C.M tools
La boîte à outils idéale du Community Manager. Quels sont les outils indispensables à un Community manager efficace ?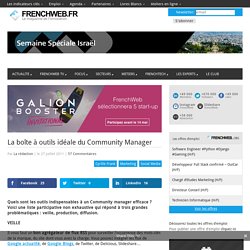 Voici une liste participative non exhaustive qui répond à trois grandes problématiques : veille, production, diffusion. Il vous faut un bon agrégateur de flux RSS pour surveiller l'occurrence des mots-clés de la marque, du site dont vous avez la charge. Sentiment Analysis Symposium. Rapleaf. 8 easy ways to manage multiple social networks. Straw poll: how many social networks, instant messaging platforms and online email tools do you have accounts with?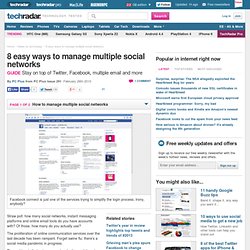 Of those, how many do you actually use? The proliferation of online communication services over the last decade has been rampant. Forget swine flu: there's a social media pandemic in progress. The problem is that not everyone is adopting and dropping services at the same rate. Outils de publication automatique | SocialCompare - Site communautaire de comparatifs. Comparateur collaboratif S'inscrire Se connecter Se connecter Déconnexion Mon Espace - Outils de publication automatique Internet > Communications > Curation.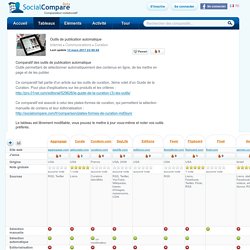 The Community Manager Toolkit by Suzanne Marlatt (@applegirl) - oneforty. Tools to Boost Your Social Media Productivity » SocialOomph.com. Community Builder - Joomla Social Networking. Wakoopa - Discover software & games. IFTTT / Put the internet to work for you. ⇒ xSpin : un créateur de spin polymorphe. L'annonce de la sortie de xSpin, développé par Sylvain Deauré, a été faite fin Mai à la communauté de Code-SEO.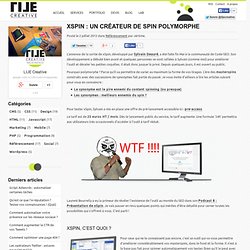 Son développement a débuté bien avant et quelques personnes se sont ralliées à Sylvain (comme moi) pour améliorer l'outil et déceler les petites coquilles. Il était donc jusque là privé. Depuis quelques jours, il est ouvert au public. Pourquoi polymorphe ? Parce qu'il va permettre de varier au maximum la forme de vos tirages. ⇒ Comment automatiser votre présence sur les réseaux sociaux ? L'intérêt des médias sociaux n'est plus à démontrer.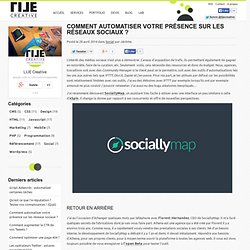 Canaux d'acquisition de trafic, ils permettent également de gagner en notoriété, faire de la curation, etc. Seulement voilà, cela nécessite des ressources et donc du budget. Nous, agences, travaillons soit avec des Community Manager si le client peut se le permettre, soit avec des outils d'automatisations liés les uns aux autres tels que IFTTT, Dlvr.it, Zapier et j'en passe. Pour ma part, je les utilisais par défaut car les possibilités sont relativement limitées avec ces outils. Tigerlily | The best platform to acquire, engage and monetise your customers on social media. International Network for Social Network Analysis. Www.redes-sociales.net. Social Media Management, Twitter Tools, Social CRM | Sprout Social. Analyzing the connections between friends and followers.
NodeXL. Network Overview Discovery and Exploration for Excel 2007/2010/2013 NodeXL provides support for social network analysis in the context of a spreadsheet.
See: NodeXL is a project from the Social Media Research Foundation and is a collaboration among: 20110503-NodeXL-Twitter-wiredbiz graph. Twitter Community Management Dashboard | Twitter Marketing Tool | Commun.it. Goals and Metrics – Measuring Customer Engagement on the Web. The notions of web presence and customer engagement aren't new -- but are gaining in interest as web presence expands beyond the corporate website and as companies must know more about effective means of connecting to customers.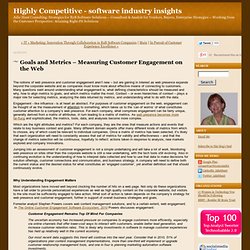 Many questions swirl around understanding what engagement is, what defining characteristics should be measured and why, how to align metrics to goals, and which metrics matter the most. Context – or even hierarchies of context – plays a major role for selecting metrics, analyzing the data returned by metrics, and understanding what to do with the data. Engagement - like influence - is at heart an abstract. Visible.me: Personal Brand Management and Networking Community. Stribe Community Network - Instant social network for website to boost traffic. Social Media Management. Postling.
Tracking réseaux sociaux. Outils gratuits de surveillance de sa réputation sur Internet (2/2) Ce billet fait suite au précédent billet : Outils gratuits de surveillance de sa réputation sur Internet (1/2) .
Ci-dessous une liste d'outils de gestion et de surveillance de la réputation en ligne. Searchles. 20 Outils gratuits de Surveillance des médias sociaux. Nous vous proposons une sélection d'outils gratuits, simples d'utilisation et puissants « selon nous » qui vous permettront de surveiller ce qui se dit sur vous ou votre sujet de prédilection sur les plateformes de médias sociaux.
Addict-o-matic : Consulte plusieurs moteurs de recherche (Google, Yahoo, Bing…) et plusieurs réseaux sociaux (Flickr, Yahoo, Bloglines). Les résultats sont affichés sous forme de widget par source. Dommage, il n'y a pas possibilité de définir des alertes!! Ice Rocket : Outil performant qui donne les résultats en temps réel. Son plus est de suivre les tendances de notre recherche et de les présenter sous forme de graphe. Social Search. Ebuzzing France - Groupe de Média Social. CrazyEgg. Reputation Intelligence - from StepRep. iKarma, Inc. - Harness the Power of Reputation.
---