Arts
The Natural Theology of Beauty, Truth and Goodness, Steve McIntosh
To the Readers of IntegralWorld.net: I have enjoyed this website for many years, and it has been most interesting to follow its evolution. And I can fully understand the frustration that many have expressed about the shortcomings of some of the integral movement's leaders. Criticisms are certainly appropriate in many cases, and in my new book I do advance a number of critiques of Ken Wilber's work.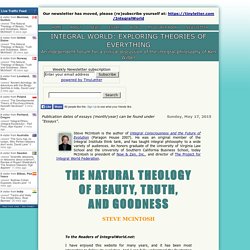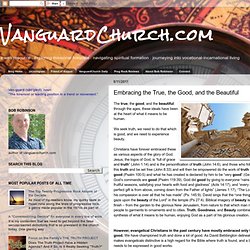 The true , the good , and the beautiful : through the ages, these ideals have been at the heart of what it means to be human. We seek truth, we need to do that which is good, and we need to experience beauty. Christians have forever embraced these as various aspects of the glory of God.
Embracing the True, the Good, and the Beautiful | VanguardChurch.com
Plato on Intelligent Design: Truth, Beauty, and the Good By W. T.
Plato on Intelligent Design: Truth, Beauty, and the Good by W. T. S. Thackara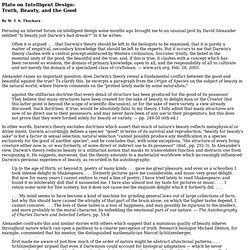 Conférence Jean-François Noubel
Howard Gardner: Truth, Beauty, and Goodness Reframed
Howard Gardner: Truth, Beauty, and Goodness Reframed
By Damien Gayle PUBLISHED: 11:28 GMT, 9 June 2012 | UPDATED: 14:56 GMT, 9 June 2012 With their spectacular use of focus and reflected light, these incredible artworks look like carefully composed still-life photographs. But in fact they are all painstakingly rendered on canvas with acrylic paints by Canadian artist Jason de Graaf.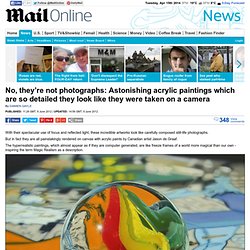 Real work of Art... quote
by Maria Popova "A real work of art destroys, in the consciousness of the receiver, the separation between himself and the artist." By 1897, Leo Tolstoy (September 9, 1828–November 20, 1910) was already a literary legend of worldwide acclaim and a man deeply invested in his ultimate quest to unravel the most important wisdom on life. But he shocked the world when he published What Is Art? (public library; public domain) that year — an iconoclastic , which gave us Tolstoy's addition to history's finest definitions of art and which pulled into question the creative merits of Shakespeare, Beethoven, and even his very own Anna Karenina.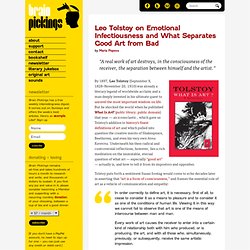 Leo Tolstoy on Emotional Infectiousness and What Separates Good Art from Bad
"Art is the imposing of a pattern on experience, and our aesthetic enjoyment is recognition of the pattern"
Wireless is increasingly pulling in all kinds of applications, platforms, services and things (rfid) into networks. Many people communicate through mobiles, blackberries, digital organizers, palmtops. Cars become information spaces with navigational systems and consoles like Nintendo DS have wireless capacities and get linux kernels installed.
Art and the Internet of Things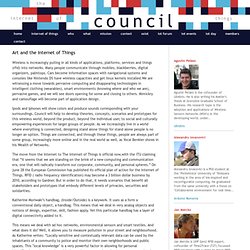 The Visual Patterns of Audio Frequencies Seen through Vibrating Sand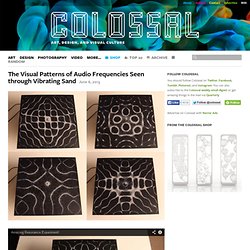 Youtube user Brusspup (previously here and here ) who often explores the intersection between art and science just released this new video featuring the Chladni plate experiment . First a black metal plate is attached to a tone generator and then sand is poured on the plate. As the speaker is cycled through various frequencies the sand naturally gravitates to the area where the least amount of vibration occurs causing fascinating geometric patterns to emerge.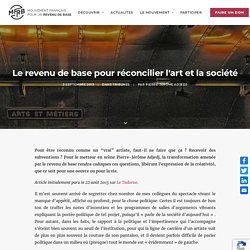 Pour être reconnu comme un « vrai » artiste, faut-il ne faire que ça ? Recevoir des subventions ? Pour le metteur en scène Pierre-Jérôme Adjedj, la transformation amenée par le revenu de base rendra caduques ces questions, libérant l'expression de la créativité, que ce soit pour une oeuvre ou pour la vie.
De la libération des artistes par le revenu de base
Speeddrawing Jacque Fresco - 60 hours in 3 minutes
When it comes to the Art of Collage, one of the current references is definitely Simmons & Burke . This duo originally from LA, creates extravagant sound and image collages, or collages that have au dible soundtracks.
The Art of Collage
"art in itself is an attempt to bring order out of chaos"
by Maria Popova "Art is not a thing — it is a way." After the recent omnibus of definitions of science by some of history's greatest minds and definitions of philosophy by some of today's most prominent philosophers, why not turn to an arguably even more nebulous domain of humanity? Gathered here are some of my favorite definitions of art, from antiquity to today.