Apps...
Fun nice smart inspiring...
Enigma Simulation. Sampler d'Ardisson de l'émission Tout le monde en parle. Problem loading page. CrazyCall - Caller ID Spoofing and Voice changer. Sketch of Voronoi. Darkpsychedelic.
CanvasMol. Silk. Neave_imagination.swf (Objet application/x-shockwave-flash) GeoKone.NET. BioMotionLab. BallDroppings. Ball Pool. Goggles. Incredibox. Fanfare. Psykopaint - Create and paint amazing art from photos.
Koalas to the Max dot Com. BIG-ASS MESSAGE. First Cellular Automata. LifeGra.ph. Make your own Hitler video. Vipid - Video Intro Maker. Makanim - Multi-touch Generative Art - iPhone & iPad app op AppWereld. Koopadvies: De huidige prijs van Makanim - Multi-touch Generative Art is de hoogst bekende prijs sinds begin 2013, gezien de vakere prijswijzigingen is het waarschijnlijk de moeite om te wachten tot de applicatie in prijs wordt verlaagd.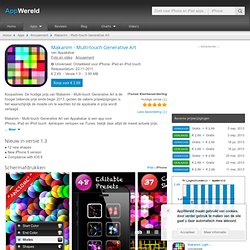 Makanim - Multi-touch Generative Art van Appakabar is een app voor iPhone, iPad en iPod touch. Aankopen verlopen via iTunes, bekijk daar altijd de meest actuele prijs, compatibiliteit en andere informatie. Mind: The Science, Art, and Experience of our Inner Lives. This exhibit explores our ability to pay attention to several things at once.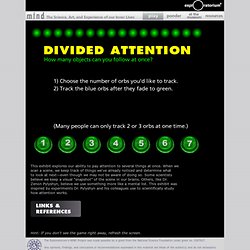 When we scan a scene, we keep track of things we've already noticed and determine what to look at next—even though we may not be aware of doing so. Some scientists believe we keep a visual "snapshot" of the scene in our brains. Adrn | galaxy. Mushroom Life. Liquid Particles - spielzeugz.de canvas experiment. Attractors. Thinking Machine 4. Thinking Machine 4 explores the invisible, elusive nature of thought.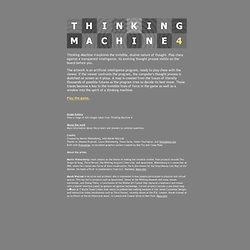 Play chess against a transparent intelligence, its evolving thought process visible on the board before you. The artwork is an artificial intelligence program, ready to play chess with the viewer. If the viewer confronts the program, the computer's thought process is sketched on screen as it plays. A map is created from the traces of literally thousands of possible futures as the program tries to decide its best move. Build your own kaleidoscope :: zefrank.
Guilloche.swf (Objet application/x-shockwave-flash) Starfield. Touch Effects. Problem loading page. Le Kakophone et autres kakotrucs. Mindfulness Bell. Fun Clash — the place where you decide what is the best.
---