Alter Currency
Alter-currencies or "subcurrencies" ? Oct 21
Alternative currencies, monetary systems | SocialCompare - Site communautaire de comparatifs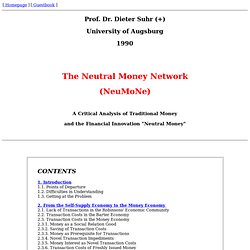 Prof. Dr. Dieter Suhr (+) University of Augsburg
Dieter Suhr, Neutral Money Network
Reinventing Money Thomas H. Greco Jr.
Welcome to ReinventingMoney.com and the new world of exchange and finance. The mission of this site is to demystify money and liberate the process of exchange by making available important documents and resources from the past and present which can contribute to the advancement of economic democracy, self-determination, and global harmony. For those of you who are visiting here for the first time, we hope you will take the time to dig deep into the site to discover the range of resources we've assembled for you.
3 New Economic Forces in the Digital-Human Era | Human Media: The New Media
Welcome to the Metacurrency Project | The MetaCurrency Project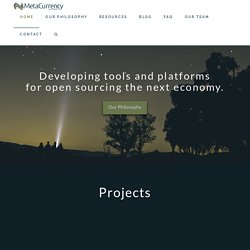 If the next economy is going to facilitate healthy flows of resources and information which support people, society and the planet, we have a lot of changes to make. Because that's certainly not what the current economy does. We are building the means (technology platforms and protocols) for this kind of healthy economy to exist.
MetaCurrency : vision et stratégie
Monnaies alternatives : Jean François Noubel at TEDxDunkerque
After Sibos, Q4 is usually the period of the year when I try to re-boot, to refresh my sources, to be a sponge and take-in new knowledge. It's when I start painting for the next year. When the themes and trends for next year start emerging. I wanted to get a much better feel for what this world of alternative and complementary currencies was all about, and decided to join a week-end "Collabathon" organized by Art Brock (@artbrock) and Eric Harris-Braun (@zippy314), the founders of The Metacurrency Project. In the slipstream of the Contact Summit, they wanted to gather the minds to work on NextNet ideas and tools. From their site:
Metacurrency Collabathon: a wealth system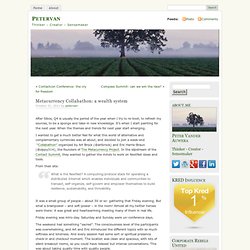 Feathercoin
Feathercoin is an Internet currency not controlled by any central bank or institution Feathercoin bypasses the old banking system by using peer-to-peer technology. Payments are borderless and can be processed by anyone with affordable computer hardware using free software.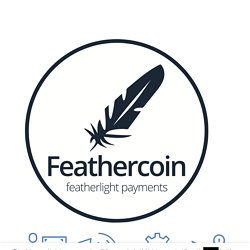 Crypto-Currency: Bitcoin, Litecoin, ...
jump to content my subreddits AdviceAnimalsannouncementsAskRedditaskscienceawwbestofblogbooksEarthPornexplainlikeimfivefunnygaminggifsIAmAmoviesMusicnewspicssciencesportstechnologytelevisiontodayilearnedvideosworldnewsedit subscriptions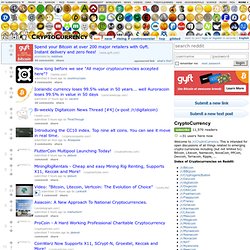 Crypto-Currency Market Capitalizations | Bitcoin Ripple Litecoin Auroracoin Peercoin Dogecoin Nxt Mastercoin Namecoin Counterparty and more...
Dogecoin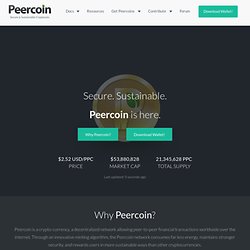 Nope. If Peercoin grows rapidly, stake minting may temporarily decrease as coin days are lost when trading. This would cause Peercoin to become deflationary. The flat nature of the transaction fees is intended to counter this by decreasing total transaction volume.
Peercoin - The Secure & Sustainable Cryptocoin.
Worldcoin Alliance | The global digital currency
a secure general purpose p2p key/value storage system Wiki Forum Home
Namecoin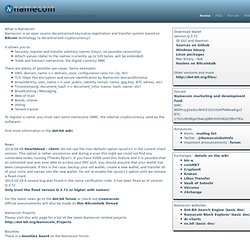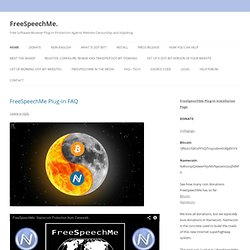 Featured post (Stickied top post. Newer posts below) Q.
FreeSpeechMe. | Free Software Browser Plug-In Protection Against Website Censorship and Hijacking
uCoin project
auroracoin
Your Modern Wallet. Global, Anonymous, Secure. Paper money is now recyclable. Read more Megacoin is for Everyone
Megacoin | Votre Monnaie Mondiale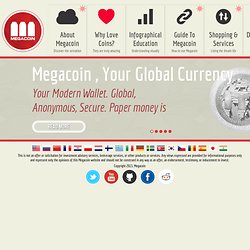 Quark
COINT
COINT is a new marketplace that has its very own digital currency. We are creating a new platform based on the idea that everyone we can ever meet knows and owns things that we don't. Set out to create a global peer-to-peer network where you can share your gift with the rest of the world, we hope to provide a new sharing economy in line with the new dynamics of the 21st century. We are graduates of London School of Economics, Imperial College London, Central Saint Martins College of Art & Design, City University London and Westminster University and having launched this project, we hope to make the world a better place. We believe in an international online currency based on reputation for the productive community, because people's mental model for work is not in line with today's dynamic attributes of daily life.
New Currency Frontiers
A New Vision for the Future and for Humanity We invite you to explore innovative interpretations of money, economics and society which are resulting in a new way of thinking about our future. You will find pieces of the puzzle on this web site to understanding the next economy. It is a work in progress, so it may not be clear and cohesive, but if you are open to some new ideas, you will find both practical tools and inspiring visions. Please take two minutes read this page.
Rachel Botsman: The currency of the new economy is trust
Bitcoin Special - ONE PLACE TO FIND EVERY THING YOU WANT
LE MONDE | • Mis à jour le | Par Hervé Kempf Ne dites pas à Roland Canonica qu'il contribue à changer le monde, il croit qu'il est banquier... Et c'est d'un ton placide, avec un bel accent helvète de Neuchâtel, qu'il explique au journaliste français étonné que la Banque Wir existe depuis 1934, et que, oui, elle gère sa propre monnaie, et que, ma foi, ça marche bien : 60 000 entreprises participent au système.
Créer des monnaies par millions
The following is a list of online and real world businesses that currently accept Bitcoin. If you are looking for only real world commerce, see here New service providers are very much appreciated as they help establish the currency!
Trade
Monnaie M - Expérimentation d'une monnaie complémentaire assortie d'un revenu de base
Une monnaie virtuelle à base... de revenu de base - Portail francophone du revenu de base
Symbionomics: The Film | Stories of the new economy
Les secrets de la monnaie - la conférence gesticulée !
OuiShare - Connecting the Collaborative Economy
We give Your Community a Place to Thrive | CommunityForge.net
e-Currency Links - Electronic currency directory - GoldMoney, BitCoin, WebMoney, Liberty Reserve, Pecunix, E-dinar
Flattr
Twollars
Ripple
Monnaies complémentaires & alternatives - Future of money
Local currency
Political Currency
OCCCU
Alternative currency
OpenUDC
Alter-currencies or "subcurrencies"
Cité de la Réussite : Christophe Cesetti, blogueur "Il y a 6 formes de richesses imbriquées" by Clio Meyer on SoundCloud