7- Open Gov & E Democracy
Just Do It !
Open Gov 2.0 Vertical News Environment. GovLoop - Social Network for Government. GovTwit - the Government Social Media Directory. eGovernment Resource Centre. Free Government Information (FGI) | Because government information needs to be free. GovFresh - Gov 2.0, open government news, guides, TV, tech, people. Open Government Initiative. Open Data Policy Guidance to better manage Federal information as an asset to make it more open, accessible, and usable by the public.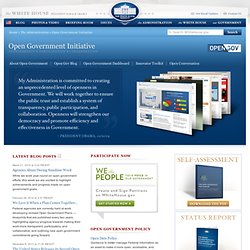 Executive Order on Making Open and Machine Readable the New Default for Government Information The President's Executive Order on making Federal Government information more open and accessible to promote economic growth and government efficiency. 8 Principles of Open Government Data. [To The Wiki >>] Request for Comments December 7-8, 2007—This weekend, 30 open government advocates gathered to develop a set of principles of open government data.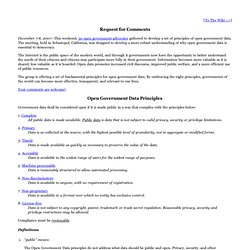 The meeting, held in Sebastopol, California, was designed to develop a more robust understanding of why open government data is essential to democracy. The Internet is the public space of the modern world, and through it governments now have the opportunity to better understand the needs of their citizens and citizens may participate more fully in their government. A timeline of open government data. By Tim Davies on June 9, 2010 I've been working on the literature review section of my dissertation write up in the last week or so – and as part of that I started putting together a time-line of events that I thought were important in the development of current open government data initiatives in the UK.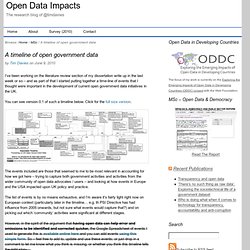 You can see version 0.1 of such a timeline below. Click for the full size version. Opengov_transparency_shortform.jpeg (Image JPEG, 1107x1808 pixels) Memorandum. Open Government Working Group Tim O'Reilly of O'Reilly Media and Carl Malamud of Public.Resource.Org—with sponsorship from the Sunlight Foundation, Google, and Yahoo—will be hosting a meeting of 30 people interested in open government in Sebastopol, CA on December 7-8, 2007.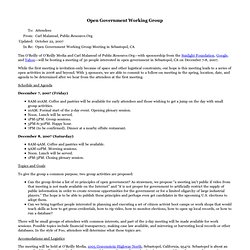 While the first meeting is invitation-only because of space and other logistical constraints, our hope is this meeting leads to a series of open activities in 2008 and beyond. With 3 sponsors, we are able to commit to a follow-on meeting in the spring, location, date, and agenda to be determined after we hear from the attendees at the first meeting. Schedule and Agenda. Universal democracy // Suffrage universel. World Citizen... 12 Futuristic Forms of Government That Could One Day Rule the World. I like the idea of the "polystate" (which, by the way, is similar to the government of Triton in Samuel Delaney's novel of the same name, where you are ruled by the political party you vote for, and also similar to Shi'a Islam, where you follow the dictates of the ayatollah you choose to follow), but a major sticking point is how to resolve conflicts among neighboring citizens of different polystates.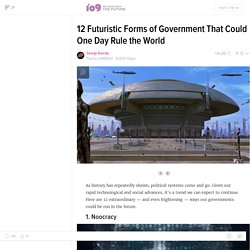 If I want to buy a house, whose property laws are followed, those of the seller's state or the those of the buyer's state? If my neighbor is playing his music too loud, and I call my cops, does this create an international incident? Who is responsible for building and maintaining infrastructure? Wisdom 2.0 Conference - Living with awareness, wisdom, and compassion - Home. The WorldShift-20 Declaration. Institute for Global Ethics: Promoting Ethical Action in a Global Context.
Home | Web of Change. Modernizing government, egov, and government 2.0. Declassified Government Documents. Declassified Government Documents About Declassified Documents | Security Classification | Guides | FOIA Information | Collections at UC Berkeley | Internet Collections and Indexes | Presidential Libraries About Declassified Documents Documents may be classified for many reasons - issues of national security or privacy.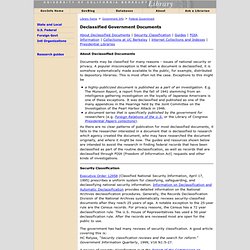 Gov 2.0 Summit 2010 - Co-produced by UBM TechWeb & O'Reilly Conferences, September 07 - 08, 2010, Washington, DC. Code for America | A New Kind of Public Service. Jennifer Pahlka: Coding a better government. Socrata. Sunlight Foundation. Sunlight Labs. Sunlight provides databases of government information to university libraries.
[Editor's note: Adeeb Sahar, Stanford undergraduate student and Sunlight Foundation intern, asked me to post the following PSA about Sunlight's many projects of interest to students, researchers, and the public.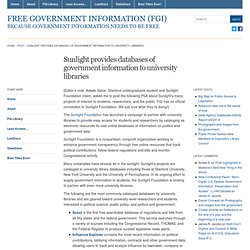 FGI has no official connection to Sunlight Foundation. We just love what they're doing!] The Sunlight Foundation has launched a campaign to partner with university libraries to provide easy access for students and researchers by cataloging as electronic resources its vast online databases of information on politics and government data. Socrata | Making Data Social.
Open data Open Government. Government Transparency, Made Transparent | Web2.0h...Really? EIU_Alteryx_Proof_121012r2.pdf - EIU-Alteryx-Big-Data-Decisions.pdf. Open data open government. Fondamentaux de l'Open data et de l'Open Government - Communauté digital4change.tv. You are a lecturer, journalist, blogger, speaker and you need the source video file?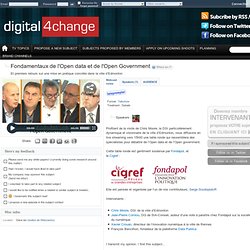 You can buy: Fee: 1800€ Video file command Fee: 1980€ In the first two cases be careful: you can purchase the file for a single use (for archiving, integration of excerpts in a film company, integrating on your blog in a format and / or another player that you selected): you can not then claim as a commercial file: please read terms and conditions prior to purchase that will appear below. Wikipédia : exemple à suivre pour une possible démocratie électronique ? Accueil > Rubriques > Politique > Wikipédia : exemple à suivre pour une possible démocratie électronique (...)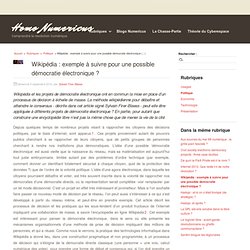 Depuis quelques temps de nombreux projets visant à rapprocher les citoyens des décisions politiques, par le biais d'internet, sont apparus1. Ces projets proviennent autant de pouvoirs publics cherchant à se rapprocher de leurs citoyens, que de petits groupes de personnes cherchant à rendre nos institutions plus démocratiques. L'idée d'une possible 'démocratie électronique' est aussi vieille que la naissance du réseau, mais sa matérialisation est aujourd'hui tout juste embryonnaire, limitée autant par des problèmes d'ordre technique (par exemple, comment donner un identifiant totalement sécurisé à chaque citoyen, quid de la protection des données ?)
List of international open government datasets. Beth Noveck: Demand a more open-source government. The Governance Lab @ NYUThe Governance Lab @ NYU. Paris Sémantique. The Future of Governance is Circular - Anatomy of Agile Enterprise. Traditional governance and steering, based on the top-down predict-and-control paradigm, is inert in the face of today's complex and dynamic environments.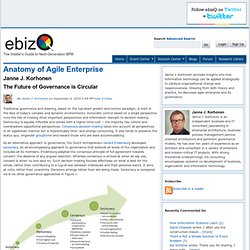 Autocratic control based on a single perspective runs the risk of missing other important perspectives and information relevant to decision-making. Democracy is equally inflexible and comes with a higher time-cost -- the majority has control and overshadows oppositional perspectives. Consensus decision-making takes into account all perspectives in an egalitarian manner but is impracticably time- and energy-consuming. A timeline of open government data. Government transformation framework - Ross Dawson's keynote presentationKeynote speaker. Selection of Ross Dawson Frameworks Transformation of Government Click on the image to download full size pdf. See below for Prezi presentation of the framework including illustrative images and videos, used to support Ross Dawson's opening keynote on the Transformation of Government at the Institute of Public Adminstration Australia annual conference.
The Transformation of Government framework examines: Gov2pedia.com. Amped Status. 10 Lessons for Gov 2.0 from Web 2.0. What is Web 2.0? In 2005, it meant geeks embracing a set of principles and practices: using the web as a platform, harnessing collective intelligence, data is the new "Intel inside," and others. By 2010, many of the dominant companies and services that embody or fuel Web 2.0 have become global brands: Google, Craigslist, Amazon, Facebook, Twitter, and a host of new mobile communities or platforms. These companies are often defined by what they allow users to do: upload pictures or video, stay connected to friends, track and discover news, save bookmarks, create communities, etc. For non-geeks, Web 2.0 meant the online world became a place you could publish and participate. It became about everyone with an Internet connection exploring an interactive web. GovFaces. Open Gov West: US and Canada open government supporters and practitioners.
Open Gov Leaders summit is postponed. There was lots of enthusiasm and support, but we had to make a call based on logistics and have decided to hold it later in 2013. We'll host it in San Diego, and announce the new date within 3 months. Knowledge As Power is excited to have more time to work with the great coalition of leaders who came together for the event, building a richer environment for learning and connecting. EDemocrcacy. Global website of the sociocratic centers.
20 Basics of Open Government. Simplicity Must Permeate #gov20 Efforts | Fixing Potholes. Hello there! To keep up to date easily, please subscribe to the RSS feed for updates on global open government and government 2.0 issues. Simplicity is not the Hallmark of Government, Yet... The fine folks over at the Telegraph continue to have great mashups based upon the UK Gov's open data work. This image made me laugh a bit. It shows the overly complex nature of HMG and one is left to wonder why. The Emerging Fourth Sector - FourthSector.net. The Three Traditional Sectors Businesses create and distribute goods and services that enhance our quality of life, promote growth, and generate prosperity.
They spur innovation, reward entrepreneurial effort, provide a return on investment and constantly improve their performance responding to market feedbacks. Category:Governance.
---
sizolabarchitecture Nov 30 2011

yep le faire, enifn nous allons le faire naitre ce gouvernement horizontal et transversal, ...etc

yanboe Nov 29 2011

quoi ? moi et l'anglais ! juste le faire c ça ! mais quoi ?
---