7- Open Gov & E Democracy
Just Do It ! Nov 29
Open Gov 2.0 Vertical News Environment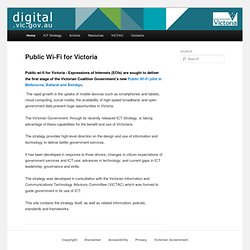 The rapid growth in the uptake of mobile devices such as smartphones and tablets, cloud computing, social media, the availability of high-speed broadband, and open government data present huge opportunities in Victoria. The Victorian Government, through its recently released ICT Strategy, is taking advantage of these capabilities for the benefit and use of Victorians. The strategy provides high-level direction on the design and use of information and technology to deliver better government services. It has been developed in response to three drivers: changes in citizen expectations of government services and ICT use; advances in technology; and current gaps in ICT leadership, governance and skills. The strategy was developed in consultation with the Victorian Information and Communications Technology Advisory Committee (VICTAC) which was formed to guide government in its use of ICT.
Today our Federal Depository Library themed celebration of National Library Week focuses on the 2008 winner of the Government Printing Office's Library of the Year Award. Here's the citation from the award page: The U.S. Government Printing Office (GPO) is pleased to announce the Law Library for San Bernardino County, California, as the 2008 Federal Depository Library of the Year.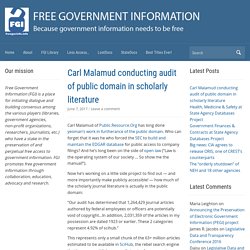 Free Government Information (FGI) | Because government information needs to be free
Open Data Policy Guidance to better manage Federal information as an asset to make it more open, accessible, and usable by the public. Executive Order on Making Open and Machine Readable the New Default for Government Information The President's Executive Order on making Federal Government information more open and accessible to promote economic growth and government efficiency.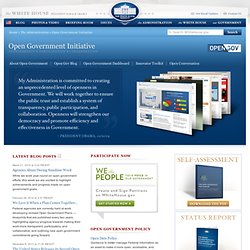 8 Principles of Open Government Data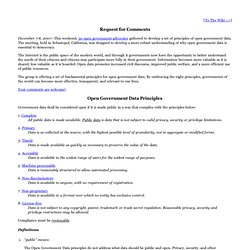 [To The Wiki >>] Request for Comments December 7-8, 2007—This weekend, 30 open government advocates gathered to develop a set of principles of open government data. The meeting, held in Sebastopol, California, was designed to develop a more robust understanding of why open government data is essential to democracy. The Internet is the public space of the modern world, and through it governments now have the opportunity to better understand the needs of their citizens and citizens may participate more fully in their government.
A timeline of open government data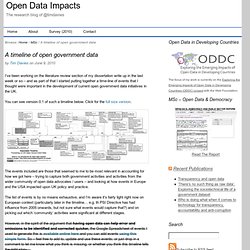 By Tim Davies on June 9, 2010 I've been working on the literature review section of my dissertation write up in the last week or so – and as part of that I started putting together a time-line of events that I thought were important in the development of current open government data initiatives in the UK. You can see version 0.1 of such a timeline below. Click for the full size version.
opengov_transparency_shortform.jpeg (Image JPEG, 1107x1808 pixels)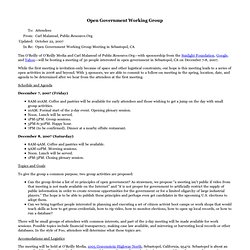 Memorandum
Open Government Working Group Tim O'Reilly of O'Reilly Media and Carl Malamud of Public.Resource.Org—with sponsorship from the Sunlight Foundation, Google, and Yahoo—will be hosting a meeting of 30 people interested in open government in Sebastopol, CA on December 7-8, 2007. While the first meeting is invitation-only because of space and other logistical constraints, our hope is this meeting leads to a series of open activities in 2008 and beyond. With 3 sponsors, we are able to commit to a follow-on meeting in the spring, location, date, and agenda to be determined after we hear from the attendees at the first meeting. Schedule and Agenda
Universal democracy // Suffrage universel
Wisdom 2.0 Conference - Living with awareness, wisdom, and compassion - Home
"We are at a time in humanity when we have incredible tools - and we are being asked to marry these tools with an equivalent transformation of heart." - Jack Kornfield at Wisdom 2.0 Join us February 14th - 17th, 2014 for the premier gathering exploring the integration of wisdom in modern life. An expected 2,000+ people, from coaches to venture capitalists to entrepreneurs, will come together in San Francisco to explore living with greater purpose, presence, and wisdom in the digital age. In a world more digitally connected and moving faster than ever, we explore how to engage in ways that are beneficial to our own well-being, effective in our work, and useful to the world.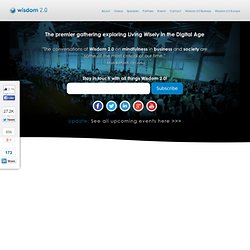 The WorldShift-20 Declaration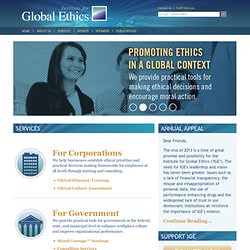 Dear Friends, The end of 2013 is a time of great promise and possibility for the Institute for Global Ethics ("IGE"). The need for IGE's leadership and vision has never been greater. Issues such as a lack of financial transparency, the misuse and misappropriation of personal data, the use of performance enhancing drugs and the widespread lack of trust in our democratic institutions all reinforce the importance of IGE's mission.
Home | Web of Change
If you have attend Web of Change before you are eligible to vote for the inaugural Web of Change Board! Voting site is open until March 1st. Request access the voting site by emailing Julia Watson .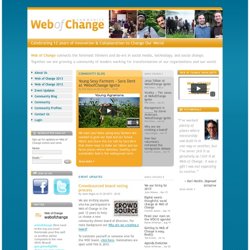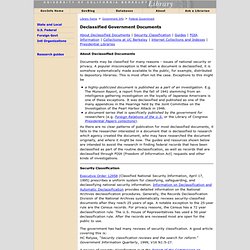 Declassified Government Documents About Declassified Documents | Security Classification | Guides | FOIA Information | Collections at UC Berkeley | Internet Collections and Indexes | Presidential Libraries About Declassified Documents Documents may be classified for many reasons - issues of national security or privacy.
Watch Gov 2.0 Summit presentations and other interviews » News & Coverage See all » Government as a Platform Gov 2.0 Summit brings together innovators from government and the private sector to highlight technology and ideas that can be applied to the nation's great challenges. In areas as diverse as education, health care, energy, jobs, and financial reform, there are unique opportunities to rethink how government agencies perform their mission and serve our citizens.
Gov 2.0 Summit 2010 - Co-produced by UBM TechWeb & O'Reilly Conferences, September 07 - 08, 2010, Washington, DC
Sunlight Labs
Sunlight provides databases of government information to university libraries | Free Government Information (FGI)
[Editor's note: Adeeb Sahar, Stanford undergraduate student and Sunlight Foundation intern, asked me to post the following PSA about Sunlight's many projects of interest to students, researchers, and the public. FGI has no official connection to Sunlight Foundation. We just love what they're doing!] The Sunlight Foundation has launched a campaign to partner with university libraries to provide easy access for students and researchers by cataloging as electronic resources its vast online databases of information on politics and government data.
Open data Open Government - Recherche Google
Government Transparency, Made Transparent | Web2.0h...Really?
EIU_Alteryx_Proof_121012r2.pdf - EIU-Alteryx-Big-Data-Decisions.pdf
open data open government - Recherche Google
You are a lecturer, journalist, blogger, speaker and you need the source video file? You can buy: Fee: 1800€ Video file command Fee: 1980€ In the first two cases be careful: you can purchase the file for a single use (for archiving, integration of excerpts in a film company, integrating on your blog in a format and / or another player that you selected): you can not then claim as a commercial file: please read terms and conditions prior to purchase that will appear below.
Fondamentaux de l'Open data et de l'Open Government - Communauté digital4change.tv
Wikipédia : exemple à suivre pour une possible démocratie électronique ?
list of international open government datasets
Beth Noveck: Demand a more open-source government
The Governance Lab @ NYUThe Governance Lab @ NYU
The Future of Governance is Circular - Anatomy of Agile Enterprise
A timeline of open government data
Government transformation framework - Ross Dawson's keynote presentationKeynote speaker
gov2pedia.com
10 Lessons for Gov 2.0 from Web 2.0
GovFaces
Open Gov West: US and Canada open government supporters and practitioners
Global website of the sociocratic centers
20 Basics of Open Government
Simplicity Must Permeate #gov20 Efforts | Fixing Potholes
The Emerging Fourth Sector - FourthSector.net
Category:Governance