5-curation
Curation is selection & aggregation + something more...
Web curation is just born, it won't be completed until 4.0 brings its fruits...."from curating content to performing artificial intelligence operations on that content" Sep 18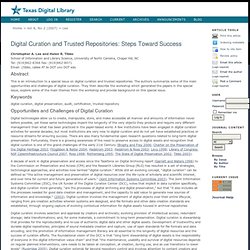 Christopher A. Lee and Helen R. Tibbo School of Information and Library Science, University of North Carolina, Chapel Hill, NC Tel: (919)962-8366 Fax: (919)962-8071 Email: {tibbo, callee AT ils DOT unc DOT edu
Lee
On Digital Collection Curation - Digital Collection Curation - LibGuides at LibGuides
April 2011 Pathfinder Options My personal favorite wiki creation tool is Wikispaces for teachers. (I know that others prefer and swear by PB Works.)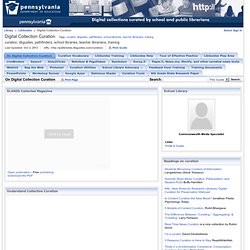 Creating vs. curating. If you work in marketing, or maybe even if you don't, I'm sure you've been a witness to this content debate at one point or another. There are numerous arguments for each side, and ultimately, both are included in any successful content strategy. The ideal mix between content curation and original content creation is a debate that I often find myself having with my colleagues and industry peers. So, in the spirit of Super Bowl XLVIII this weekend, I decided to ask the experts what they thought in a matchup that I've officially dubbed Content Super Bowl I.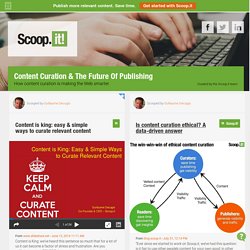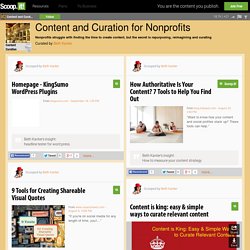 Back in 2011, I discovered Harold Jarche's "Seek, Sense, and Share" and made it my three words for the year (http://www.bethkanter.org/seek-sense-share/) Jane Hart shared an high level overview of her daily routine for content curation or "personal knowledge management" based on Jarche's "Seek, Sense, Share" framework. She describes sense-making as: I use a range of sense-making techniques, eg filters to separate the signal from the noise, and techniques to validate any sources of information I receive – which I have developed over time. Although I trust my network to feed me valid resources, it is always important to check any resources personally to ensure they meet my own high "quality control" standards. I then synthesise any new valuable pieces of information with what I already know, asking myself does this add something key to what I already know, does this take my own thinking forward, or does this even change my thinking about what I already know.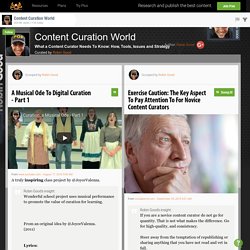 Excerpt from article by Mashable:"How each story is told is as important as the story itself," begins the promo video for Facebook's new much-hyped Paper app.The app mixes curated news feeds with your Facebook timeline to create a platform that integrates news discovery and sharing into your timeline. With its tiled layout and gesture-based user interface, it feels very similar to Flipboard's suite of apps. We put both apps side by side to see how the two stack up. Here's how they compare: Design: Tiles And Gestures
Visual Juxtapositions Captures Attention Attention not cash is the most valuable "commodity" in the world. We can make more cash. We can't make more TIME. Attention is under attack. Most curate, read, create and share a variety of content online in a variety of ways daily. As you head closer to the key "branding demographic" of 18 to 34 the amount of CONTENT these "brand preferences not yet set" consumers process daily is staggering.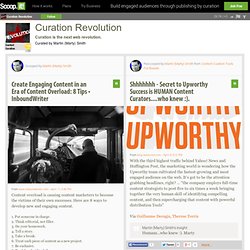 CASPAR Digital Preservation User Community
How can digital data still be used and understood in the future when systems, software, and everyday knowledge continues to change? This is the CASPAR challenge. 42 months have passed very quickly but we have achieved a great deal. Among the last outcomes of the project we invite all of you to have a look at our Training Lectures, a collection of videos of talks and screen captures of software - all about digital preservation. Moreover for anyone who wants to be kept up-to-dated with the progresses in the field of digital preservation, we set up a Digital Preservation group in Facebook... join us now! Finally, don't forget that all the software and the documentation developed during the project is available on SourceForge.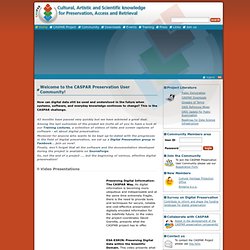 Context Discovery – provider of personal and corporate text summarization, knowledge discovery and text visualization products.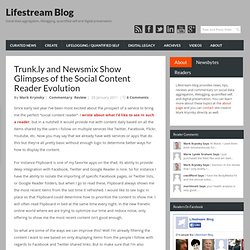 Trunk.ly and Newsmix Show Glimpses of the Social Content Reader Evolution
Since early last year I've been most excited about the prospect of a service to bring me the perfect "social content reader". I wrote about what I'd like to see in such a reader, but in a nutshell it would provide me with content daily based on all the items shared by the users I follow on multiple services like Twitter, Facebook, Flickr, Youtube, etc. Now you may say that we already have web services or apps that do this but they're all pretty basic without enough logic to determine better ways for how to display the content.
Social News, RSS Reader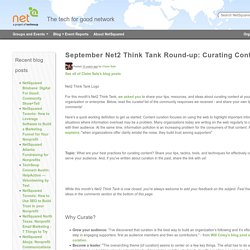 For this month's Net2 Think Tank, we asked you to share your tips, resources, and ideas about curating content at your organization or enterprise. Below, read the curated list of the community responses we received - and share your own tips in the comments! Here's a quick working definition to get us started: Content curation focuses on using the web to highlight important information in situations where information overload may be a problem.
September Net2 Think Tank Round-up: Curating Content
Social Curation Summit - December 2012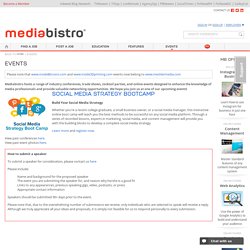 Conferences Get up and running on Facebook, Twitter, LinkedIn, Google+, Foursquare, Quora, Instagram, and Tumblr with hands-on training from experts. Watch live how-to sessions, work one-on-one with an advisor throughout the week, and complete assignments tailored to your personal goals. ONLINEJanuary 14 - February 11, 2014 Use a social media marketing strategy to drive sales and engagement. Over 6 weeks, you'll learn from social media thought leaders in live keynote sessions and work with an advisor to create your own strategy in this hybrid course and event.
By Eliot Van Buskirk, Evolver.fm "Those who can, do. Those who can't, review. Those who can't review, tweet.
Curation: How the Global Brain Evolves | Underwire