5-curation
Curation is selection & aggregation + something more...
Web curation is just born, it won't be completed until 4.0 brings its fruits...."from curating content to performing artificial intelligence operations on that content" Sep 18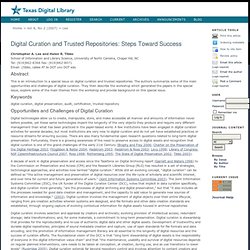 Christopher A. Lee and Helen R. Tibbo School of Information and Library Science, University of North Carolina, Chapel Hill, NC Tel: (919)962-8366 Fax: (919)962-8071 Email: {tibbo, callee AT ils DOT unc DOT edu
Lee
On Digital Collection Curation - Digital Collection Curation - LibGuides at LibGuides
April 2011 Pathfinder Options My personal favorite wiki creation tool is Wikispaces for teachers. (I know that others prefer and swear by PB Works.)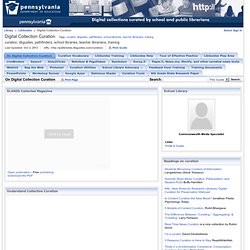 Content and Curation for Nonprofits
CASPAR Digital Preservation User Community
Context Discovery – provider of personal and corporate text summarization, knowledge discovery and text visualization products.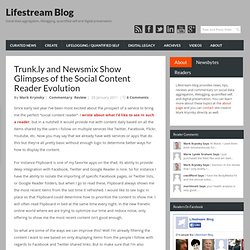 Trunk.ly and Newsmix Show Glimpses of the Social Content Reader Evolution
Since early last year I've been most excited about the prospect of a service to bring me the perfect "social content reader". I wrote about what I'd like to see in such a reader, but in a nutshell it would provide me with content daily based on all the items shared by the users I follow on multiple services like Twitter, Facebook, Flickr, Youtube, etc. Now you may say that we already have web services or apps that do this but they're all pretty basic without enough logic to determine better ways for how to display the content.
Social News, RSS Reader
For this month's Net2 Think Tank, we asked you to share your tips, resources, and ideas about curating content at your organization or enterprise. Below, read the curated list of the community responses we received - and share your own tips in the comments! Here's a quick working definition to get us started: Content curation focuses on using the web to highlight important information in situations where information overload may be a problem. Many organizations today are writing on the web regularly to communicate with their audience. At the same time, information pollution is an increasing problem for the consumers of that content. As Will Coley explains, "when organizations offer clarity amidst the noise, they build trust among supporters"
September Net2 Think Tank Round-up: Curating Content
Social Curation Summit - December 2012
In the era of tweeting, liking and +1ing, how you share content is often just as important as the content itself.
Photo: Travis Morgan/Flickr By Eliot Van Buskirk, Evolver.fm "Those who can, do.
Curation: How the Global Brain Evolves | Underwire