< 1%
The One Percent. The film premiered on April 29, 2006, at the Tribeca Film Festival.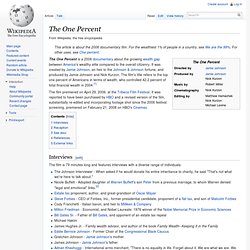 It was reported to have been purchased by HBO and a revised version of the film, substantially re-edited and incorporating footage shot since the 2006 festival screening, premiered on February 21, 2008 on HBO's Cinemax. Interviews[edit] The film is 79 minutes long and features interviews with a diverse range of individuals: 10 of the World's Most Insanely Luxurious Houses - Oddee.com (luxurious house, amazing houses)
Antilla, Mumbai - The first Billion dollar home Mukesh Ambani, the fifth richest man in the world and head of the Mumbai based petrochemical giant Reliance Industries is estimated to be worth somewhere in the region of $43 billion.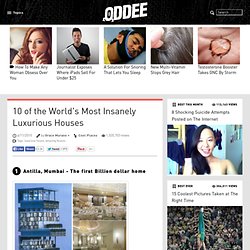 He is also the owner to-be of a 27-story skyscraper in downtown Mumbai that is to cost him colossal $2 billion! 186 000 personnes possèdent 25 000 milliards de dollars au total. Le cabinet Wealth-X a publié fin 2011 une enquête sur les grandes fortunes de la planète.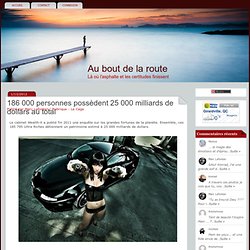 Ensemble, ces 185 795 Ultra Riches détiennent un patrimoine estimé à 25 000 milliards de dollars. Pour donner un ordre de grandeur, cette somme équivaut à 40% du PIB mondial en 2010, soit 63 000 milliards de dollars. Wealth-X définit les Ultra Riches comme des individus détenant un patrimoine net d'au moins 30 millions de dollars américains. Données principales : • Wealth-X a dénombré dans le monde un total de 185 795 individus Ultra Riches, qui détiennent un patrimoine total de 25 trillions (milliers de milliards) de dollars US. The New Forbes 400 — and Their $1.5 Trillion. America's 400 richest now hold a fortune almost as large as their 2007 pre-Great Recession record.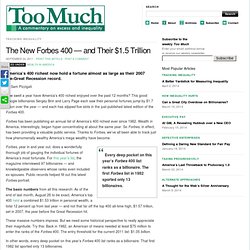 By Sam Pizzigati How swell a year have America's 400 richest enjoyed over the past 12 months? This good: Google billionaires Sergey Brin and Larry Page each saw their personal fortunes jump by $1.7 billion over the year — and each has slipped five slots in the just-published latest edition of the Forbes 400. Forbes has been publishing an annual list of America's 400 richest ever since 1982. Forbes list of billionaires (2011)
The World's Billionaires is an annual ranking of the world's wealthiest people, compiled and published by the American business magazine Forbes in March.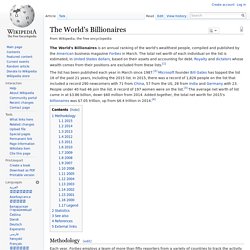 The total net worth of each individual on the list is estimated, in United States dollars, based on their assets and accounting for debt. Royalty and dictators whose wealth comes from their positions are excluded from the list. The list has been published each year in March since 1987.[1] Microsoft founder Bill Gates has topped the list 15 of the past 20 years, including the most recent 2014 edition. As of 2014, there are 1,645 people on the list, including a record 172 women. Roughly two-thirds of the list is entirely self-made and only about 1 in 8 billionaires achieved their wealth through inheritance alone.
Celebrity Net Worth - Richest Rappers, Celebrity Houses and Salary. The World's Billionaires - Forbes.com. The Richest People in America. The World's Biggest Givers. The World's Billionaires - Forbes.com. Classement Forbes : record absolu du nombre de milliardaires dans le monde. Les Etats-Unis et la Vieille Europe poursuivent leur déclin dans la liste 2011 du magazine Forbes, qui confirme que le Mexicain Carlos Slim reste l'homme le plus riche du monde, et les pays du BRIC (Brésil, Russie, Inde et Chine) affichent une progression insolente.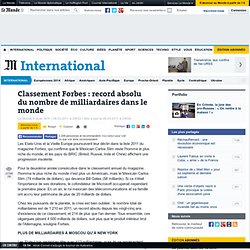 Pour la deuxième année consécutive dans le classement annuel du magazine, l'homme le plus riche du monde n'est plus un Américain, mais le Mexicain Carlos Slim (74 milliards de dollars), qui devance Bill Gates (56 milliards). Si ce n'était l'importance de ses donations, le cofondateur de Microsoft occuperait cependant la première place. En un an, le roi mexicain des télécommunications et sa famille ont accru leur patrimoine de plus de 20 milliards de dollars. Chez les puissants de la planète, la crise est bien oubliée : le nombre total de milliardaires est de 1 210 en 2011, un record absolu depuis les vingt-cinq ans d'existence de ce classement, et 214 de plus que l'an dernier.
Wall Street Mocks Protesters By Drinking Champagne 2011. Billionaire Visits Occupy Wall Street. We are the 1 percent: We stand with the 99 percent. I am a professional martial artist as well as a Pre-Med college student.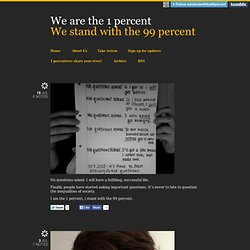 I am graduating from college without any debt. I am only 21 years old and I have almost $10 Million USD when I put my Trust Fund and Stock options together. My family owns a private manufacturing company that produces wet wipes and coffee filters and the like. The company competes evenly with major players like Proctor and Gamble. I am also Active Duty US Military (Army) who are paying in full for my Medical School. Occupy Wall Street: Thoughts from a Member of the One Percent « Venture Capital. I walked from the West Side Highway to Chinatown yesterday in the early afternoon.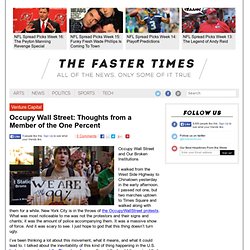 I passed not one, but two marches uptown to Times Square and walked along with them for a while. New York City is in the throes of the OccupyWallStreet protests. What was most noticeable to me was not the protestors and their signs and chants; it was the amount of police accompanying them. It was a massive show of force. And it was scary to see. Les plus grosses fortunes de France ne sont pas toutes au CAC 40 ! Comme tous les ans, le magazine Challenges vient de livrer son classement des 500 premières fortunes de France.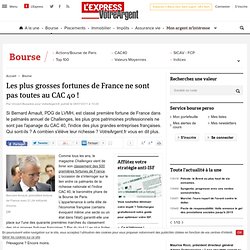 L'occasion de s'interroger sur le lien entre ce palmarès de la richesse nationale et l'indice CAC 40, le baromètre phare de la Bourse de Paris. L'appartenance à cette élite de l'économie française (certains évoquent même une secte ou un état dans l'état) garantit-elle une place sur l'une des quarante premières marches du classement des plus grosses fortunes françaises ? Pas du tout ! Le triomphe des riches. On s'en doutait un peu, mais la confirmation est officielle : en France, les inégalités se creusent.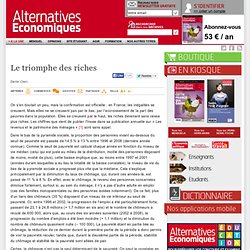 Mais elles ne se creusent pas par le bas, par l'accroissement de la part des pauvres dans la population. Elles se creusent par le haut, les riches devenant sans cesse plus riches. Les chiffres que vient de publier l'Insee dans sa publication annuelle sur « Les revenus et le patrimoine des ménages » [1] sont sans appel. Dans le bas de la pyramide sociale, la proportion des personnes vivant au-dessous du seuil de pauvreté est passée de 14,5 % à 13 % entre 1996 et 2008 (dernière année connue).
FactsAboutTheWealthy (WealthyFacts) Nearly half of Congress members are millionaires - a status shared by only 1% cent of Americans. By Daily Mail Reporter Updated: 01:12 GMT, 17 November 2011 Nearly half of Congress members are millionaires - a status shared by only one per cent of Americans. According to a new study, at least 249 out of Congress' 535 members are millionaires. Annual income of richest 100 people enough to end global poverty four times over. Downloads "We can no longer pretend that the creation of wealth for a few will inevitably benefit the many – too often the reverse is true." Jeremy Hobbs Executive Director, Oxfam International.
The 1% are the very best destroyers of wealth the world has ever seen | George Monbiot. If wealth was the inevitable result of hard work and enterprise, every woman in Africa would be a millionaire. The claims that the ultra-rich 1% make for themselves – that they are possessed of unique intelligence or creativity or drive – are examples of the self-attribution fallacy.
This means crediting yourself with outcomes for which you weren't responsible. Many of those who are rich today got there because they were able to capture certain jobs. This capture owes less to talent and intelligence than to a combination of the ruthless exploitation of others and accidents of birth, as such jobs are taken disproportionately by people born in certain places and into certain classes. The findings of the psychologist Daniel Kahneman, winner of a Nobel economics prize, are devastating to the beliefs that financial high-fliers entertain about themselves. The One Percent (2006. Edit Storyline In this hard-hitting but humorous documentary, director Jamie Johnson takes the exploration of wealth that he began in Born Rich one step further.
The One Percent, refers to the tiny percentage of Americans who control nearly half the wealth of the U.S. The One Percent Documentary - Buy the DVD - Jamie Johnson and Nick Kurzon. The One Percent 1/8.
---