Tools
Chat
Testing. Numbers. Invaluable command line tools for web developers | Coderholic. Life as a web developer can be hard when things start going wrong.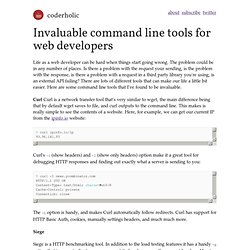 The problem could be in any number of places. Is there a problem with the request your sending, is the problem with the response, is there a problem with a request in a third party library you're using, is an external API failing? Instapaper. Lovely Charts | Free online diagram software - Flowchart & process diagram, Network diagram, BPMN diagrams, Sitemap, Organisation chart, Wireframe, business drawing software.
Btrace: BTrace. Ant User Manual.
---