Social Media
Email Marketing and Email List Manager
NetBase - Social Media Consumer Insights, Market Analysis & Research Tools
Social Command Center 7 Steps to market at the speed of social with a command center that lets you react in the moment. Blog Hear our experts sharemarket insights as well as commentary on our NetBase webinars, ebooks and other key findings when social analytics are applied. Case Studies Read how our customers use NetBase to get better results for their business.
business campaigning - Foresee.Communicate.Lead. - Change, Communications, Consulting, Fullservice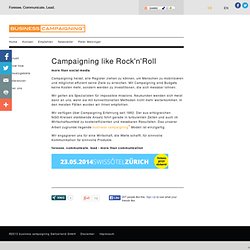 more than social media Campaigning heisst, alle Register ziehen zu können, um Menschen zu mobilisieren und möglichst effizient seine Ziele zu erreichen. Mit Campaigning sind Budgets keine Kosten mehr, sondern werden zu Investitionen, die sich messbar lohnen. Wir gelten als Spezialisten für impossible missions.
Mein Eindruck
Gastbeitrag: Vortrag Alexander Fink, CEO K Comms GmbH: Hamburg - Die Medienberichterstattung ist gnadenlos. Immer wieder werden die Kliniken zum Bestandteil besonders skandalträchtiger Schlagzeilen: Abrechungsbetrug, Schwarzarbeit, Behandlungsfehler, Hygieneskandale und Ärztepfusch sind nur einige der Themen, die Kliniken in äußerste Not bringen und gleichzeitig den Medien höchste Aufmerksamkeit verschaffen. Gerade das Krankenhaus als Bestandteil unseres Alltags, die Überhöhung der Ärzte als "Götter in Weiß " sowie die zum Teil verheerenden Auswirkungen des Fehlerverhaltens in den Kliniken machen diese zu einem medialen Faszinosum. Dennoch haben Kliniken die Chance, als Bestandteil einer Krise gehört zu werden, ihren Standpunkt vertreten zu können und Akzeptanz zu erhalten. Dafür sind aber eine sorgfältige Vorbereitung und ein professionelles Handeln im Krisenfall entscheidend.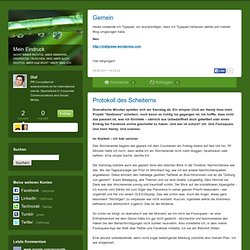 Web Strategy Customer Service Report: Phone support still top, Twitter comes before Facebook In an interesting report by Zendesk across the globe, it become sobvious that telephone is still the preferred way to the customer service of companies. The report shows insights based on actual customer service and support interactions from over 16,000 companies across 125 countries. According to the Zendesk report, customer all over the world... Study: Digital transformation still slow in companies.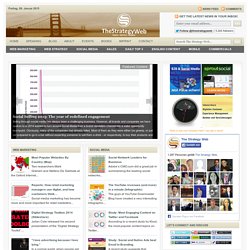 The Strategy Web™ - Tools, Tactics, Trends * Martin Meyer-Gossner is a web-business strategist, trainer & speaker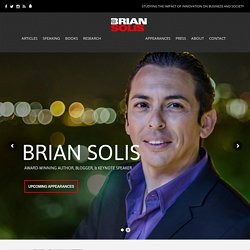 inShare235 Guest post by Gib Bassett, Global Program Director, Consumer Goods, Teradata There's no question that the shopping journey has been disrupted by consumer behavior in online, social media and mobile channels.
Suchmaschinenoptimierung dank Facebook Die Relevanz von Facebook steigt. Zumindest wenn einem das Google-Ranking der eigenen Webseite wichtig ist.
Social Media Marketing auf Deutsch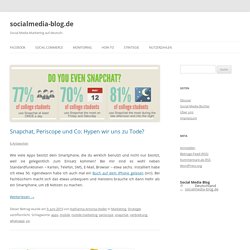 inShare1,645 A study published in 2010 surfaced a startling statistic, "75 percent of employers say their business has no formal policy instructing employees on the appropriate use of social networking sites on the job." The report, "Employer Perspectives on Social Networking," compiled data from 34,000 businesses in 35 countries.