Fashion
Jane Wayne ist - Mode, Lifestyle, Fashion, Couture, Beauty, Style, Design, Musik, Video, Interview, Shoes, Accessoires, Ausstellung, Fotografie and More...
Beauty
JC Report | Inside Global Fashion Trends. PSYNOPSIS. Purple DIARY. BoF – The Business of Fashion. Mozilla Firefox. Dotti's dots. HYPEBEAST. Online Magazine for Fashion and Culture. BoF Exclusive | The New Creative Establishment 2010 — The 50 Most Influential Creative Forces Working in Fashion Today − BoF – The Business of Fashion. The New Creative Establishment | Source: INDUSTRIE Magazine LONDON, United Kingdom — Today, The Business of Fashion brings you an exclusive preview of The New Creative Establishment, a list of the 50 most influential and inspirational creatives working in fashion today, developed by our friends at INDUSTRIE magazine for their second issue which comes out later this month and was inspired by a much-watched list with a similar name published by Vanity Fair called 'The New Establishment'.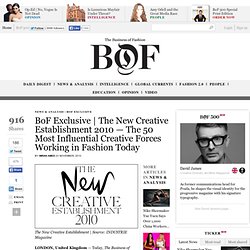 Ever since the widely-read debut issue of INDUSTRIE hit the stands last May, editors Jens Grede and Erik Torstensson have been carefully creating their list which they say is a "celebration of creativity in fashion." 1 YEAR AS A TIGER. ArchiveRandomRSS Everlane: Designer Quality Goods @ Wholesale Wicked concept, hope it lives up to the hype!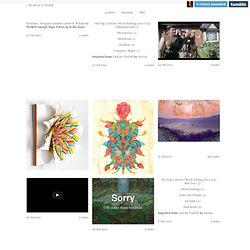 31 Oct 2011. Kimandra - Vintage & More. Fashion Bits And Bobs. Playlust. The Cut: New York Magazine's Fashion Blog. SHOW ME YOUR WARDROBE.COM. Julia Stelzner - Stilvorlagen aus Mode, Kunst, Gesellschaft, Politik und Kulinarik. Allet ohne Schminke. Discotheque Confusion. Studded Hearts. Fashionologie - fashion news, fashion shows, designers, models and more . . . FASHION ILLUSTRATION. Fashion Blogger Blog | Style rookie. Style Bubble. Celebrity Style and Fashion Trend Coverage at WhoWhatWear.com.
HopeHope * Fashion & Tendencies. Garance Dor? REIGEN. Les Mads - Mode, Fashion, Couture, Beauty, Style, Musik, Party. Heart Handmade.
---