Fashion
Jane Wayne ist - Mode, Lifestyle, Fashion, Couture, Beauty, Style, Design, Musik, Video, Interview, Shoes, Accessoires, Ausstellung, Fotografie and More...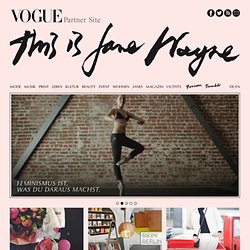 Hach, ja. Es gehört wohl zu einem weit verbreiteten Mädchentraum, einmal in Besitz einer Chanel-Tasche zu sein, die ineinander verschlungenen Cs ausführen zu können und sich mit einem Hauch Coco zu umgeben. Das Portemonnaie macht uns da allerdings gerne einen Strich durch die Rechnung, schreit unaufhörlich "Nein, nein, nein" und appelliert an unsere Vernunft. Aber vernünftig sein, was soll das bloß?
JC Report | Inside Global Fashion Trends
PSYNOPSIS
purple DIARY
BoF – The Business of Fashion
Mozilla Firefox
Dotti's dots.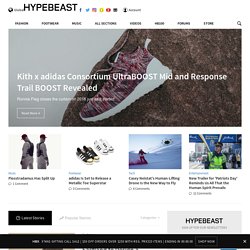 HYPEBEAST. Online Magazine for Fashion and Culture
Essentials: Lindsay Merkle Having spent a large part of her creative tenure in advertising agencies, Lindsay Merkle's pursuits in branding, marketing and sales have allowed her to work with some of the largest names in sports and fashion. A few years ago, she channeled h... Nike LeBron 11 EXT "Denim" Following in the footsteps of last year's Nike LeBron X EXT and the likes of the Nike LeBron 8, King James's current signature is set to get the denim treatment with an all-new version of the Nike LeBron 11 EXT.
The New Creative Establishment | Source: INDUSTRIE Magazine LONDON, United Kingdom — Today, The Business of Fashion brings you an exclusive preview of The New Creative Establishment, a list of the 50 most influential and inspirational creatives working in fashion today, developed by our friends at INDUSTRIE magazine for their second issue which comes out later this month and was inspired by a much-watched list with a similar name published by Vanity Fair called 'The New Establishment'. Ever since the widely-read debut issue of INDUSTRIE hit the stands last May, editors Jens Grede and Erik Torstensson have been carefully creating their list which they say is a "celebration of creativity in fashion."
BoF Exclusive | The New Creative Establishment 2010 — The 50 Most Influential Creative Forces Working in Fashion Today − BoF – The Business of Fashion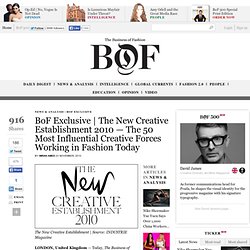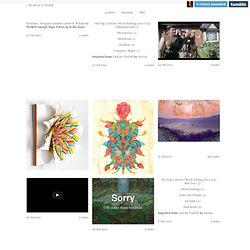 ArchiveRandomRSS Everlane: Designer Quality Goods @ Wholesale Wicked concept, hope it lives up to the hype! 31 Oct 2011
1 YEAR AS A TIGER
For those who weren't abel to come, we now got some pictures of our Luxury Vintage Sale that was at Sihlpost Provisorium in Zurich a few weeks ago. We had wonderful three days, with a fantastic atmosphere, fine appetizers by ValeFritz, lots of visitors and one of the coolest venues in town. It was also a great pleasure of having the finishing with the sounds of the Cock to Cock girls - we loved the concert! We want to thank VAN HORBOURG & GOODLIFE once again for being such wonderful hosts, our dream Kimandra Team (Angela, Fanny, Luisa, Larissa, Basil, Leena, Vale, Roger and Pascal) and all our other supporters.
Kimandra - Vintage & More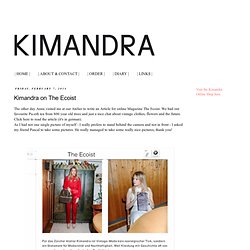 Sweater by A.P.C., Jeans & Hat by Acne, Jacket by A.P.C. x Carhartt At long last I made a new outfit entry. A lot of things have happened since my previous outfit entry and I don't know where to begin. First and foremost I finally got my own studio, where I can work and take photographs in front of the plain white wall or any background I want to put up. It will help me take outfit entries more often and quicker as I am in the studio almost every day and I don't have to deal with daylight and weather anymore.
Fashion Bits And Bobs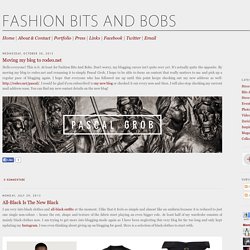 Playlust
The Cut: New York Magazine's Fashion Blog
SHOW ME YOUR WARDROBE.COM
Julia Stelzner - Stilvorlagen aus Mode, Kunst, Gesellschaft, Politik und Kulinarik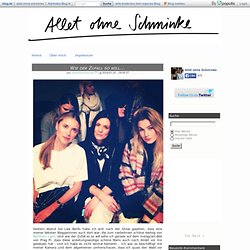 Allet ohne Schminke
Die letzten Wochen war es sehr ruhig hier auf "Allet ohne Schminke" und dafür muss ich mich entschuldigen. ABER: ich habe eine gute Entschuldigung, denn am 1. November ist endlich, endlich mein neues Herzensprojekt online gegangen - das MUMMY MAG.
Discotheque Confusion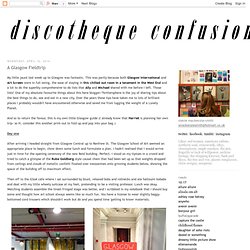 Hello Weekend, you old chestnut. It's come around quickly once again, hasn't it? This week I've been enjoying reading A Room of One's Own by Virginia Woolf. I've been coming to terms with not having a mobile phone (what- no instagram?!) after having mine stolen last week. Clue: oddly liberating.
Studded Hearts
fashionologie - fashion news, fashion shows, designers, models and more . . .
FASHION ILLUSTRATION
Fashion Blogger Blog |
style rookie
Style Bubble
Celebrity Style and Fashion Trend Coverage at WhoWhatWear.com
HopeHope * Fashion & Tendencies
Garance Dor?
REIGEN
Les Mads - Mode, Fashion, Couture, Beauty, Style, Musik, Party
Heart Handmade