Design
Emmas designblogg - design and style from a scandinavian perspective. Sight Unseen.
Tumblr Designs. Art. <g>L objects<g> : RAQUEL FIGUEIRA. Art.sy - Discover fine art. Illustration. Ubersuper ~ Stuff I Like. Design is Nowhere. Oh Joy! Our friends over at Black Hogg here in Los Angeles recently started serving some amazing sandwiches for lunch.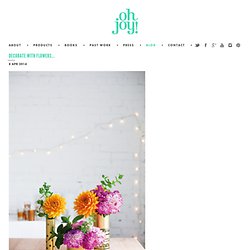 The restaurant is right by my house so I'm pretty addicted to their sandwiches and their homemade chocolate chip cookies (which blow my mind and are currently my favorite cookie of choice). Made with the addition of Cap'n Crunch cereal and peanut butter chips on top of regular chocolate chips, it's a chewy crunchy protein-packaged cookie I can't get enough of. I begged them to share the recipe, and they kindly said yes! Cap'n Crunch Chocolate Chip Cookies (makes 6 large cookies or 12 small cookies) Rebel:art.
Psimadethis. Dezeen architecture and design magazine. Design*Sponge.
---