References
Exploration of printhead alignment sensor.
Binders
POSAM_Man_Ch1_Assembly_v1-4_050511. Design of an active printhead alignment mechanism. Epson Stylus 760 - A home made continuous inking system (CIS,CFS) February 2002, It beats me why CIS systems are so expensive, the ozi exchange doesn't help but even so....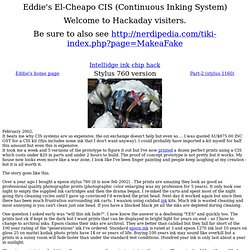 I was quoted AU$875.00 INC GST for a CIS kit (this includes some ink that I don't want anyway). I could probably have imported a kit myself for half this amount but even this is expensive. It took me a week and 5 versions of the prototype to figure it out but I've now printed a dozen perfect prints using a CIS which costs under $20 in parts and under 2 hours to build. InkJetAcademyBibliography. BenLyles_HPPrintheadDesign0805.
---