Hell's Kitchen
Hell's Kitchen (TV Series 2005) IMDB. Hell's Kitchen (U.S.) Wiki. The U.S. version of Hell's Kitchen differed from the U.K version in many ways.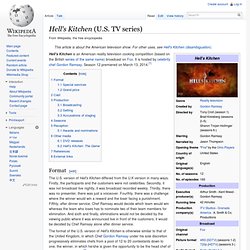 Firstly, the participants and the customers were not celebrities. Secondly, it was not broadcast live nightly, it was broadcast recorded weekly. Thirdly, there was no presenter, there was just a voiceover. Fourthly, there was a challenge where the winner would win a reward and the loser facing a punishment. Hell's Kitchen on FOX - Official Site. Season 12 of HELL'S KITCHEN will be as explosive, dramatic and %@#!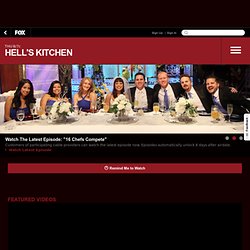 &* intense as ever, thanks to Chef Gordon Ramsay and his demanding challenges. Once again, 20 aspiring restaurateurs will brave Ramsay and his fiery command of the kitchen as he puts the competitors through an intense culinary academy to prove they possess the right combination of ingredients to win a life-changing grand prize.
---