Hell's Kitchen
Hell's Kitchen (TV Series 2005) IMDB
Hell's Kitchen is an American reality television cooking competition (based on the series of the same name , broadcast in the UK) broadcast on Fox . It is hosted by British celebrity chef Gordon Ramsay . Ramsay and Fox unveiled both the tenth season of 'Hell's Kitchen' and the third season of Ramsay's MasterChef on June 4, 2012. [ 1 ] On April 12, 2012, Fox renewed the show for an additional two seasons. [ 2 ] The eleventh season premiered on March 12, 2013. [ edit ] Format The format of the U.S. version of Hell's Kitchen is similar to the United Kingdom, in which Chef Gordon Ramsay under his sole discretion progressively eliminates chefs from a pool of 18 contestants down to one, the winner, in which he/she is given the opportunity to be the head chef of a high-end restaurant.
Hell's Kitchen (U.S.) Wiki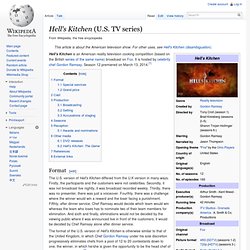 Premiere chef Gordon Ramsay spices up the tenth season of Hell's Kitchen with 18 new competitors.
Hell's Kitchen on FOX - Official Site