Hell's Kitchen
Hell's Kitchen (TV Series 2005) IMDB
The U.S. version of Hell's Kitchen differed from the U.K version in many ways. Firstly, the participants and the customers were not celebrities. Secondly, it was not broadcast live nightly, it was broadcast recorded weekly. Thirdly, there was no presenter, there was just a voiceover. Fourthly, there was a challenge where the winner would win a reward and the loser facing a punishment.
Hell's Kitchen (U.S.) Wiki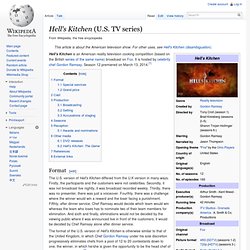 Twenty aspiring restaurateurs will brave Chef Gordon Ramsay and his fiery command in the kitchen as he once again puts the competitors through rigorous challenges to see who has the skill, poise and determination to win a life-changing prize: a head chef position working under Executive Chef Jeremy Berlin at Gordon Ramsay Pub & Grill at Caesars Palace. This season, the chefs leave the pleasantries at the door as the pressure to impress Chef Ramsay reaches the boiling point. The chefs will compete in an obstacle course involving lobsters and prepare a meal for hungry runners and world-renowned athletes as they vie for a chance to win lavish rewards, including a luxury spa day on a yacht and a trip to wine country on a private jet.
Hell's Kitchen on FOX - Official Site