Raw Food
Hello and welcome to Nouveau Raw (New Raw) I created this site a while back, mostly as a place to keep track of my recipes and to share them with friends and family, and maybe expose them to a bit of raw foodism. In 2009 my husband and I graduated from Living Light Culinary Art Institute which added fuel to my already burning passion for preparing healthy dishes. I have since learned that raw foods are my culinary soulmate. I hope you're able to find your way around my site with ease. The majority of recipes are self-created and others are adapted or translated from some amazing chefs.
About - Nouveau Raw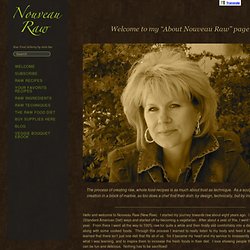 Love Raw Foods Nut & Seed Butters Sunflower Lecithin, Raw, 16oz, Love Raw Foods, Main Website | Sunfood
Raw Foods Diet: Raw living foods diet (non) cooking schools. Living Light Culinary Arts: raw food diet classes, recipes, & products
Home Page
Spiralo plus Free Recipe Booklet | Raw Glow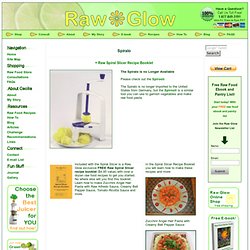 Included with the Spiral Slicer is a Raw Glow exclusive FREE Raw Spiral Slicer recipe booklet ($4.95 value) with over a dozen raw food recipes to get you started. No where else will you find this booklet. Learn how to make Zucchini Angel Hair Pasta with Raw Alfredo Sauce, Creamy Bell Pepper Sauce, Tomato Ricotta Sauce and more. In the Spiral Slicer Recipe Booklet you will learn how to make these recipes and more: Zucchini Angel Hair Pasta with Creamy Bell Pepper Sauce Raw Food Zucchini Angel Hair Pasta with Tomato Ricotta Sauce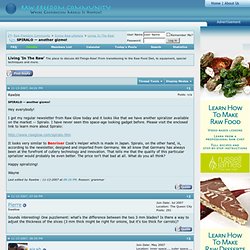 SPIRALO -- another gizmo! - Raw Freedom Community
Hey everybody! I got my regular newsletter from Raw Glow today and it looks like that we have another spiralizer available on the market -- Spiralo. I have never seen this space-age looking gadget before.
Better Raw: First Ever Raw Food Turkish Delight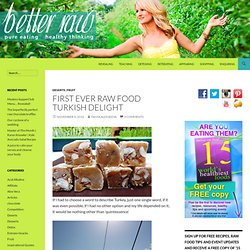 If I had to choose a word to describe Turkey, just one single word, if it was even possible, if I had no other option and my life depended on it, it would be nothing other than 'quintessence'. I am not one to idealise anything, but I do know what an ideal vacation involves and Turkey had the exact essence of perfection. Whether it was something I needed at the time or truly is a heavenly oasis doesn't really matter, what I know is that it made its way right to my heart, put a spell over me, got me dreaming about it at night and that I will be back! Ten days of bathing in joy, Elliot and I spent most of our time on the beaches of beautiful Antalya, took boat trips and tours to the ancient ruins of Olympos, calcium and mineral rich waters of Pumukkale (wow!!!)
| Ani Phyo: Eco-Lifestylist & Raw Food Diet
First time visitor? Welcome! Click here to learn what this site is all about.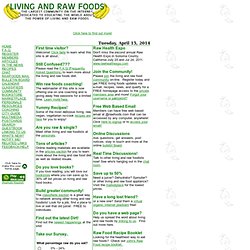 Living and Raw Foods: The largest community on the internet for living and raw food information
International Vegetarian Union
Rhio's Raw Energy, Recipes and Much More
All Raw Times
LovingFoods.com
Loving Foods' primary teachings are "From the Tree Right to Me". Mother Nature provides the food we need, and nothing is quite so healing as a grandmother's meal. Loving Foods creates with the intentions and ideals that make a loving grandmother's soup heartwarming, healing, and good for you.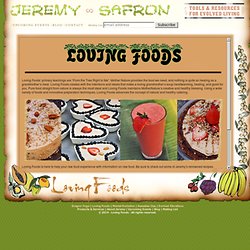 How to Sprout Sunflower Seeds
Solar Cookers, Ovens, and Food Dryers
Sprout Café Menu
I find this recipe much better than the conventional seaweed snacks that we see on the store shelf, it does not have any oil or salt included. The only ingredient are TOMATO, CUCUMBER and KELP FLAKES. It does not need salt as kelp itself is a bit salty. The tomato gives a Tangy taste.
Thin Seaweed Cracker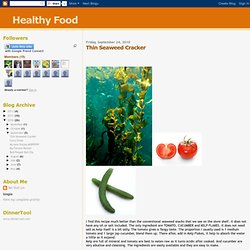 Raw Buckwheat Pancakes 1/4 cup sprouted buckwheat flour* 2 Tbs. coconut 1 date 2 Tbs. Orange Juice 3/4 tsp. cinnamon 4 Tbs. liquid of choice (nut milk, water, coconut milk, etc.)
Raw Fruit Jam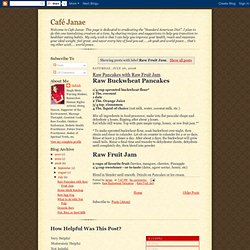 We Like It Raw - Raw Food Goodness: Raw Food Recipes
These recipes have made it to the top of our list. All we can say is yummm! View all Raw Food Recipes Salsa Finta & Almond Polpetta This raw fiesta finds inspiration from Russell James, raw chef based in the UK.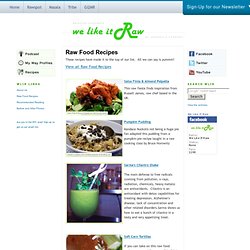 Raw Food Diet & Lifestyle : RawGuru. Learn about raw food.
The Raw Food World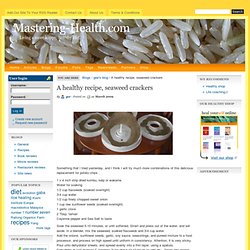 A healthy recipe, seaweed crackers | Mastering-Health.com
Something that I tried yesterday, and I think I will try much more combinations of this delicious replacement for potato chips . 1 x 4 inch strip dried kombu, kelp or wakame Water for soaking 1/2 cup flaxseeds (soaked overnight) 3/4 cup water 1/2 cup finely chopped sweet onion 1 cup raw sunflower seeds (soaked overnight) 1 garlic clove 2 Tbsp. tamari Cayenne pepper and Sea Salt to taste Soak the seaweed 5-10 minutes, or until softened.
Raw Food Recipes