Existing Orgs
OFC Home : Oakland Food Connection
City Slicker Farms
Action Hero Network
"Solidarity Not Charity" | Common Ground Relief, "Solidarity not Charity"
The Foundation of Limitless Ideas for a Free Environment | Serving the source of all life; Love...for self...for others...and the Planet
Community Food Bank
Save Nature - Saving Rainforest and Coral Reefs
Wildcare: WildCare Home Page
Children's Global Peace Project - Home
Feed Denver: Urban Farms & Markets
Mission & Values
Transition Colorado
What we're working on now — Burners Without Borders
Planet Coexist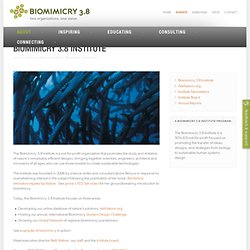 The Biomimicry 3.8 Institute is a not-for-profit organization that promotes the study and imitation of nature's remarkably efficient designs, bringing together scientists, engineers, architects and innovators who can use those models to create sustainable technologies. The Institute offers short-term workshops and two-year certificate courses in biomimicry for professionals, and helps to develop and share resources including biomimicry-related K-12 and university curricula used in a range of educational venues, from K-12 classrooms to universities, as well as informal settings such as zoos, aquariums and museums. The Institute also serves as a resource for biological researchers around the world and a clearinghouse for their insights, data, and reports.
Awakening The Dreamer - Home
THE WATER PROJECT: Tucson's Synergistic Water Festival
HOME