Existing Orgs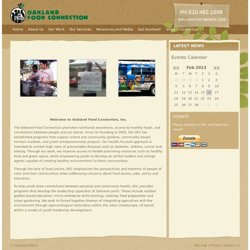 OFC Home : Oakland Food Connection
Since its founding in 2005, Oakland Food Connection has established programs that support school and community gardens, community-based farmers markets, and youth entrepreneurship projects. Our health-focused approach is intended to combat high rates of preventable diseases such as diabetes, asthma, cancer and obesity. Through our work, we improve access to health-promoting resources such as healthy food and green space, while empowering youth to develop as skilled leaders and change agents capable of creating healthy environments for their communities. Through the lens of food justice, Oakland Food Connection emphasizes the perspectives and interests of people of color and their communities when addressing concerns about food access, jobs, policy and education. To help youth draw connections between personal and community health, OFC provides programs that develop the leadership capacities of Oakland youth.
City Slicker Farms is actively recruting individuals for our Board of Directors. If you are interested in empowering Oakland residents to grow healthy, organic food for themselves and their families, please read below. In 2013, City Slicker Farms aims to expand Board membership to 15 members that represent the diversity of Oakland, particularly in terms of age, race, ethnicity, gender, and life experience. We're looking for new Board members who: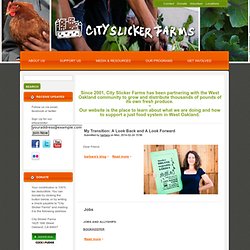 City Slicker Farms
Open Circle Field Trip to Mexico April – May… free school-style group travel experience based on Stone Island(Mazatlan) and touring area around Central Pacific coast and Serra Madre mountains of Mexico. Depends on skills and interests of those involved… lots to do and explore… hot springs, sailing ships, circus, rock climbing, old towns in the hills, new friends, surfing, school visits, art workshops. Fourth trip of this kind… always a fun mix of people. https://www.facebook.com/groups/386818871388362 Global Online Talking Circle – tonight, Nov. 8th @ 10pm in NB / 6pm in BC
Action Hero Network
"Solidarity Not Charity" | Common Ground Relief, "Solidarity not Charity"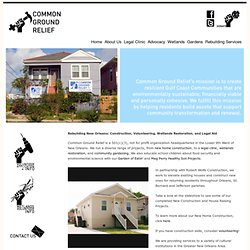 In partnership with Robert Wolfe Construction, we work to elevate existing houses and construct new ones for returning residents throughout Orleans, St. Bernard and Jefferson parishes. Take a look at the slideshow to see some of our completed New Construction and House Raising Projects. To learn more about our New Home Construction, click here. If you have construction skills, consider volunteering! We are providing services to a variety of cultural institutions in the Greater New Orleans Area.
The Foundation of Limitless Ideas for a Free Environment | Serving the source of all life; Love...for self...for others...and the Planet
Community Food Bank
Save Nature - Saving Rainforest and Coral Reefs
Wildcare: WildCare Home Page
Support WildCare Click to amazon.com from WildCare's siteA percentage of your purchase will be donated to WildCare! Donate Your Vehicle to WildCareGive your old clunker to a good cause... donate it to WildCare! Help WildCare When You Shop iTunes, Target, Macy's and over 200 Other Stores!Click to shop from our link.
Children's Global Peace Project is a 501(c)(3) non-profit organization that empowers children worldwide to transform their challenging emotions and conflicts into healthy self-expression and peaceful co-creation. Through the use of centering and awareness techniques, compassionate communication, experiential games and exercises, multicultural songs, dance, and art, students move beyond limited assumptions to realize their potential, their connection to each other, and the global human family. Our mission is to help children find peace and strength within, harmony with others, and beauty in diversity. If we are to reach real peace in the world, We shall have to begin with the children.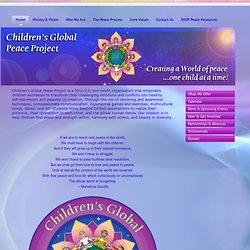 Children's Global Peace Project - Home
Feed Denver: Urban Farms & Markets
Mission & Values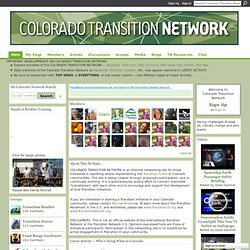 COLORADO TRANSITION NETWORK is an informal networking site for those interested in exploring and/or implementing the Transition model in Colorado communities. This site is being created through grassroots participation, and is continually evolving. It is a spontaneously arising effort to connect interested "transitioners" with each other and to encourage and support the development of local Transition Initiatives. If you are interested in starting a Transition Initiative in your Colorado community, please contact Michael Brownlee.
Transition Colorado
What we're working on now — Burners Without Borders
Planet Coexist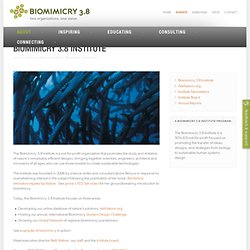 The Biomimicry 3.8 Institute is a not-for-profit organization that promotes the study and imitation of nature's remarkably efficient designs, bringing together scientists, engineers, architects and innovators of all ages who can use those models to create sustainable technologies. The Institute was founded in 2006 by science writer and consultant Janine Benyus in response to overwhelming interest in the subject following the publication of her book, Biomimicry: Innovation Inspired by Nature. See Janine's TED Talk video for her groundbreaking introduction to biomimicry.
JODI NETZERFounder / Chairwoman of the Water Festival Committee / DesignTucson Arts Brigade & Creative Communications CECILIA VINDIOLAExhibitor Coordinator / Earth Day Festival LiasonPima County Regional Wastewater Reclamation Department LILIAN VON RAGOOutreach / ExhibitorsPima County Regional Wastewater Reclamation Department MELANIE ALVAREZLogistics / OutreachPAG (Pima Association of Governments) /"Clean Water Starts With Me" MICHAEL CARSONOutreach / Interactive Water Books-Movies-Songs PostersTucson Water RAMJEET KAUR"The Vibe" Live Art Happenings & Performance CoordinatorHeart Spring Energy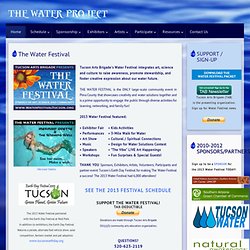 THE WATER PROJECT: Tucson's Synergistic Water Festival
DENVER URBAN HOMESTEADING, Local Market (click for video) is an urban agricultural center near Downtown Denver in a large commercial-industrial building at 200 Santa Fe Drive, on the corner of 2nd Avenue and Santa Fe Drive. Click here to watch interviews with our local farmers. Foods we carry: Matt Slater brings in many vegetables in season from his nearby farm.
HOME