My favorite deviants
He1z on deviantART. Kevin-Roodhorst on deviantART. Kevinroodhorst. Scarabuss on deviantART. 22zddr on deviantART. 1NNU3NDO on deviantART. Eredel on deviantART. Remainsteadfast on deviantART. Maxime Quolin- Avantgarde. "Avantgarde is some kind of milestone project, because I wanted it to be a symbol of me taking a step forward as a graphic designer and as an artist.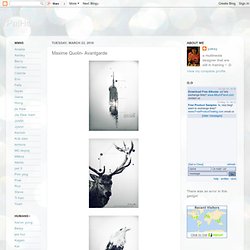 I tried to apply a very specific mood with the composition and the colours. In some way the artworks can be related as the relationship between nature and humanity, but I didn't want to have a very specific message in artworks, so people can interpret it their way. Therefore I think that's the closest thing to "art" that I've ever done.
Technically, I didn't use very specific techniques, I just tried a lot of different things, removed the failure and kept the good stuff. " - Maxime Quolin (Graphic Designer from Liege, Belgium) NatalieShau on deviantART. Natalie Shau. Soad2K on deviantART.
---