Video
Capture
Vga. Online : Glitchbox bends video in response to sound. Bildheinzer built this Video Circuit Bending Glitchbox, the "BGB-03″ to control analog video with music - Video Manipulation Unti reacting to incoming audio.The RGB colours are split and sent through 3 Effect ways which react to bass,mids or heights….you can choose by the patch cables which colours goes which way..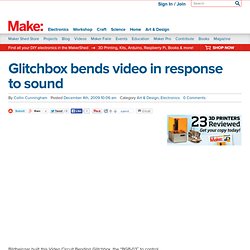 S-Video in/out RCA in/out. Daft Punk - Interstella 5555 - Full / Completo. Tools. , a standalone circuit based on a video op-amp from analog.
The AD8072 is a dual video op amp which can be used in various ways. If connect correctly it will send out composite video at 1.3 volt white value (normal white in video is 1 volt), so good for long cables or bent video signals. Or split one signal into two out. These chips can be request as sample and send to your home for free! VideoOverlayShield | Low Voltage Labs. The Arduino compatible shield board overlays text on analog video, using the Maxim MAX7456 on-screen display chip.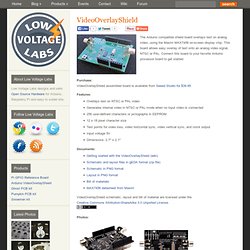 This board allows easy overlay of text onto an analog video signal, NTSC or PAL. Connect this board to your favorite Arduino processor board to get started. Composite video from Arduino. /* Adapted by phizone from: Arduino Tv framebufferAlastair Parker2007 Modified for use on NTSC monitors and displays2009Michael Pilcher // Video out voltage levels#define _SYNC 0x00#define _BLACK 0x01#define _WHITE 0x03.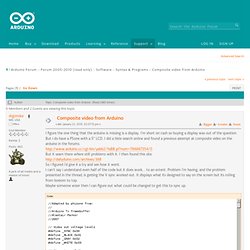 Interfacing with an NTSC TV. Hey guys, this is a follow up on this topic.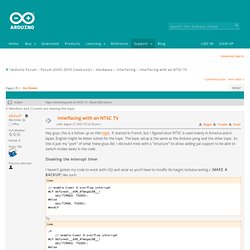 It started in French, but I figured since NTSC is used mainly in America and in Japan, English might be better suited for the topic. The basic setup is the same as the Arduino pong and the other topic. So this is just my "port" of what these guys did. #91536 by Matthieu Lalonde (mlalonde) Rickard's electronic projects page - How to generate composite video signals in software using PIC. How to generate video signals in software using PIC BackgroundDuring the Christmas holidays 1997-1998, I started on a small project, trying to generate a video signal with a PIC16C84.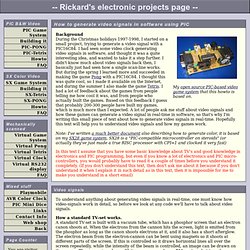 I had seen some video clock generating video signals in software, and thought it was a quite interesting idea, and wanted to take it a step further. I didn't know much about video signals back then, I basically just had seen how a single scan-line works. Arduinopong (alastairparker) Who doesn't like pong?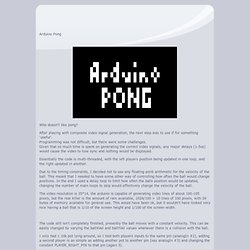 After playing with composite video signal generation, the next step was to use if for something 'useful'.Programming was not difficult, but there were some challenges.Given that so much time is spent on generating the correct video signals, any major delays (1-5us) would cause the video to lose sync and nothing would be displayed. Essentially the code is multi-threaded, with the left players position being updated in one loop, and the right updated in another. The Daily Duino» Blog Archive » Arduino Composite Video. Batsocks - TellyMate Shield. New, updated Version!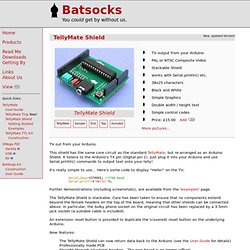 TellyMate Shield TV out from your Arduino. This shield has the same core circuit as the standard TellyMate, but re-arranged as an Arduino Shield. ArduinoVideo - binarymillenium - NTSC video generated with Arduino - Google Code. So video actually isn't that hard to generate with the arduino given a few resistors and testing.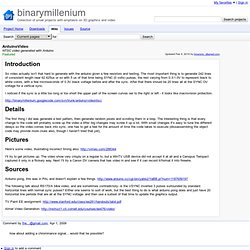 The most important thing is to generate 242 lines of consistent length near 62.625us or so with 5 us of that time being SYNC (0 volts) pulses, the rest varying from 0.3-1.0V to represent black to white colors, with a few microseconds of 0.3V black voltage before and after the sync. After that there should be 20 lines all at the SYNC OV voltage for a vertical sync. I noticed if the sync is a little too long or too short the upper part of the screen curves oer to the right or left - it looks like macrovision protection. Batsocks - TellyMate Shield. New, updated Version!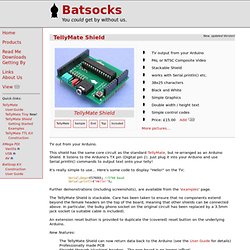 TellyMate Shield TV out from your Arduino. This shield has the same core circuit as the standard TellyMate, but re-arranged as an Arduino Shield. Arduino Video - NTSC.
---